Summer may be the season of fun, but it can also be the hardest on your hair. In addition to harsh elements and outdoor activities stripping strands of valuable moisture, heat from the sun can even stimulate oil production, and cause your scalp to burn. Here, 5 of the most common culprits:
1. YOU'RE NOT WEARING SUNSCREEN ON YOUR HAIR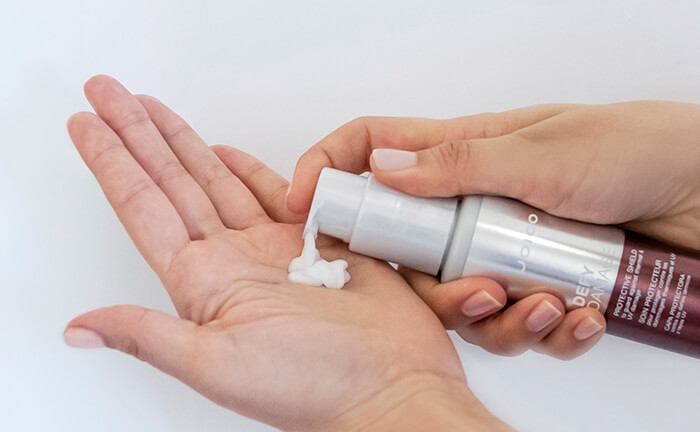 Much the same way UV rays do a number on your skin, those same damaging molecules sap both salon color and moisture from strands, leaving you with a dry, brittle, dull 'do.
TO TRY:
Offers instant protection from damaging heat, UV, and environmental exposure.)
2. YOU'RE NOT PROTECTING HAIR BEFORE YOU SWIM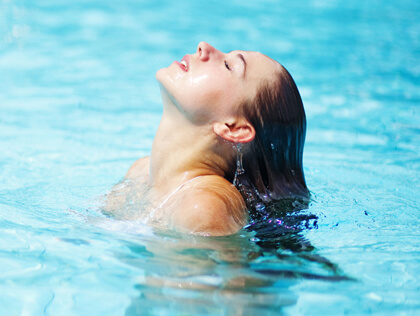 You can mitigate some of the damage caused by pool and ocean water by applying a barrier treatment that provides a shield, and goes to work on the deep end, re-strengthening strands and protecting against future damage.
TO TRY:
The UV and thermal protection will safeguard your fragile strands; and it's a leave-in treatment, which makes it excellent for detangling after swimming.)
3. YOU'RE NOT LETTING YOUR HAIR AIR DRY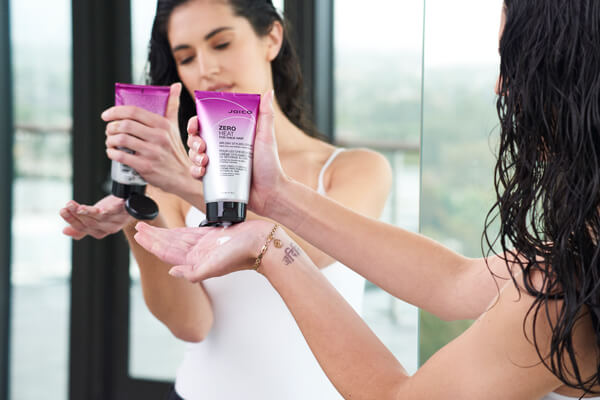 Take the sun and raise yourself one daily blow-dryer (and heat-styling tool) and odds are, you're increasing the damage factor considerably. The good news? Summer easily lends itself to air-dried hair styles (braids, waves, updos); so blow-drying no more than once or twice a week is an easy switch.
TO TRY:
A no-heat, no-hassle styler that offers an air-dried style with polish. Zero Heat comes in two personalized formulas – for fine/medium or thick hair – and defines and enhances your hair's natural texture while keeping frizz in check.)
4. YOU'RE NOT RINSING YOUR HAIR AFTER SWIMMING
Neglecting to rinse hair after exposure to a chlorinated pool or even the parching effects of ocean saltwater can lead to split ends, breakage, dryness, and color fade.
5. YOU'RE NOT SWITCHING TO MOISTURE-RICH HAIR PRODUCTS
In much the same way you change your wardrobe and fragrance for the summer months, pivoting to shampoo, conditioner, and treatment products designed to rehydrate those dry strands is a smart move, too. After all, what works in December may not do the trick in the blistering heat of July. Read on for products designed to get you through the warm-weather season swimmingly….
SMART WAYS TO BANISH DRY HAIR…
If you have fine-to-medium hair: Try Joico's HydraSplash – a radically new kind of Shampoo, Conditioner, Masque, and Hydrator designed to thoroughly replenish moisture, shine, and softness without weighing down delicate strands.
With HydraSplash, you can bypass the heavy hand of typical rich, cloying products by reinvigorating and transforming fine, dry, brittle hair with a light-as-air hair-care collection; plus, it's quenched with a hydrating splash of coconut water and nutrient-rich sea kelp for an instant transformation you can SEE.
If you're seriously dry
Hair feeling thirsty, dehydrated, and brittle as can be? Tap into intensive marine ingredients and deeply quench strands with Moisture Recovery Shampoo, Conditioner, and Treatment Balm. This trio – it just won Glamour.com's Beauty Choice Award — puts an end to the dry spell and literally brings dry, frizzy hair back to life.
The secret? Hydramine Sea Complex — a blend of unique natural moisturizing elements from the ocean, including Sea Kelp, Seawater Nutrients, and Brown Algae, to rehydrate hair and help restore hair's hydrolipidic barrier that prevents dehydration. Moisture Recovery gently cleanses hair without stripping vital moisture, while restoring smoothness and elasticity.