Moisture Recovery
Conditioner
It only takes a minute for our intensely-hydrating Moisture Recovery Conditioner to come to the rescue and inject a whole lot of life back into tired, fried, and frizzy tresses; actually reducing breakage by 55%.
Here's Why You'll Love It
Easily detangles dry hair
Reduces breakage by up to 55%
Deeply nourishes dry-to-extremely dry hair
Adds softness, smoothness, and shine
3.2 out of 5 stars (based on 13 reviews)
Wow what a difference this product makes i cant keep my hands out of my hair. This products is a winner anyone with dry hair go out and try this you will not be disappointed.

"After using them only one time, my hair instantly felt softer and looked shinier and healthier too." —Talia Gutierrez, beauty assistant, Glamour
Directions: Apply to clean, damp hair. Leave in for 1 to 2 minutes. Rinse.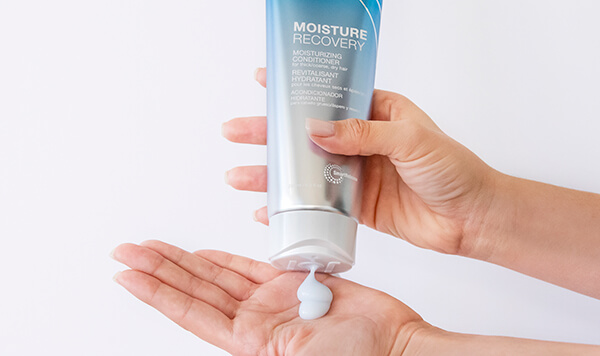 Hydramine Sea Complex
A blend of unique natural moisturizing elements from the ocean; Sea Kelp, Seawater Nutrients, and Brown Algae –help restore hair's hydrolipidic barrier and prevent dehydration.
Not happy at all with the new formula for moisture recovery conditioner.
Bring back the old on that made my hair frel silky and smell so nice!!!
Sincerely, a very dedicated user for many years 🙂
I love the original formula this new formula is awful it has made my hair dry and frizzy. It's awful bring BACK the original formula that I used for years!!!!!
Original formula was great. This new formula, well I felt the difference right as soon as I applied it and rinsed it out. It felt like a tangled mass of hair, luckily I combed it through before I rinsed it out, otherwise I probably would have had issues untangling it after my shower. With the old formula you could feel it soft and silky when you rinsed it out. It made my coarse curly hair soft, silky, and even kept my curls looking soft and relaxed. The new formula seems to strip the curl. So hair looks coarse, dry, with flyaways. I would not recommend new formula. The original formula was perfect, it took care of my thick, coarse, dry hair as it advertised. Why did Joico change a perfectly good product? Please bring the old formula back. I now have to search for a new conditioner. I also wrote a review with Ulta, since that is where I purchased it.