Moisture Recovery
Conditioner
It only takes a minute for our intensely-hydrating Moisture Recovery Conditioner to come to the rescue and inject a whole lot of life back into tired, fried, and frizzy tresses; actually reducing breakage by 55%.
Here's Why You'll Love It
Easily detangles dry hair
Reduces breakage by up to 55%
Deeply nourishes dry-to-extremely dry hair
Adds softness, smoothness, and shine
5 out of 5 stars (based on 7 reviews)
Wow what a difference this product makes i cant keep my hands out of my hair. This products is a winner anyone with dry hair go out and try this you will not be disappointed.
Directions: Apply to clean, damp hair. Leave in for 1 to 2 minutes. Rinse.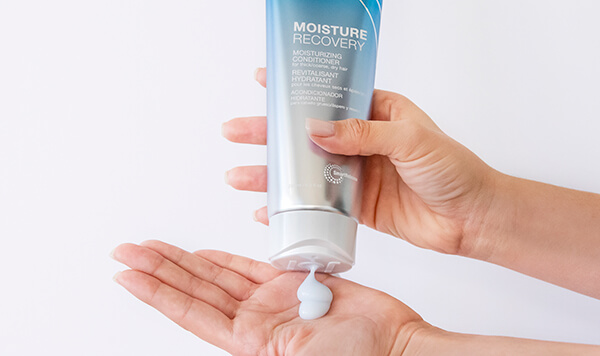 Hydramine Sea Complex
A blend of unique natural moisturizing elements from the ocean; Sea Kelp, Seawater Nutrients, and Brown Algae –help restore hair's hydrolipidic barrier and prevent dehydration.
This shampoo and conditioner will change your hair's life. I switched back over to joico from using cheap grocery store shampoos and conditioners about 2 weeks ago, and I can feel it getting softer and healthier with every wash. I hadn't bought it in a long time, but the difference it makes is worth it! I have very very long wavy caucasian hair (down past my hips) and my coworkers have been commenting on the shine and softness of my hair. Thank you to whomever created this wonderful formula.
This conditioner is a huge win for me. I got a travel size in a Christmas bag from my salon and had to buy a litre right away. Honestly, I like it better than the more expensive K-Pak line.
This is the best conditioner I have ever used along with the shampoo it helped return my hair to what it was like when I was young! I have wavy very poofy hair or as my daughter calls frizzy and it was dry and when I used this it just changed everything, it tamed my hair!