That iconic, chandelier-layered haircut so celebrated in the 70's is having another moment. (Honestly – we're not sure the sexy, graduated look has ever left the hot list.) What we do know is that Joico Guest Artist, Ricardo Santiago, can style the heck out of it with his blow-dryer, a couple of round brushes, and a few magic products. We've got the full scoop here: a rundown on his toolkit…a quick-and-easy video, complete with step-by-steps; and a super-fun quiz that tests your hairstyle savvy – then puts you in the running to win amazing K-PAK Color Therapy prizes with our Joiconic Trivia Game!
Let's introduce you to the product collection Ricardo's using to create his look...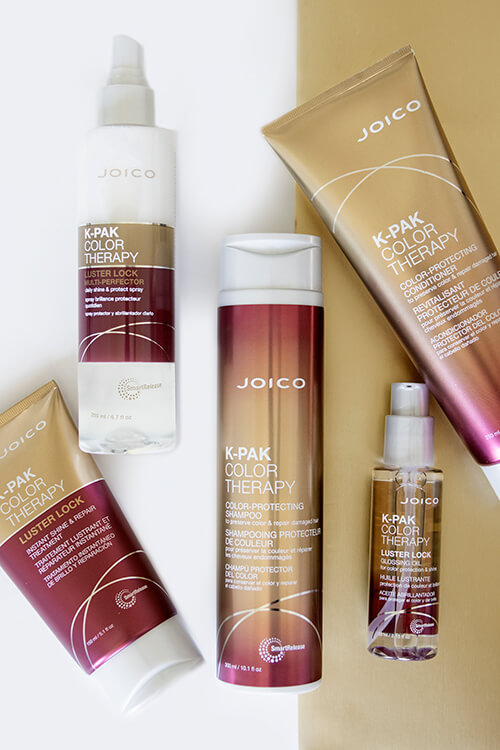 K-PAK Color Therapy Color-Protecting Shampoo
This color-preserving shampoo washes away dirt and debris while being gentle to color-treated hair. With its luscious lather, formulated with antioxidant-rich African Manketti and Argan oils, you'll actually help extend the life of your shade's vibrancy and fight future damage every time you wash.
K-PAK Color Therapy Color-Protecting Conditioner
Our extra-conditioning formula, with African Manketti and Argan oils, helps shield your hue's vibrancy, while hydrating overtime to strengthen hair and reduce breakage.
K-PAK Color Therapy Luster Lock Daily Shine & Protect Spray
This "wonder spray for healthy-looking hair every day" is a silky, leave-in treatment that that delivers a powerful shield of protection against styling stress, thermal damage, and UV exposure – all of which can fade your haircolor. The results are remarkable and visible…smooth-as-silk hair that shines like nobody's business.
K-PAK Color Therapy Glossing Oil
The daily hair treatment that creates 150X the shine in a single drop. In addition to boosting big-time shine, it also preserves over 85% of investment hair color, and tames frizz without weighing strands down. Super nourishing African Manketti Oil, Argon Oil, and Evening Primrose Oil team up to create hair that's instantly 9X stronger; while K-PAK's SmartRelease Technology releases RoseHip Oil, Arginine, and Keratin to repair, strengthen, and protect hair from future breakage, repairing years of damage in just a single use.
Dream Blowout Thermal Protection Crème
JoiFull Volumizing Styler
Now, bring in the brushes…
Yes, there are four of them: The flat brush is perfect for wet combing, since it reduces breakage and glides right through tangled hair. A trio of round brushes are key to styling these va-va-voom layers – Ricardo uses the largest on the bottom, working his way to the smallest brush for the feathered bang area.
NOW Watch Ricardo in action!
View this post on Instagram
PLAY & WIN!
Ready for some fun? It's time to test your hairstyle savvy and put yourself in the running to win amazing K-PAK Color Therapy prizes!
Here's how: Take our Joiconic Trivia Game and identify some of the world's most enduringly famous hairdos (you may just find your inner icon while you're at it!); then enter our Sweepstakes before October 9th — 300 lucky winners* will score serious swag.