K-PAK Color Therapy
COLOR-PROTECTING Shampoo
For color-treated hair
This color-preserving shampoo washes away dirt and debris while being gentle to color-treated hair. With its luscious lather formulated with antioxidant-rich African Manketti and Argan oils, you'll actually help extend the life of your shade's vibrancy* and fight future damage every time you wash. **
*Maintains over 82% of haircolor after 18 washes
**When used with K-PAK Color Therapy Conditioner; against combing breakage on damaged hair vs. a non-conditioning shampoo
Here's Why You'll Love It
Gently cleanses color-treated hair
Improves hair's elasticity and shine
Helps restore and protect hair*
*Against combing breakage on damaged hair vs. a non-conditioning shampoo; when used with K-PAK Color Therapy Conditioner
3.8 out of 5 stars (based on 14 reviews)
I will definitely buy it again. Its made my hair so smooth and I think repaired my colored hair to a high extend.
Directions: Lather, rinse, and repeat if desired. Follow with K PAK Color Therapy Conditioner.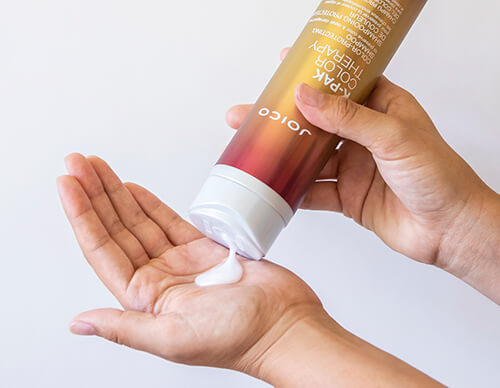 Use it daily for a cleansing experience that feels downright indulgent.

AFRICAN MANKETTI OIL
A rich source of Vitamin E, nature's well known environmental protection against fading.
KERATIN
A protective protein found naturally in hair, actively seeks out damage and helps repairs hair by replacing lost proteins. The result? Stronger, healthier-looking locks.
ARGAL OIL
A powerhouse of Vitamin E, antioxidants, and essential fatty acids that help deeply hydrate and nourish hair.
SMARTRELEASE TECHNOLOGY
Our one-of-a-kind liposome delivery system packs a punch continuously releasing Rose Hip Oil, Arginine, and Keratin – to repair, strengthen and protect hair from the cumulative effects of daily styling.
I've used Joico products since graduating cosmetology school in1981. My opinion was and still is, superior product and does what it's supposed to do.
I use to love this shampoo and conditioner but now it's too harsh. My scalp turned red, itchy, and flaky. Going to try a different Joico shampoo and conditioner to see if the sensitivity persists.
I love this shampoo but it says no longer available? Has it been discontinued? Can you suggest a replacement?
View this post on Instagram
View this post on Instagram
View this post on Instagram