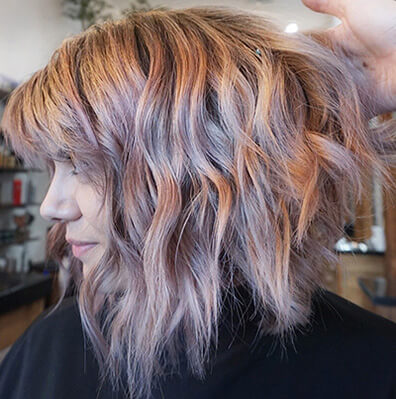 THE BACKSTORY:
"My client is usually a level 9-10 pearly blonde. The day she came to me, she had 3" of regrowth, which was level 2. From demarcation line to ends, was a level 9 — slightly golden blonde."
LARISA'S BALANCING ACT:
"The biggest challenge was lifting her regrowth to match the rest of her hair, but still allowing enough time for the lightener to process. Fortunately, I was able to get her to the perfect loft!"
THE MAKEUP FACTOR:
Rose-gold cosmetics are all the rage, but clients can
actually get away with wearing less once they try the Soft Rose look. "I find rose hues tend to compliment every skin tone," says Larisa. "You can wear less make up and still feel glamorous."
MOVING FORWARD:
"The more pastel the tone, the higher maintenance the color will be. Be sure to wash the hair in lukewarm or cold water, and no more than twice a week," advises Larisa, who likes to dilute Pink Color Butter with conditioner to keep up the gentle pastel tone.
THE HEALTH PRESCRIPTION:
"I recommend using Color Therapy Shampoo and Conditioner, and switching out every other time with the brand-new Defy Damage at-home product system. It's a game-changer that actually protects all hair types from the effects of daily heat styling, UV exposure, and environmental pollution, as well as chemical services. With Defy Damage Shampoo, Conditioner, Protective Masque, and Protective Shield, hair bonds are actually strengthened, resulting in a transformation that clients can instantly see and feel."
FEELING THE LOVE:
"My client loves being blonde, but she wanted a slight
change…so the pastel rose was a perfect fit for her. We were both very happy with the results."
THE STEP-BY-STEPS: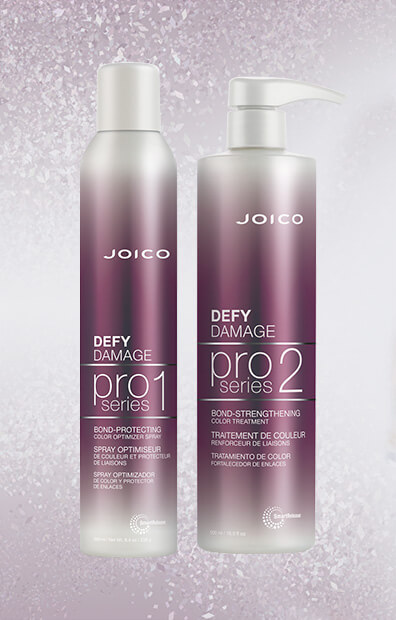 Step 1: Spray Defy Damage Pro-Series 1: Bond-Protecting Color Optimizer on each sliced section; comb through for even distribution.
Step 2: Lift hair with Joico Blonde Life Creme' Lightener, starting with 20 Volume and working up to 40 Volume LumiShine Developer with a full head of highlights.
Step 3: Pre-tone with LumiShine Demi-Permanent Liquid Color in 9V + 8N with 5 Volume LumiShine Developer.
Step 4: Wash out and glaze with Joico Color Intensity Blush and Silver Ice ok dry hair for 20 minutes.
Step 5: Rinse and apply Defy Damage Pro Series 2: Bond-Regenerating Color Preserver and style.