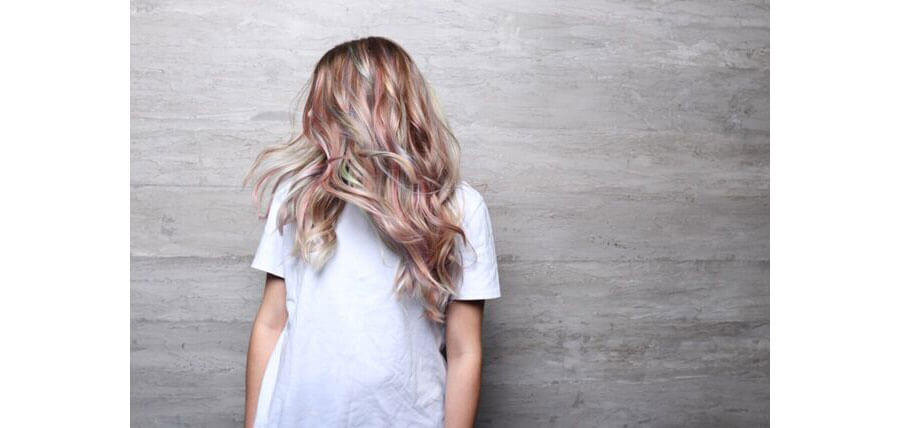 FAST FACTS...
THE ARCHITECT:
Joico Educator, Melody Sparrow
THE LOOK:
"Break The Rules"
THE GOAL:
A feminine unicorn vibe in which the pastels pop "almost like neon," but still have the feel of a soft, candied palette.
THE CHALLENGE:
"I knew I had complementary colors with this look, but didn't want to cross those colors as they would have cancelled each other out," explains Melody. That also meant keeping foils ultra-clean to make sure colors didn't mingle.
THE TRICK:
"I had 7 bowls (all custom colors) and 17 different colors between the bowls! Keeping track of all those shades is key for this technique, because I wanted to create a lived-in look that could still be followed and recreated by other artists."
THE CLIENT REACTION:
"When I showed my client, Charity, the initial color palette, she wasn't so sure she'd like the yellow and red shades…and she was particularly concerned about the green. But I told her to trust me (and she responded, "Of course I trust you, Mel!"). When we took the pictures the next day, she confided that not only was the green shade her favorite, but that the finished look was her favorite of any we've ever done together!"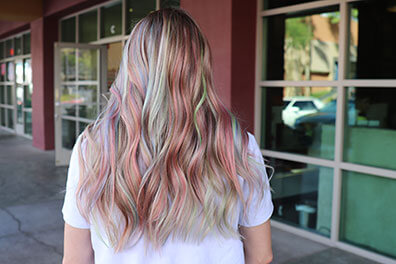 "BREAKING ALL THE RULES"
Color Butters: Green, Red, and Purple
To make them pastel: Use Joico Color Therapy Conditioner
COLOR BUTTER FORMULAS
Formula 1
1 part Green Color Butter +
20 pumps of K-PAK Color Therapy Conditioner +
1 part Yellow Color Intensity

Formula 2
1 part Red Color Butter +
20 pumps K-PAK Color Therapy Conditioner +
1 part Orange Color Intensity

Formula 3
1 part Purple Color Butter +
1 part Blue Color Butter +
1 1/2 parts Titanium Color Butter +
20 pumps K-PAK Color Therapy Conditioner

COLOR INTENSITY FORMULAS
Formula 1
1 part Color Intensity Yellow +
3 parts Clear Mixer

Formula 2
3 parts Color Intensity Rose Gold +
1/2 part Color Intensity Orange

Formula 3
1 part Color Intensity Blush +
1 part Color Intensity Orange +
2 parts Clear Mixer

Formula 4
1 part Color Intensity Blush +
1 part Color Intensity Rose +
1 part Color Intensity Peach +
1 part Color Intensity Orange
MELODY'S STEP BY STEP:
Charity's starting level – Natural Level 6/7
Prelightening Formulas:
Prelightening Formula 1: Blonde Life Lightening Powder + 20 Volume LumiShine Developer
Prelightening Formula 2: FreePlay Clay Lightener + 40 Volume LumiShine Developer
Step 1:
She was pre-lightened by the salon owner, Kelly Orf, using Prelightening Formulas 1 & 2 using a hair painting technique and highlights in between for extra pops. Prelighten the hair to levels 9/10.
Step 2:
Use Joico Color Balance Purple Shampoo to tone out any unwanted tones.
Step 3:
Comb the hair around and see where it's natural fall and lived in every day before you start sectioning. This will give you a complete idea of where the color placement should go. The sectioning is simple: only 3 of them. Zone 1 is the back of the head from crown to ears down and the front sides will be zones 2 and 3.
Step 4:
Starting horizontally in the back, Zone 1, weave some of her blonde hair out starting in the bottom, making sure there is a balance between the blonde that is left out and the color you're about to add in. Apply the 7 Color Intensity / Color Butter Formulas in an alternating creative method. You will want to make sure these colors do not cross each other. This is not a color melting method but a creative placement of pops of color. Each foil will be its own color, so if you're using the green mix, that's the only color in that foil. Apply the formulas to the prelightened hair in the foil, omitting the natural shadow root.
Step 5:
Continue working, in Zone 1, utilizing horizontal weaves and alternating the formulas. Remember to choose your colors creatively. You do not need to choose them in a certain method (i.e. formula 1, 2, 3, 4, etc.). Applying the formulas, in a more randomly chosen way, will make this application more personal, tailored and creative for each individual client.
Steps 6:
Continue working into Zones 2 and 3, still going horizontal and weaving with all the colors. Make sure to still leave some of her blonde hair out. The idea is to make sure all 7 different formulas are cohesive with this look. Work up the head until all Zones have been completed.
Tip: Putting Yellow next to the Purple formula will make the colors pop because I'm placing complimentary colors next to each other! Also, when weaving her hair, I'm not going too tiny, nor too chunky, because she has fine hair and a lot of it.
Step 7:
Rinse the hair with ice cold water and Joico K-Pak Color Therapy Shampoo and Conditioner. For an added bonus in hair repair, shine and color locking, I love to use K-Pak Color Therapy Luster Lock Shine and Repair Treatment at the shampoo bowl for 5 minutes after all my color clients.