KATY PERRY'S PLATINUM CELEBRATION
Featuring Joico Guest Artist, Rick Henry
View this post on Instagram
As patriotic sparkles filled the sky during an Inaugural pyrotechnic performance by pop superstar, Katy Perry, so did the singer herself – thanks to a freshly iced platinum coif by her longtime hairdresser, Joico Guest Artist, Rick Perry. We were awed. He was awed. The world was awed. Not just by the fireworks (the song and the show!); but by the hair that took center stage. Grab Rick's custom color formula here; and learn how Katy's color exploded in popularity after internationally-watched appearance.
Rick Henry "Reflects" on the Big Day
"Over the last 15 years, I've experienced so many incredible moments with Katy. This goes down as one of the greatest! I am honored to be part of such an historical day! Thank you KP for having me there with you! You are a shining force that ignites that bright light in all of us!" "Reflection" also described the singer's icy-blonde hair color to a T. Explains Rick, "In preparation for the big day, it was important that her iconic platinum blonde hair was perfection! Here is the step-by-step and formula, along with m
Rick Henry's Joico Must-Have's
Defy Damage ProSeries 1 and 2: Defy Damage ProSeries 1 Bond-Protecting Color Optimizer Spray is an easy-to-use ultra-dry aerosol that safeguards hair from chemical damage, improves color deposit, and provides greater, more even lift when lightening hair to new heights. The unique technology – it's applied in short bursts to dry hair prior to any chemical service — actually protects bonds from degradation that occurs during color, lightening, perming, and straightening services. Quick and easy to use…there's no need to reformulate your color, adjust your developer, or change your process timing! Combined with Defy Damage ProSeries 2, the game-changing product will restore and regenerate bonds while locking in vibrant, healthy color.
Defy Damage Protective Shampoo: With a rich, luxurious lather featuring damage-preventing ingredients, this gentle daily cleanser swiftly sloughs away dirt, impurities, and buildup without roughing up the hair cuticle or stripping vibrant color. The result: shiny, smooth, clean strands – wonderfully resilient and healthy-looking.
Defy Damage Protective Shield: When it's time to dive deep with a hair repair treatment for dry, damaged hair, this Protective Masque infuses each strand with a brilliant, bond-strengthening defense system that never weighs hair down. You'll see and feel the transformation on contact, with less breakage, protection from heat styling, color longevity, instant softness, and glorious shine. Key ingredients — Arginine, Moringa Seed Oil, and a Protective Lipid — team up with Joico's SmartRelease Technology, a one-of-a-kind liposome delivery system that continuously releases powerful Rose Hip Oil, Arginine, and Keratin.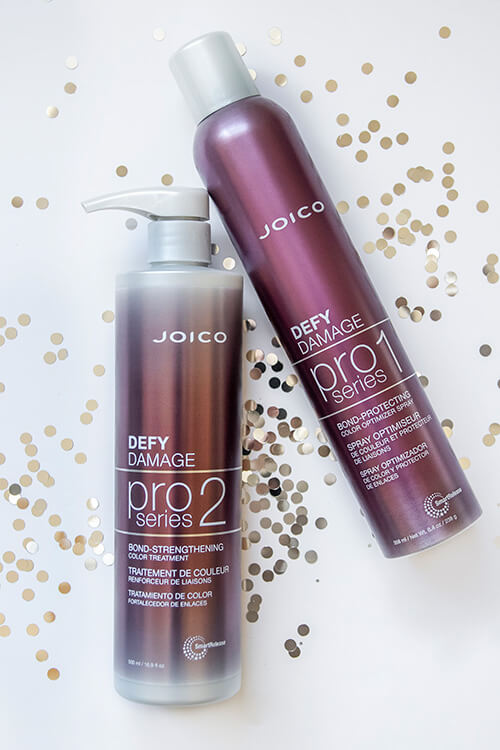 Get Katy's "Fireworks" Platinum Look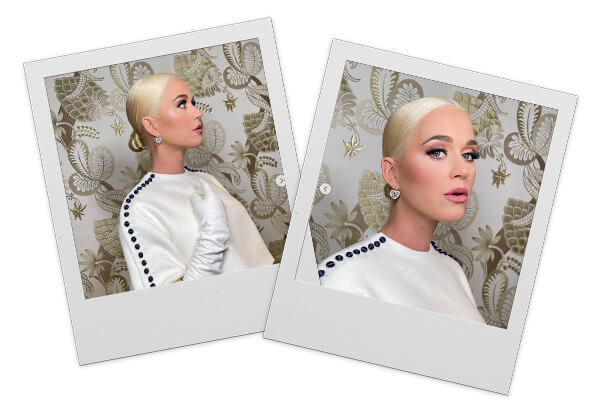 STEP 1
Prep the hair with Defy Damage ProSeries 1 by spraying in short bursts 6 inches away from the head, and combing through for even distribution. Make sure to shake the can vigorously first and spray in 2-inch sections.
Tip: When applying Defy Damage ProSeries 1 around the face, spray at a backwards angle away from the face for client comfort.
STEP 2
Apply Formula 1 throughout the entire head and let process for 45 - 50 minutes until a level 10 pale-blonde is achieved. Rinse and shampoo with Joico Defy Damage Protective Shampoo. Towel-dry the hair to remove excess water.
STEP 3
Tone the hair with Formula 2 and let sit until the desired tone is achieved. Rinse and shampoo with Joico Defy Damage Protective Shampoo. Apply Joico Defy Damage ProSeries 2 for 5 minutes to rebuild the bonds of the hair. Rinse and style with Joico Defy Damage Protective Shield and Blonde Life Brilliant Glow Brightening Oil.