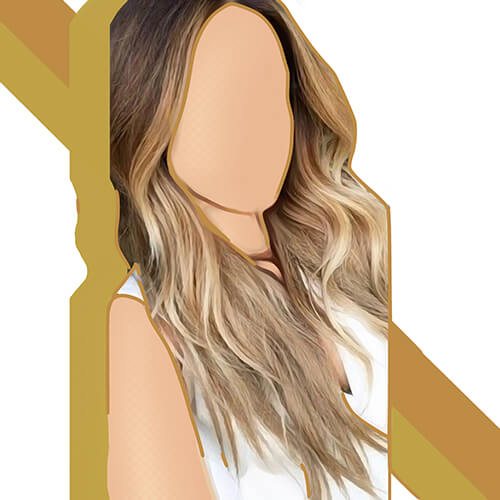 Ready to get your superstar, Jenny-from-the-block-look on? Joico Global Brand Storyteller, Olivia Smalley's going to show you how – on her own hair! – with some temporary glam hacks that conjure up full-on celebrity style.
The back story…
The foundation of this iconic 'do is an Ombré hair-color effect. Taking its name from the French word for "shadow" or "shade," this gradient, lived-in look embraces darker roots and lighter ends; but fear not…Olivia shows you how to temporarily recreate it on her blonde hair using Joico's Tint Shot Root Concealer (more on that in a minute). Then, it's all about adding some strategic waves to give the look its hallmark va-va-voom star quality.
The Product Collection Olivia's Using to Create Her Iconic Look
K-PAK Color Therapy Color-Protecting Shampoo
This color-preserving shampoo washes away dirt and debris while being gentle to color-treated hair. With its luscious lather, formulated with antioxidant-rich African Manketti and Argan oils, you'll actually help extend the life of your shade's vibrancy and fight future damage every time you wash.
K-PAK Color Therapy Color-Protecting Conditioner
Our extra-conditioning formula, with African Manketti and Argan oils, helps shield your hue's vibrancy, while hydrating overtime to strengthen hair and reduce breakage.
K-PAK Color Therapy Luster Lock Multi-Perfector Daily Shine & Protect Spray
This "wonder spray for healthy-looking hair every day" is a silky, leave-in treatment that that delivers a powerful shield of protection against styling stress, thermal damage, and UV exposure – all of which can fade your haircolor. The results are remarkable and visible…smooth-as-silk hair that shines like nobody's business.
K-PAK Color Therapy Glossing Oil
The daily hair treatment that creates 150X the shine in a single drop. In addition to boosting big-time shine, it also preserves over 85% of investment hair color, and tames frizz without weighing strands down. Super nourishing African Manketti Oil, Argon Oil, and Evening Primrose Oil team up to create hair that's instantly 9X stronger; while K-PAK's SmartRelease Technology releases Rose Hip Oil, Arginine, and Keratin to repair, strengthen, and protect hair from future breakage, repairing years of damage in just a single use.
Tint Shot Root Concealer in Light Brown
Get to the root of the problem with a few strategic passes of Tint Shot, our magic-in-a-can that camouflages – or, in this case, creates! — dark roots in seconds. The flash-dry formula, pollution shield, and easy-to-match shade blends and even fills in thinning areas to create the illusion of thicker, fuller hair. Washes right out at your next shampoo.
Body Shake Texturizing Finishing Spray
Get the body you've always wanted with the plush, airy, bombshell volume of Body Shake — the buildable spray that's never stiff or sticky. Delivering a bouncy, plush finish and the freedom to touch and retouch, you'll have fullness, fluidity, and pollution/humidity protection in one unique texturizer.
PUTTING THE FULL ACT TOGETHER
NOW START WITH AIR-DRIED HAIR
Olivia lets her hair air-dry overnight, and just brushes through the next day.
Bonus: Less heat styling = healthier hair.
Cocktail Joico K-PAK Luster Lock Spray and Glossing Oil in the palm of your hand; apply to hair lengths to create immediate shine and protection from the curling iron that's just around the bend.
Now it's time to color without commitment and create the Ombré effect. Simply spray Tint Shot Light Brown onto roots. Use a clean powder makeup brush to blend color downwards into your blonder strands.
Using a large-barrel curling iron, curl the "money pieces" in front away from the face, leaving ends out for a more natural effect.
Next, curl the rest of the hair (from the ears back), bending curls towards the face. This re-direction creates extra volume in the hair.
Finger-brush the curls and apply Joico Body Shake Texturizing Finisher for additional texture, hold, luxurious volume.
Throw on a pair of gradient aviator sunglasses (they're Ombré, too!), and grab your mic – because you're going to be singing the praises of this fun and fast hairstyle.
View this post on Instagram
PLAY & WIN!
Ready for some fun? It's time to test your hairstyle savvy with our Joiconic Trivia Game…click here to take the quiz and identify some of the world's most enduringly famous hairdos. (You may just find your inner icon while you're at it!)