INTO THE SUNSET
Featuring Joico Celebrity Artist, Jill Buck, of Salon 901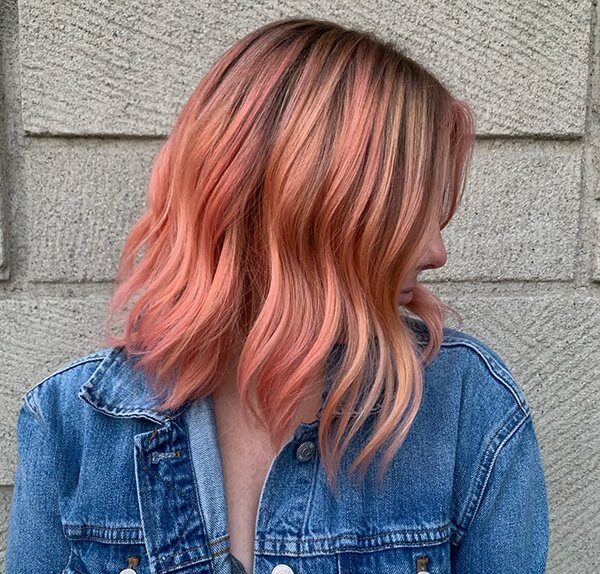 Ever see a hair color so beautiful, it literally stops you in your tracks? Get set for "Sunset Coral," a luscious new mingle of orange, bronze, and pink tones from the Secret Menu of Joico Celebrity Artist, Jill Buck, of Salon Nine Zero One.
THE BACK STORY
"My client was having a big birthday and was hoping for a change that would still be very wearable for every day, yet very bold and different from her natural look," explains Jill. Knowing that pastels and soft shades have been trending for a few years — and have actually become an acceptable color in most work places – Jill settled on a rosy hair color…the perfect bold statement for her client's celebration. What makes this look different from other pinked-up 'dos? "Adding an element of orange and bronze softens the pink and sets it apart," adds Jill.
JILL'S START-AND-FINISH TRICK
The key to bringing out vibrancy and shine? Starting and ending every service with Defy Damage ProSeries:
Pro Series 1 is a dry aerosol spray that is applied in short bursts to dry hair prior to any chemical service. It's designed to protect bonds in the hair from degradation that occurs during color, lightening, perming, and straightening services. Big bonus? There's no need to reformulate your color, adjust your developer, or change your process timing–just shake the can vigorously, apply to clean dry hair then apply Jill's fabulous Root Rap formula.
When processing is complete, rinse and apply Defy Damage Shampoo, followed by Pro Series 2 for five minutes. This game-changing product will restore and regenerate bonds while locking in color: the perfect way to bring out the radiance in red.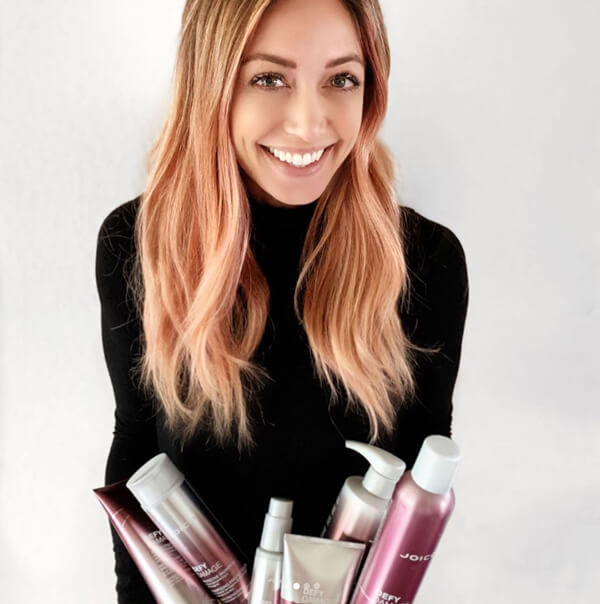 STEP-BY-STEP & FORMULA
Starting point: level 7 copper permanent color

Step by steps:
– Prep hair with Defy Damage ProSeries1
– Apply Blonde Life Powder Lightener to hair, alternating foils with a highlight to the root, and a tip out into zone 2.
– Allow to process and lift to a pale yellow level 9

Root Shadow:
LumiShine Liquid 7N with 5 volume LumiShine developer: Apply to hair at the root only.

Pre-Tone:
LumiShine Liquid 9SB with 5 volume LumiShine Developer: While the Root Shadow is processing, pre-tone the rest of the hair. Comb through for even saturation.

Sunset Coral:
Joico Color Intensity
• 3 parts yellow
• 1 part Hot Kiss
• 4 parts Rose

Press into hair and comb through, massaging the product into the hair. Process for 20 minutes and rinse with cool water .

Post Treatment: Joico Defy Damage ProSeries2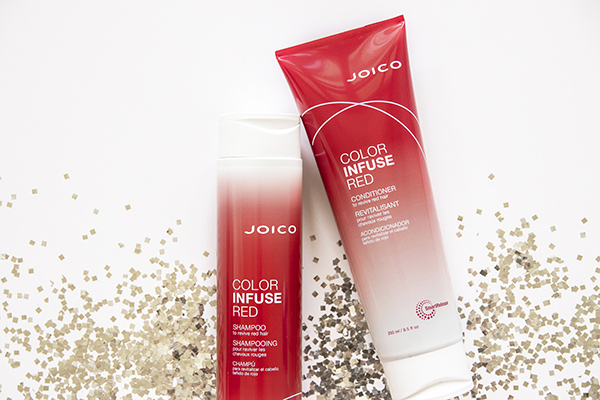 THE HOME-CARE SECRET
Jill sent her client home with K-PAK Color Therapy Shampoo and Conditioner. This total shade-protection system keeps delivering long after you leave the salon, providing the ultimate merger of K-PAK reconstruction power, plus total shade and UVA/UVB protection; maintaining 82% of hair color for up to 8 full weeks. Instantly repairing and strengthening damaged hair with nourishing African Manketti Oil, Argon Oil, and Evening Primrose Oil, Color Therapy creates hair that's instantly 9X stronger with twice the shine. K-PAK's SmartRelease Technology releases RoseHip Oil, Arginine, and Keratin to strengthen and protect hair from future breakage, while repairing years of damage in just a single use.
View this post on Instagram