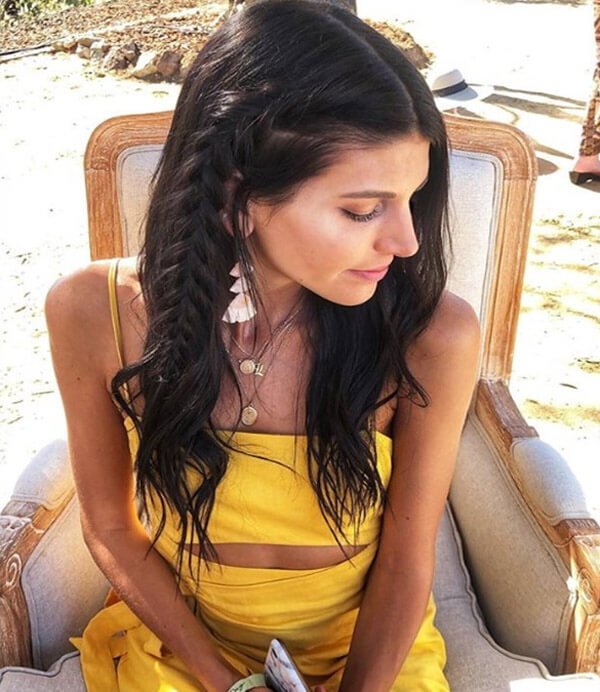 STEP-BY-STEP
Step 1: Prep Hair with Defy Damage Protective Home Care System
Step 2: Spray Power Spray Fast-Dry Finishing Spray all over the hair for grip and staying power, and brush evenly throughout. Using a tail comb, part the hair off-center.
Step 3: On the heaviest side of the part, pull out a 1/2–1 inch section.

Step 4: Start your braid at the top of this section.
Step 5: Now begin creating your Dutch braid.
(Think of it as a French-braid-meets-a-Fishtail-braid that's formed by crossing under instead of over.)
Step 6: Cross the outside over middle, adding more hair each time. Continue down the head until you reach the ear, and then finish with regular braiding.
Step 7: Spray Joico Hair Shake Liquid-To-Powder Texturizing Finisher onto the braid, and begin to gently pull on the outside of the braid, expanding it for a fuller, more textured effect. (Note: Stopping the Dutch braid at the ear, and transitioning to a regular Fishtail braid, will give you length to keep braiding as much as you want without effecting the structure of the braid. Also, it will flow better with the rest of your hair.)
Step 8: Place all the hair back and begin to spray Beach Shake Texturizing Finisher all-over/underneath/in-between hair.
Step 9: Using your hands, begin to lift and scrunch all hair that's not braided, creating texture on the hair so it matches the fullness of the braid itself.
Step 10: Spray Power Spray Fast-Dry Finishing Spray to help hold the texture and tame any hair that may be out of place.
Products Used: