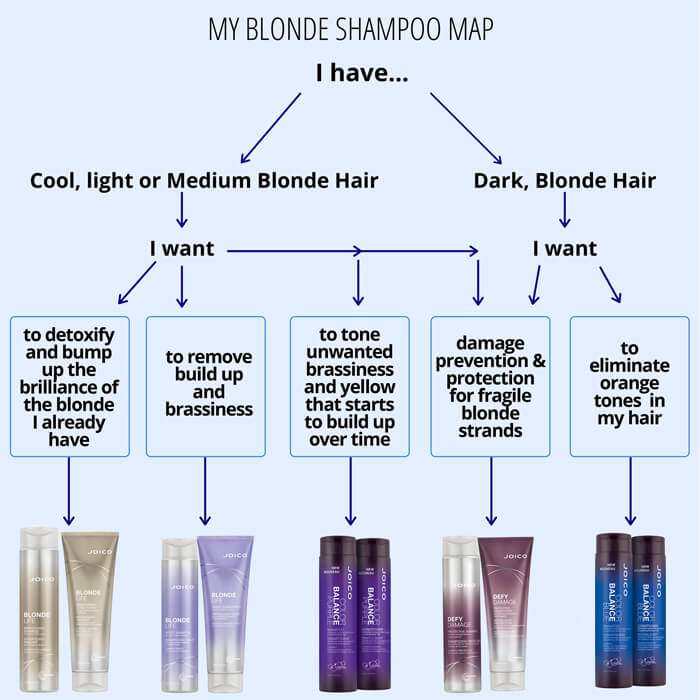 Shampoo has come a long way since the days of lather, rinse, repeat. But it's easy to have a bit of a blonde moment when faced with the broad range of choices now available to us fair-haired folks. Thankfully, Joico Celebrity stylist, Jill Buck, of Salon Nine Zero One, clarifies the cleanser maze today; with her super-helpful tutorial, you'll never have to wonder which Joico shampoo is right for you.
BLONDE LIFE BRIGHTENING SHAMPOO
What it does
Detoxifies your light hair and bumps up the brilliance of blonde. This sulfate-free cleanser lifts away dirt and oil, restores hair's optimal pH level, and produces a luscious lather that most sulfate-free shampoos simply can't muster. After a good rinse, your comb will slide smoothly and easily through soft, damp, clean-as-a-whistle strands.
Who it's for
Any blonde who wants to stay bright from roots to ends. Especially helpful for those who don't have access to a water-purifier at home.
BLONDE LIFE VIOLET SHAMPOO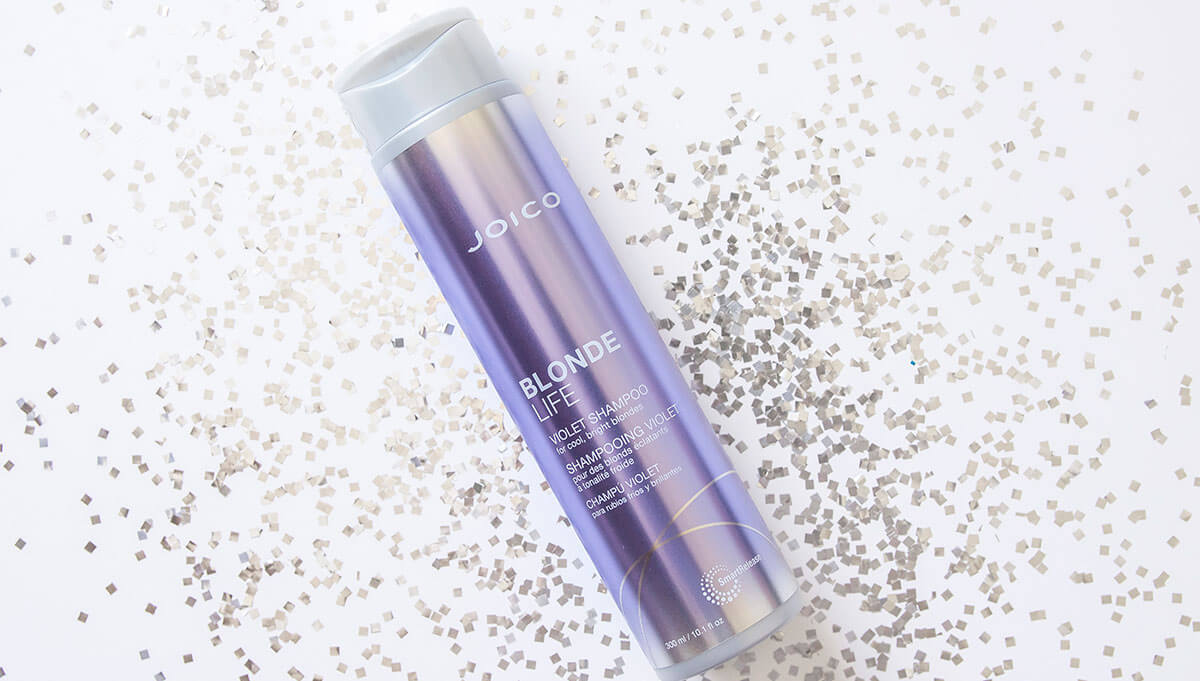 What it does
Removes build-up and brassiness on cool blonde hair. This brass-neutralizing cleanser instantly banishes undesirable yellow tones, so blondes stay nice and icy.
Who it's for
The blonde whose last visit to the salon was a week or two ago; or you've been swimming regularly; and your toner has started to fade a bit. The sulfate-free formula goes to work with a minimalist sudsy feel.
When to use it
Perfect to use 2 to 3 times per week (leave it on for 1 - 3 minutes) to tone out unwanted brassiness. Keep using it to maintain your cool until your next toning application.
COLOR BALANCE PURPLE SHAMPOO
What it does
Packed with intensity, this targeted shampoo gently banishes your yellow tones with SmartRelease Technology, our one-of-a-kind liposome delivery system that continuously releases powerful Rose Hip Oil, Arginine, and Keratin – plus UV absorbers and antioxidants.
Who it's for
Instant toning effect for blondes who are having a hard time getting to the salon for a professional color appointment. The intense purple ingredients tones out unwanted brassy and yellow bits that inevitably seep into even the coolest blonde hair over time.
When to use it
Try it when you're further down the line and haven't had a profesh hair-color appointment for 10 weeks. Apply and leave in for 3 - 5 min; use 2 to 3 times a week.
COLOR BALANCE BLUE SHAMPOO
What it does
Instantly neutralizes orangey tones that can crop up in darker-blonde hair, while preserving up to 89 percent of hair color.
Who it's for
Perfect for dark blondes and brunettes who seek to counteract any warmth in their highlights.
When to use it
Designed to use 2 to 3 times per week; generally, 8 -10 weeks after a salon coloring appointment (which is when orangey tones can be most noticeable). Leave in for 3 – 5 minutes and rinse.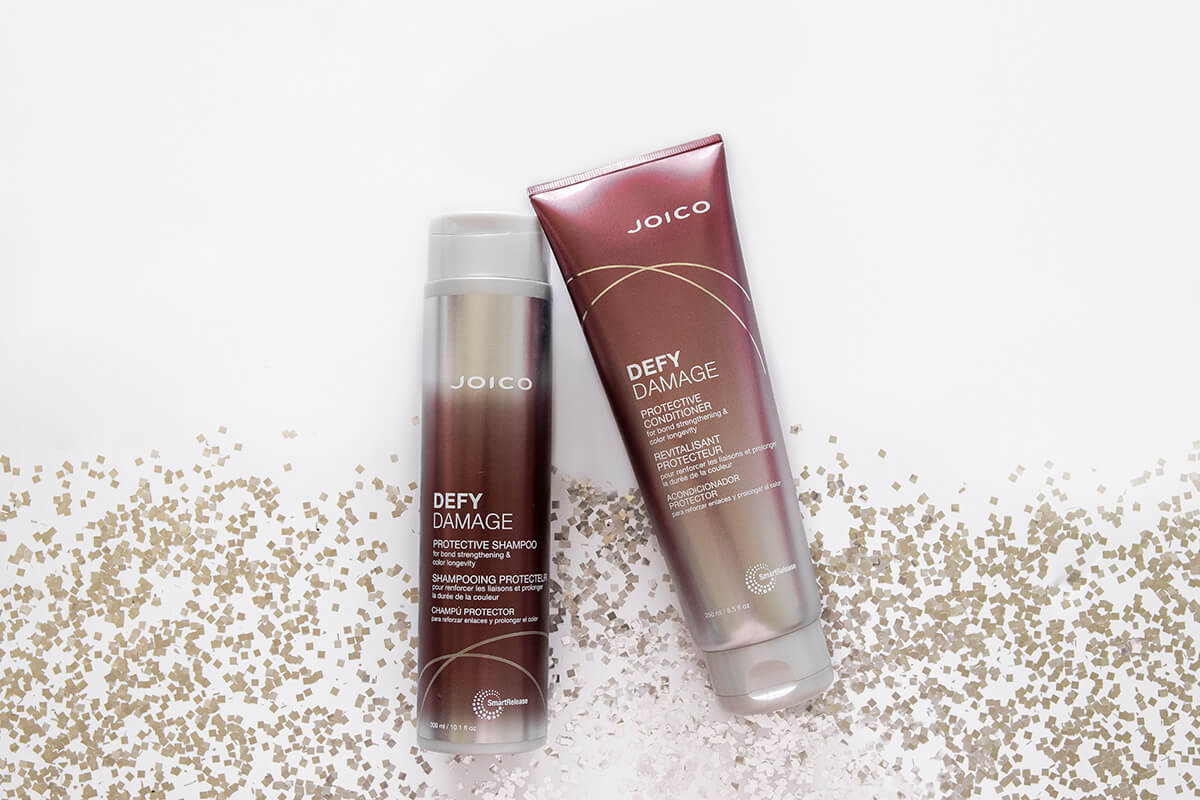 What it does
With a rich, luxurious lather (rare for sulfate-free formulas), this gentle cleanser protects delicate blonde hair both in the salon and at home with damage-proof, bond-building ingredients; swiftly sloughing away dirt, impurities, and build-up without roughing up the hair cuticle or stripping vibrant color. The results are shiny, smooth, clean strands -- wonderfully resilient and healthy
Who it's for
Perfect for anyone struggling with the health of their hair; and especially, for blondes who need strands strong enough to withstand lightening services, and the ability to stave off unwanted tones.