THE CRYSTAL-LITE TECHNIQUE
Featuring Joico Global Brand Ambassador, Larisa Love
Imagine the glorious transformation to pure, icy-white blonde – with a low maintenance edge. Sounds impossible, right? Wrong! Joico Global Brand Ambassador, Larisa Love, has created the Crystal-Lite Technique, a brand-new platinum-like look with a seamless grow-out.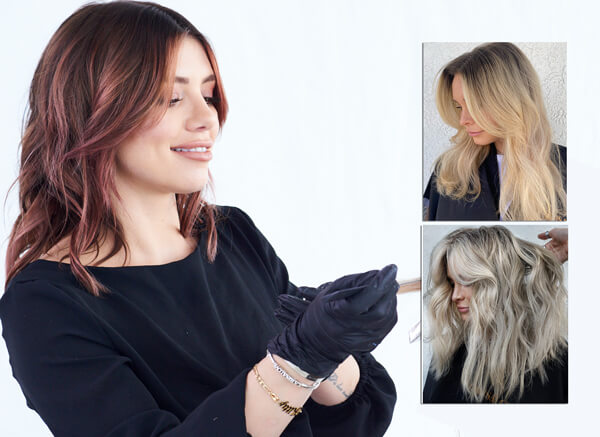 Over-the-top, icy blonde has always been considered fierce and super-feminine. It has not, however, been considered a "low-maintenance" look. That's because the extreme pale, coupled with cool tones, rarely mimic's a client's natural roots (even on true blondies); so frequent touch-ups are inevitable.
Larisa's seamless solution
"For this technique, I created a pure white tone with no warmth, but left the natural root color for a more seamless grow-out. It's perfect for a client who wants to have a complete transformation from their natural color, without overly- frequent visits to the salon."
How It Works
Leaving the natural root allows the light color to have more depth throughout the top.
Adding highlights between the slices allows them to lift slightly lighter, and that creates dimension throughout the toning process.
It's not too ashy (Larisa uses violet – 10V – to neutralize the tone; and then retones with an even cooler shade if needed.)
Larisa sends clients home with Joico's Blonde Life Violet Shampoo and Conditioner to help maintain the cool tone between visits. Alternating this regimen with Defy Damage Shampoo and Conditioner (and Defy Damage Protective Masque for a weekly, 20-minute, bond-building treatment) keeps those delicate strands icy and strong.
Her styling recommendation includes Luster Lock Multi-Perfector Daily Shine & Protect Spray, along with Blonde Life Brightening Oil to bump up the shine of this crystal creation.
The Formula
View this post on Instagram