Behind the scenes with Jill and Jules…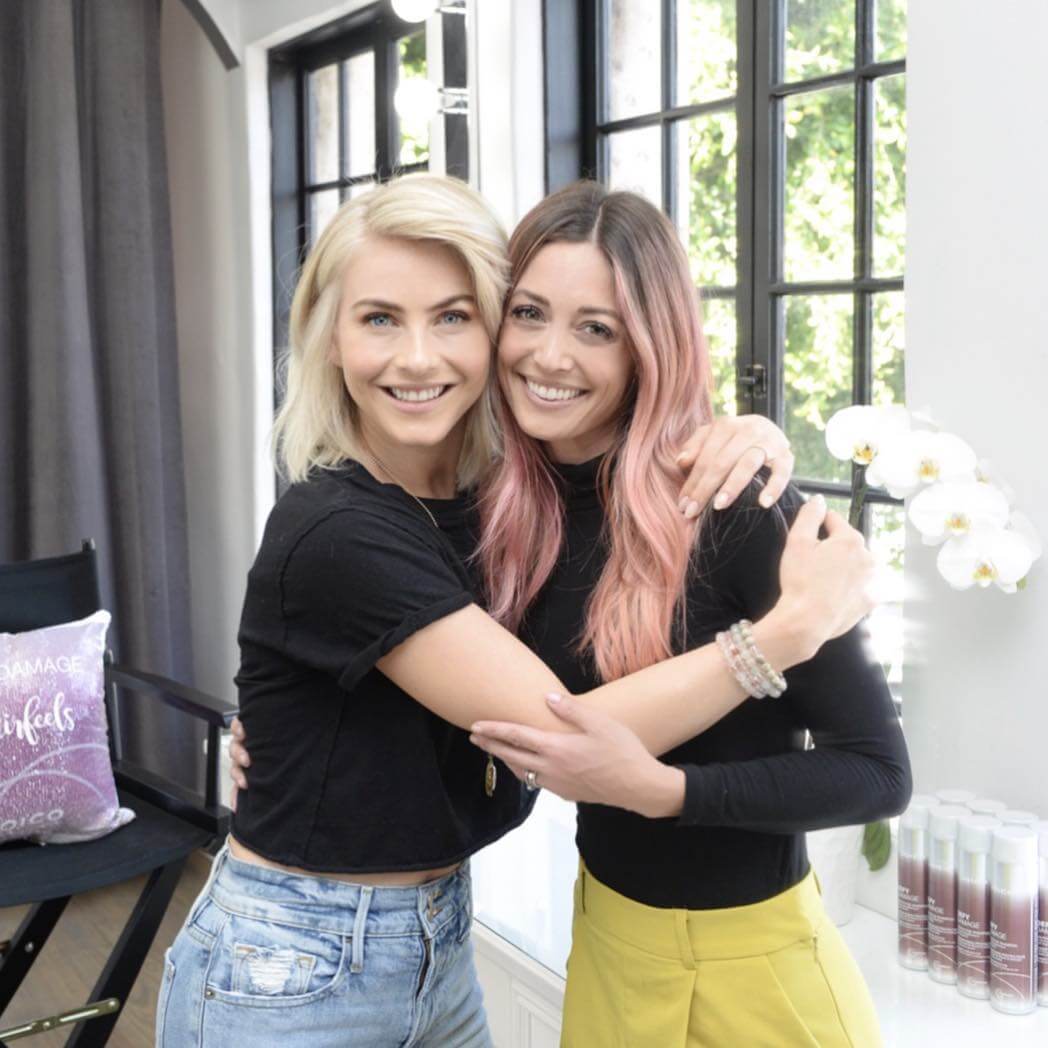 "I took this babe to her ultimate baby-blonde self," enthused Jill Buck
And that's a major feat when you consider that Jules's career means frequent morphing from color to color, or going blonde on top of blonde – sometimes on a monthly basis (not easy on the hair, as any pro knows). "If she's working or on camera a lot, then we color pretty often…because with all of the close-up shots, interviews, etc, it needs to be fresh." Bottom line? Jules and Jill get together at least every five weeks in the salon – or, when duty calls, even the occasional on-set hotel room for color maintenance.
But this time was dramatically different when Defy Damage was added to the routine. "This is truly the next generation of bond-building for the hair," raves Jill of the brand-new technology that starts with ProSeries 1 – Joico's Bond-Protecting Color Optimizing Spray. This easy product begins the process of healthy-hair transformation by turning a salon chemical service into something strikingly different. With its easy spray-on application, Defy Damage instantly goes to work, strengthening and rebuilding bonds, heightening product performance, and providing powerful (and immediate) damage protection right before your eyes.
It's completed with ProSeries 2 Bond-Strengthening Color Treatment, at the shampoo bowl, where those same breakthrough ingredients — Arginine, Moringa Seed Oil, and a Protective Lipid — team up with Joico's SmartRelease Technology, a one-of-a-kind liposome delivery system that continuously releases powerful Rose Hip Oil, Arginine, and Keratin.
"The difference with Defy Damage is that it's something we do before we even color the hair," explains Jill. "To me, using the Pro Series Step 1, instantly gives the hair strength and protects hair bonds before I ever put the potentially damaging chemicals on. That's huge…and nobody else is doing that."
More love for Defy Damage from Jill Buck...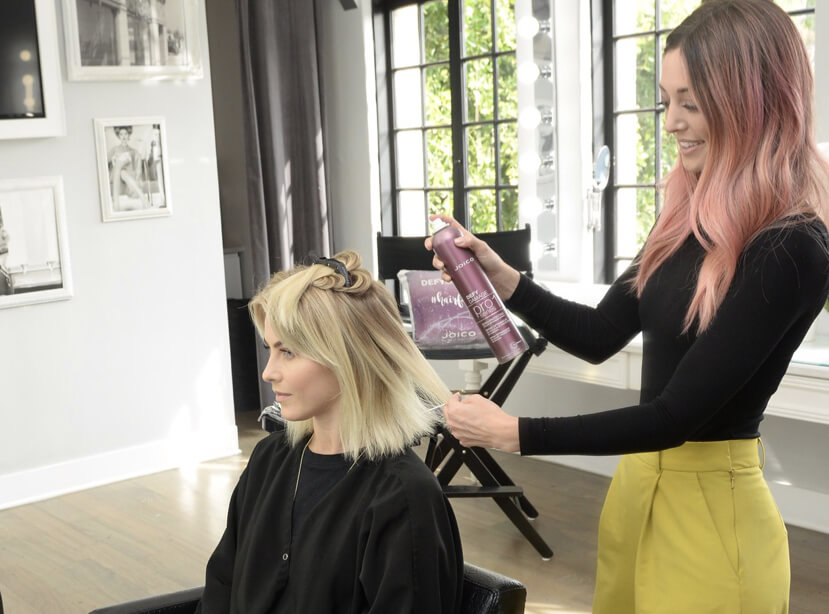 "It takes all of a minute to spray Pro Series 1 into the hair before coloring." "The Step 2, Pro Series Masque, takes only 2 – 5 minutes at the shampoo 
bowl. That's so fast in comparison to other products, which require anywhere from ten to 30 minutes, sometimes under the heat." "Time is money…it's so nice to be able to add this to my color service with the exact same timing for each client. There's no additional wait time on me and my scheduling."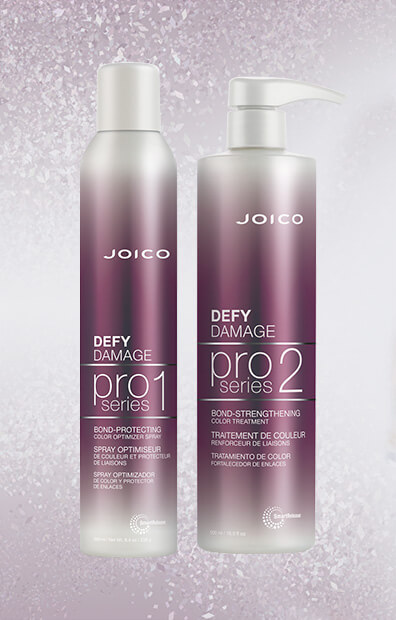 FORMULAS
Pre-Treatment: Defy Damage Bond-Protecting Color Optimizer

Formula 1: Blonde Life Lightening Powder with 10 Volume LumiShine Developer

Formula 2: Blonde Life Lightening Powder with 20 Volume LumiShine Developer

Formula 3: Blonde Life Lightening Powder with 30 Volume LumiShine Developer

Formula 4: LumiShine Demi-Permanent Liquid 9NV + Clear with 5 Volume LumiShine Developer

Post-Treatment: Defy Damage Pro Series 2: Bond-Strengthening Color Treatment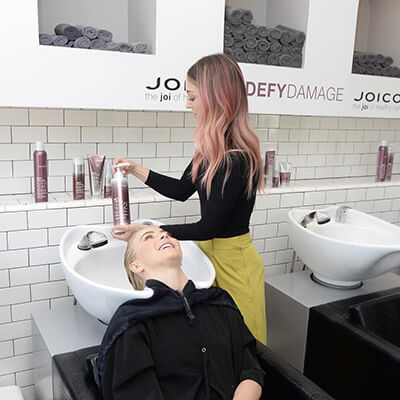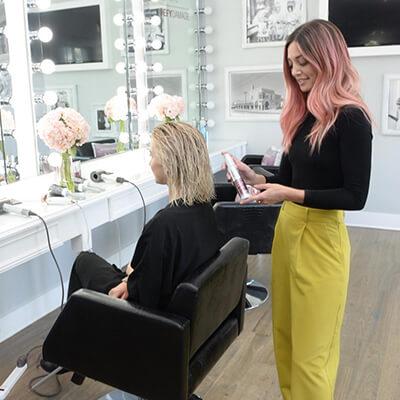 Step-By-Step
Step 1: Spray Defy Damage Pro Series 1 throughout the head. First, shake the can vigorously and then spray in short bursts, starting at the nape and working forward. Focus the spray down the hair shaft. Comb through for even distribution.

Step 2: Using Formula 1, add highlights around the hairline.

Step 3: Add highlights throughout the back of the head. In Zone 1, the scalp to mid shaft, use Formula 2. In Zone 2, the mids to just before the ends, use Formula 1. Leave the ends of the hair out.

Step 4: Add highlights throughout the top and sides of the head. Use Formula 3 in Zone 1 and Formula 1 in Zone 2, leaving out the ends again.

Step 5: Process and lift to a pale-yellow level 9-10.

Step 6: Shampoo with Defy Damage Protective Shampoo.

Step 7: Apply Formula 4 on towel-dried hair in Zone 1. Let it process for 5
minutes, then pull through ends for an additional 5 minutes.

Step 8: Rinse and apply Defy Damage Pro Series 2. Process for 5 minutes.
Rinse out

Step 9: Apply Defy Damage Protective Shield on damp hair and style as desired.