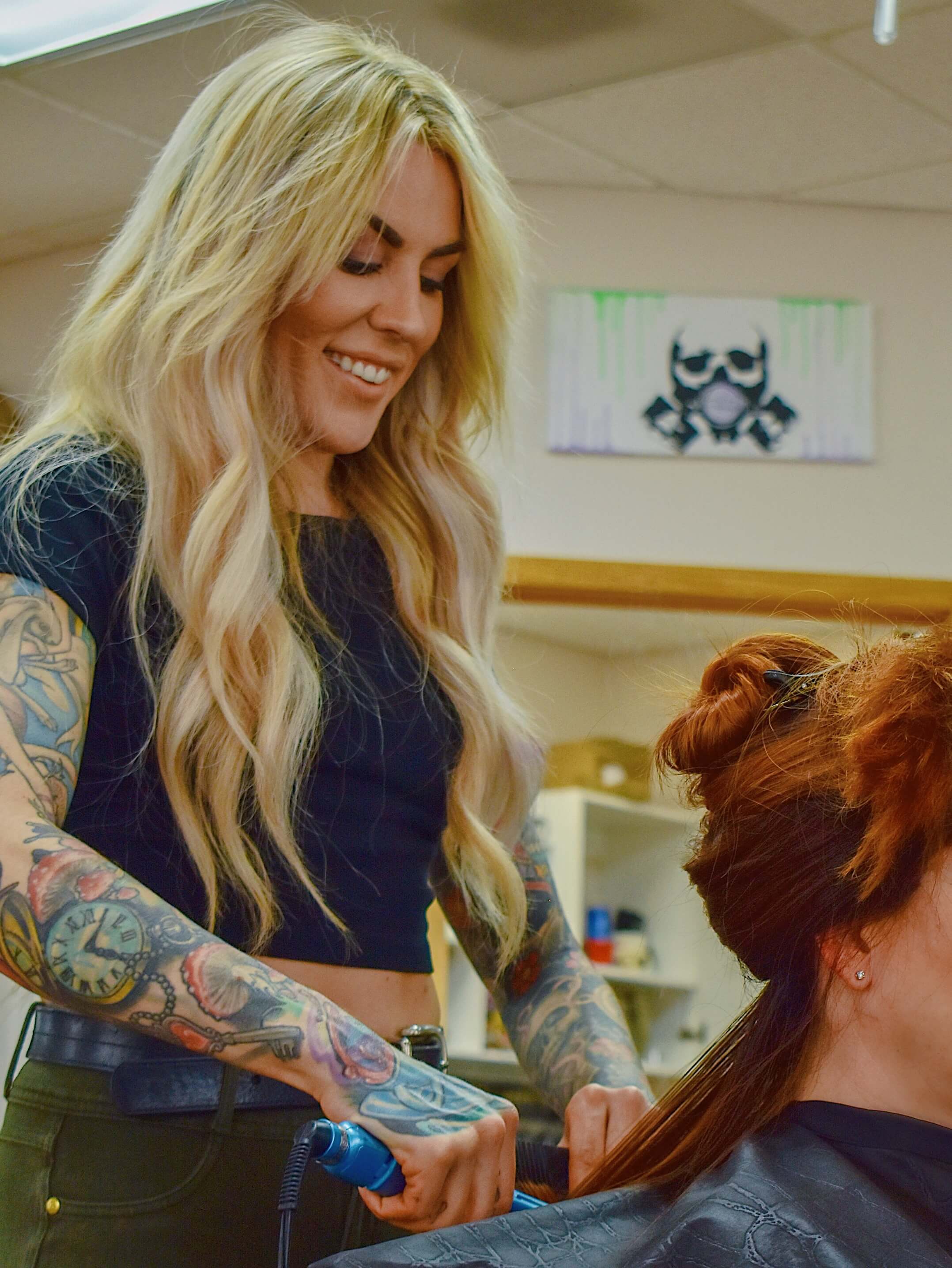 Kelcie Ball, Joico Artistic Team Member
Owner, Black Opal Beauty Lounge, Denver, CO
Biggest social-media moment: When Joico Intensity shared my work and it received over 5,800 likes. Social media is something I am completely intrigued by, yet struggle with, so it was a great moment of validation
On my nightstand: Books about being a better leader and a better human. I think personal growth is the hardest journey of them all. Holding yourself accountable and changing certain things to be a better person is a constant need for improvement in my life
I'll cry if I'm out of: 9SB LumiShine Liquid Color
What I'm eating when no one's looking: Probably something sweet. I try to be healthy…I really do try!
If any designer (or store) could dress me: I love 'em all, I just need help putting outfits together. A personal stylist would be AMAZING!
What's on my feet: Converse or heels….there is no in between.
Can't live without: Joico Blonde Life Crème Lightener… and love.
My influencers: Pretty much every stylist willing to push themselves to be better than the artist they were yesterday. Artists that support and uplift one another with no intention of competition or recognition, but do it simply as positive reinforcement. The biggest influencer on my personal growth has always been my husband. He has my back through thick and thin, always being the most supportive person in my corner. On a professional level, I would say Ben Mollin. He took me on as a young artist and has had a huge part in my career, building my creative and presentational skills.
Guiltiest pleasure: Binge-watching shows.
Biggest misconception about hairdressers: That all we do is hair. We have the ability to change lives and create a more beautiful world to live in.
Why hair? I chose hair because I love the feeling of changing someone's day for the better. Nothing beats a huge smile across a client's face. I love being someone's time away from their life. Their opportunity to breathe and let loose.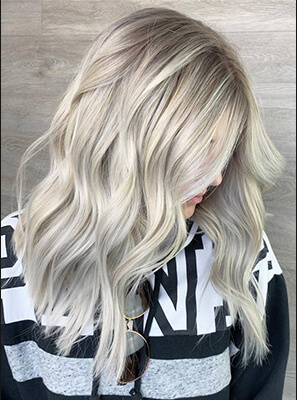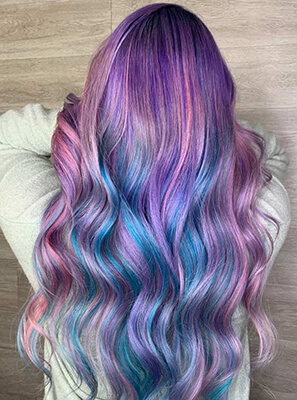 What I'm known best for: My blonding, along with pastel and high-fashion colors.
Oddest job: I've always been lucky enough to do jobs I love. I was a server and bartender for 10 years before becoming a full-time artist; and also a ski technician at a ski area. I've always been around people and been lucky enough to have jobs where I see people in all walks of life. It's beautiful.
The hair I never want to see again: I love it all; but I do wish the knowledge behind going silver/gray would be more widely expressed and understood.
If not hair: I would work full-time at a ski area. Total ski bum!
This hairstyle/color will never bore me: Natural balayage, or bold fashion colors. Each look requires a different level of technique and application. I love getting to use my brain in color placement to create new and different looks for timeless trends.
Best advice ever: Always chase yourself…who you were yesterday, who you were 10 minutes ago. Keep chasing who you want to be, and never, ever settle.
"I've made it" moment: I feel like I've had "I made it " moments here and there throughout my life. I am constantly striving to be better, and it's almost as though right after an "I've got this" moment, I am knocked back down. In this industry, I think we will always be chasing someone, some trend, some new product. We've made it when our clients are happy and smiling and rebooking. When people are happy, I know I've made it.
What's playing in my salon: Depends on the day.. anything from Mumford and Sons to Motley Crue, to Lady Gaga and Madonna. We love it all in the salon, and like to keep the atmosphere happy and ever-changing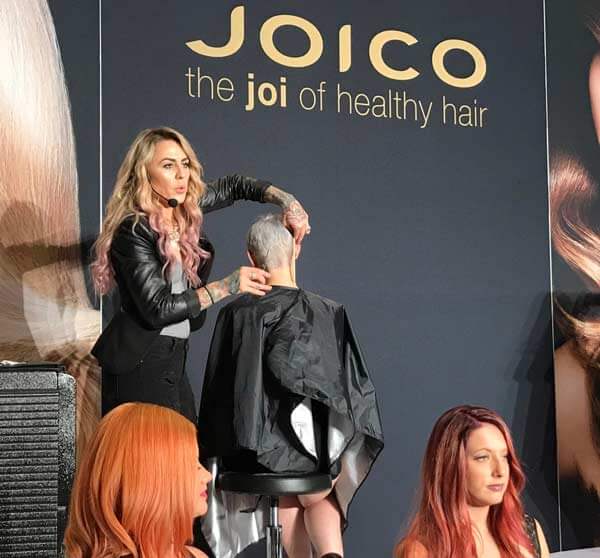 Tool/product I'm always reaching for: Joico Blonde Life Lightener and LumiShine Liquid Demi Colors and 5 vol developer. I swear I go through 3 times more Blonde Life Lighteners and LumiShine Liquid Demis than any other product in the salon.
If someone said, "you have to do this one technique/color/cut all day," what would it be? I love Balayage looks because you can customize them, spice them up with Intensities instead of toner, and really customize a "natural look" for any and everyone.
This (specific) tool is everything: My BaByliss 1-1/4 curling iron. I can't live without it. For real. And Framar brushes. Oh, and my Framar foil dispenser! Oh oh oh… Just kidding, but….my real answer is my foil comb. I've had the same one since school, and I have never been able to find another like it.
Let's talk salon first impressions: Here's the most important thing to get right when a client walks in the door: greeting guests with a smile. I think we often forget how important it is to make someone feel welcome. Immediately.
What Joico product are you most excited about and why? Defy Damage. It is AMAZING. I use it on every single client – for color services and non-color services. The results are immediate and clients SEE the difference.
If you had the power to change one thing in our industry, what would it be? The "need" for social media and followers. I would love to see artistry embraced and stylists supporting one another genuinely.
Describe your ideal work day: Walking into the salon and creating beautiful hair on beautiful people. Lifting spirits and filling hearts, then going home to my husband, son, and fur babies. Recognizing life. Is. good. Oh wait…. That's every day.
What single aspect/element of your profession brings you the most personal Joi? Smiles and happy guests. The ability to uplift and inspire is a feeling unlike any other.
Finish this sentence: A good work day always…starts with music and some essential oils to set the vibe for what the day will bring.