MELTED BALAYAGE TECHNIQUE
With Joico Celebrity Artist, Jill Buck Of Salon 901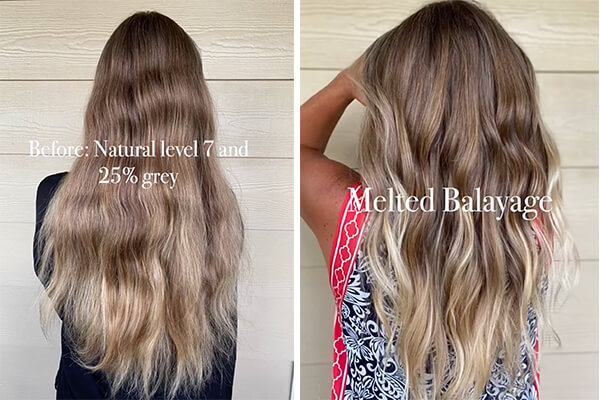 When gray comes to the party, and you want it to feel welcome without stealing the show, try this Melted Balayage Technique from Joico Celebrity Artist, Jill Buck, of Salon Nine Zero One. It's the perfect blonde blend with a low-maintenance grow-out; and we invite you to learn all about it, here:
Jill's client came to her with a starting Level 7 and 25% gray – much of it at the pivot point of the hairline. And yet the client didn't want to be a slave to the salon, returning every three weeks for touch-ups.
The strategy: a Q/A with Jill
Q: How will her front gray grow out and what kinds of issues does your Melted Balayage solve?
A: This technique is used for those clients who don't want permanent base colors applied to cover their gray – because that creates the need for frequent touch-ups. Instead, we're allowing for a softer grow-out that's meant to blend with the gray.
Q. Lots of blonde clients who are starting to see gray are advised to switch to a very cool, ash-blonde look for gray blending. Yet there's still lots of warmth in this look. Tell us why this works?
A. Gray or not gray – it's all about skin tone. The tone of the blonde being used to blend gray should be a tone that compliments the client's skin and eye color; and that doesn't necessarily mean ashy for everyone. Overall, we want our clients to feel younger and refreshed, even though their hair may be changing.
Q. So what kind of shampoo do you recommend, given that there's a balance of cool and warm tones here?
A. Use Color Balance Purple Shampoo and Conditioner once a week; and Blonde Life Brightening Shampoo and Conditioner for all other cleansings.
Color Formula


FORMULAS
Color Formula…
Pivot-Point Hairline: Blonde Life Powder Lightener with 20 volume LumiShine Developer
Highlights: Blonde Life Powder Lightener with 30 volume LumiShine Developer
Tip Out: Blonde Life Powder Lightener with 20 volume LumiShine Developer

Toning Formula…
Root Shadow: LumiShine Demi Cream 7NW
All-Over Tone: LumiShine Liquid 10N and 10V with 5 volume LumiShine Developer