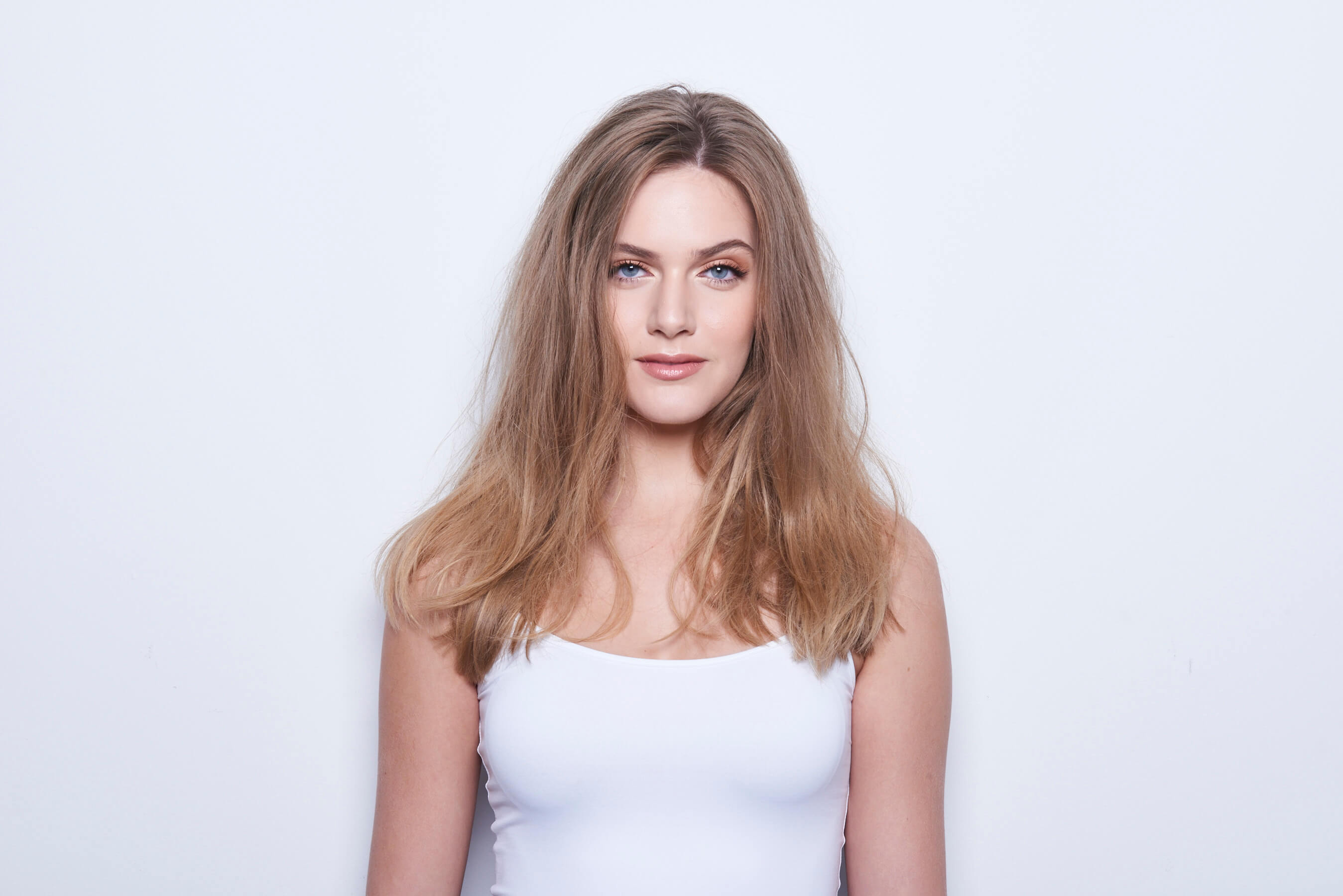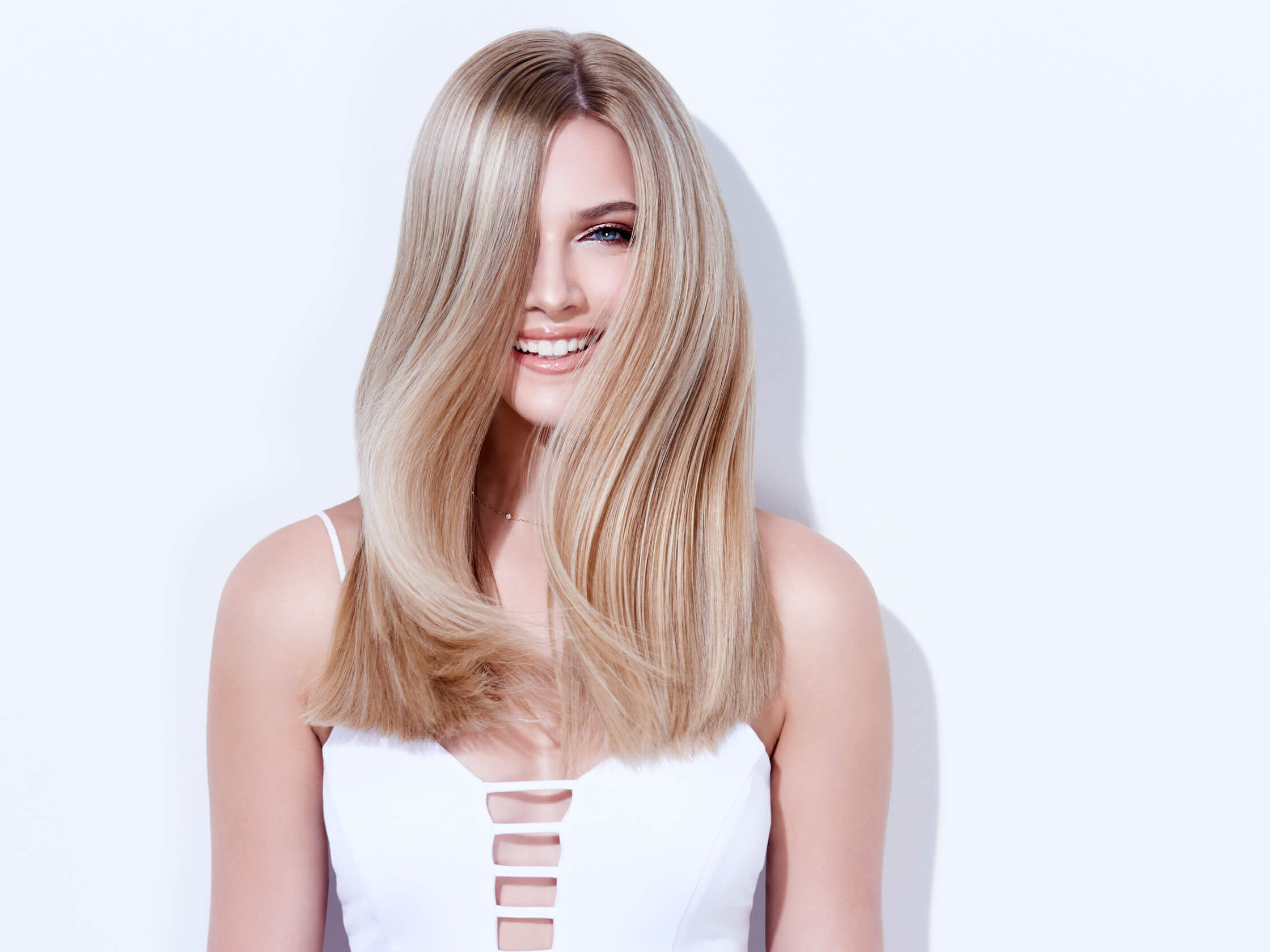 The Power to Go Blonde Without Bleach deliver the healthiest blonde on the block; and achieve up to 5 levels of lift to natural hair without sacrificing a single strand. That's the magic of Blonde Life Hyper High Lift Permanent Crème Color, now available in three new shine-enhancing shades: Champagne, Pearl, and Clear Booster. With one-step lightening and toning, plus a built-in hair defense system that strengthens strands from the inside out, you'll swiftly nail dreamy blonde looks.
Blonde Life Hyper High Lift Permanent Cr.me Color allows you to kick natural hair
up to a dazzling blonde in 60 minutes or less without bleach!
There's something about a creamy, sophisticated blonde that makes people stop and stare. The color is rich and radiates feminine, sexy confidence! Join Joico Celebrity Hair Colorist Denis De Souza as he shows you how to lift your blonde to new heights without sacrificing shiny, healthy hair with Joico's NEW Blonde Life Hyper High Lift Permanent Creme Shades to create this delicious, creamy, beautiful buttery blonde.
Blonde Life Hyper High Lift Permanent Crème Color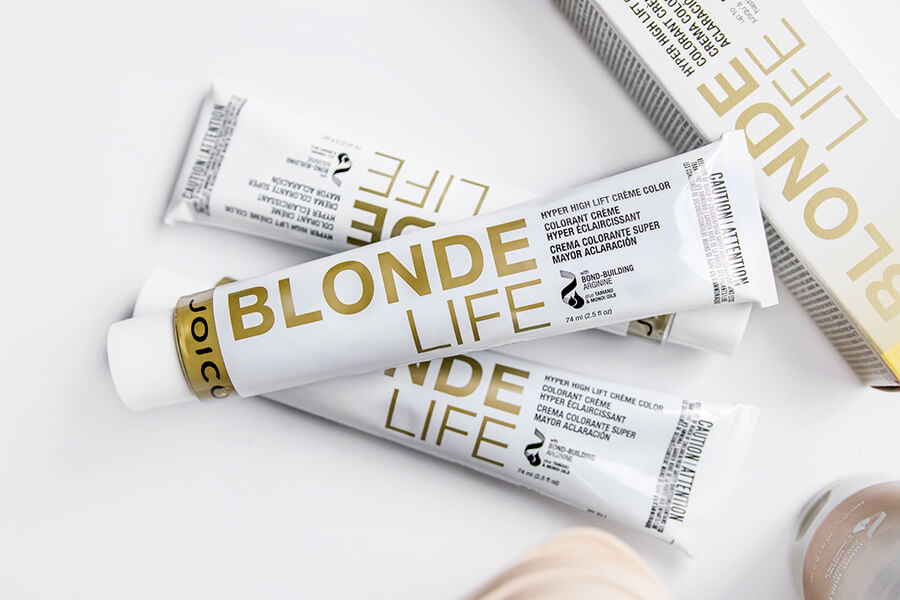 COLOR FORMULAS
Highlight Formula – ¾ oz Blonde Life Hyper High Life Clear Booster & ¼ oz Blonde Life Hyper High Lift Pearl w/ 2 oz 30 (9%) Volume LumiShine Developer

22.5 ml Blonde Life Hyper High Life Clear Booster & 7.5 ml Blonde Life Hyper High Lift Pearl w/ 60 ml 30 (9%) Volume LumiShine Developer

Shadow Root Formula – 8N LumiShine Demi Liquid w/ 5 (1.5%) Volume LumiShine Developer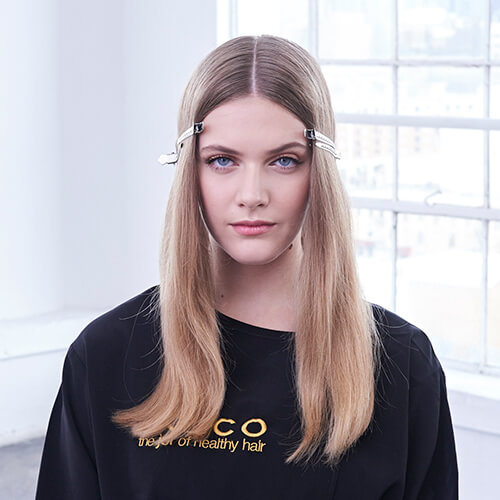 STEP 1:
Begin with the hair parted down the center to the crown.
STEP 2:
Part hair into 3 sections. Two in the front of the middle ear and one behind.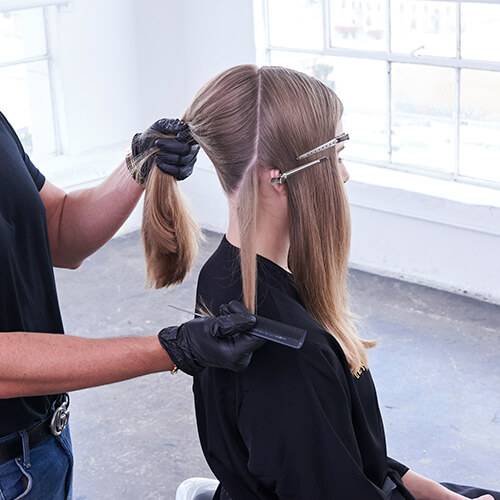 STEP 3:
Start by taking a diagonal parting from nape to ear in the right corner. Take a weave and apply Formula one. Feather the formula about one inch away from the scalp. This will make the highlight appear more natural and lived in, creating a seamless blend of color.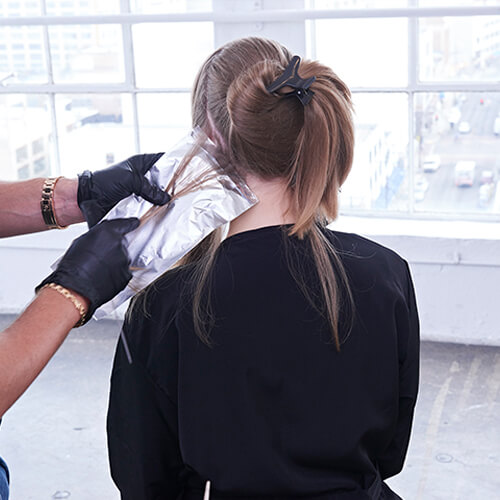 STEP 4:
Repeat the process on the left side using Formula 1.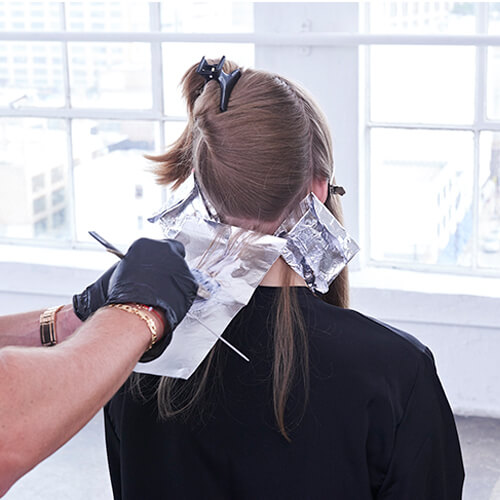 STEP 5:
Now take a horizontal weave parting in the bottom nape that connects the two. Apply Formula 1 from mids and ends and blurring into the scalp area. This "curvature" foiling custom fits the color to the client's head shape, hair line and hair type.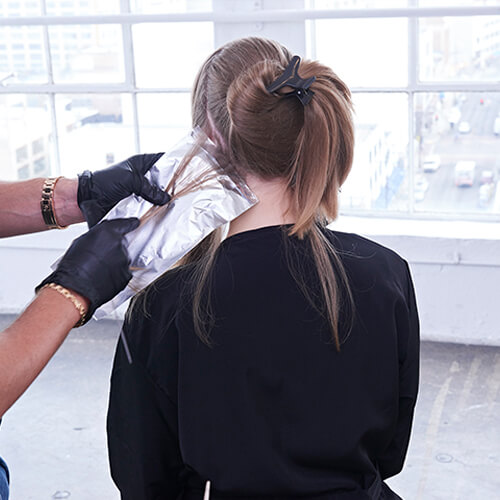 STEP 6:
Repeat this same curvature brick lay pattern working up the head. Keep working in weave partings and feathering the formula in the scalp area 1 inch away from the root.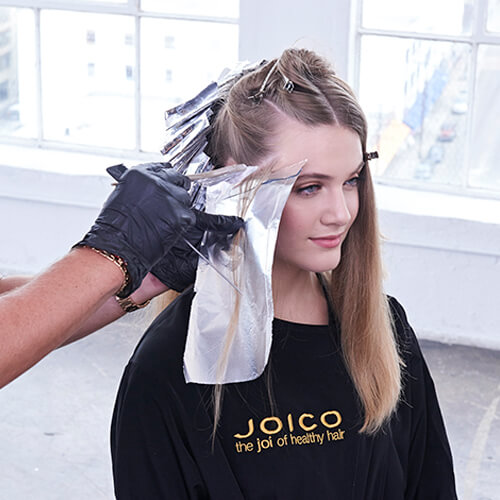 STEP 7:
Next, move to the front right side. Working off a diagonal forward weave parting, apply Formula 1 in the same manner. Remember to feather the scalp area for a well lived in highlighted look.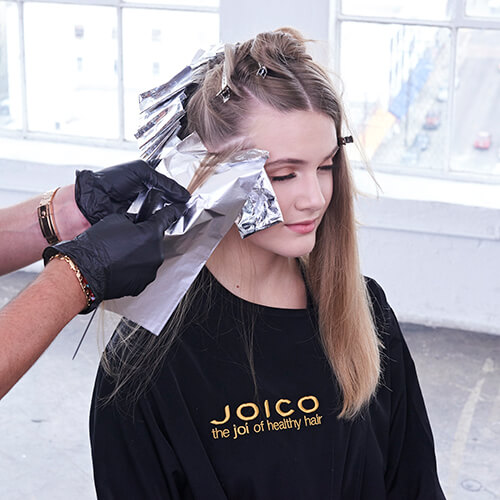 STEP 8:
Continue working up the front side in a slight bricklay pattern in the wider areas of the head. Remember to use weave partings and feather the formula towards the top near the scalp. The foils will start on a strong diagonal and slowly get more horizontal as you work up the head.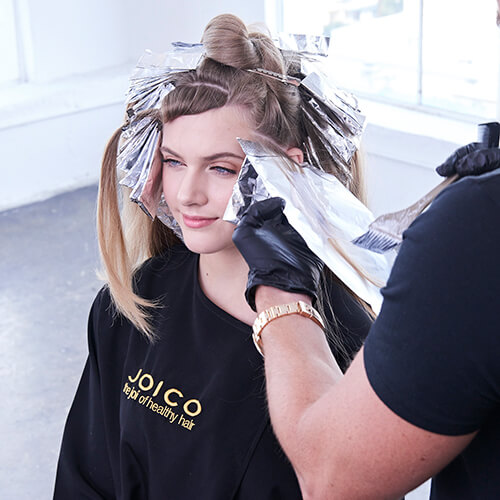 STEP 9:
Before you finish the front section, take out a 2-inch fringe section and clip away. We will get to that later. Continue to add more highlights using Formula 1 till you get to the center top of the head.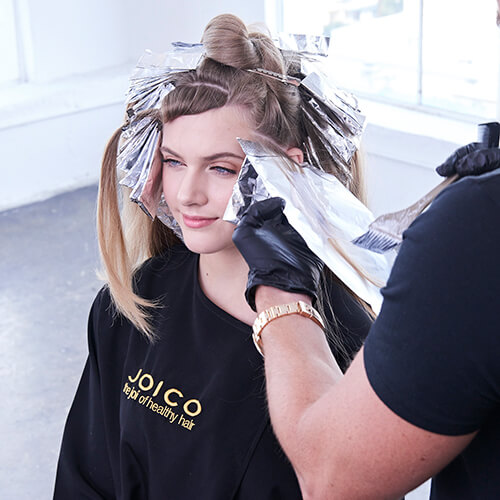 STEP 10:
Repeat the same process on the other side. Clip the fringe area out of the way to the other side.
STEP 11:
Now its time for the fringe section. Take a fine weave horizontal parting and apply Formula 1. Feather this section about 1.5 – 2 inches away from the scalp to create a lived in natural looking highligh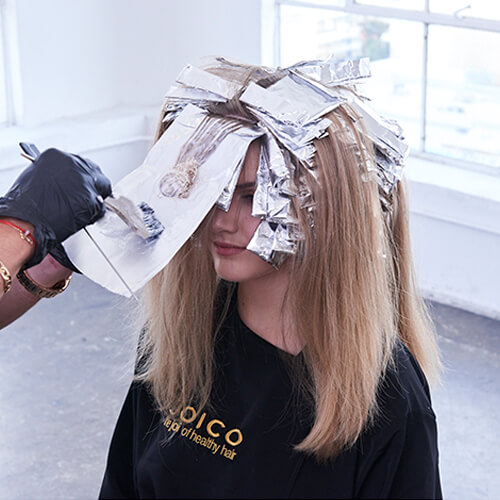 STEP 12:
Continue taking weave partings and applying Formula 1 until the section is complete.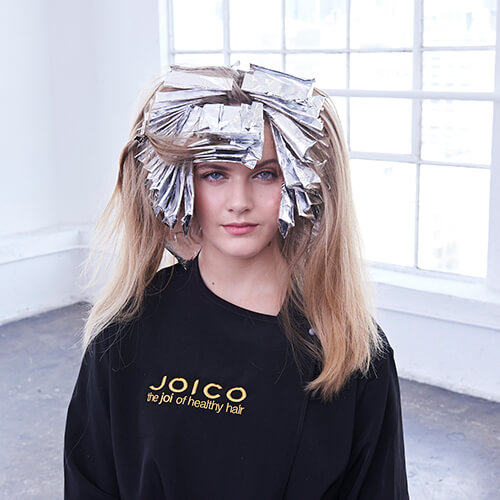 STEP 13:
Once all hair as been foiled, process at room temperature for 60 minutes. Rinse the hair with Blonde Life Brightening Shampoo. Do not condition the hair. Squeeze the hair with a towel, do not shake it as this could rough up the cuticle. Using a wide-toothed comb, comb the hair and move onto the shadow root application.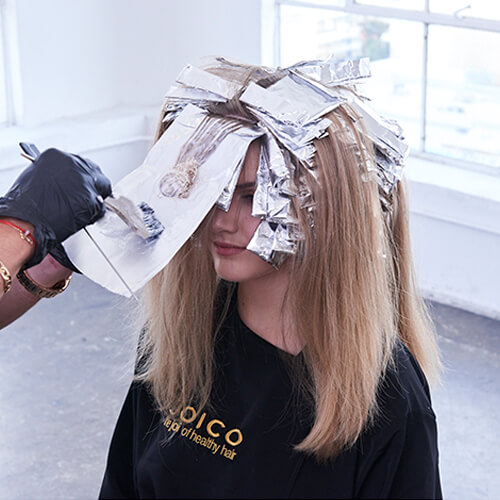 STEP 14:
Starting in the back crown, apply Shadow Root Formula with a bowl and brush from root to about 2 inches down. NOTE: Because LumiShine Demi Liquid has an optimal viscosity, you may use a bowl and brush or bottle applicator to apply. Both will work beautifully.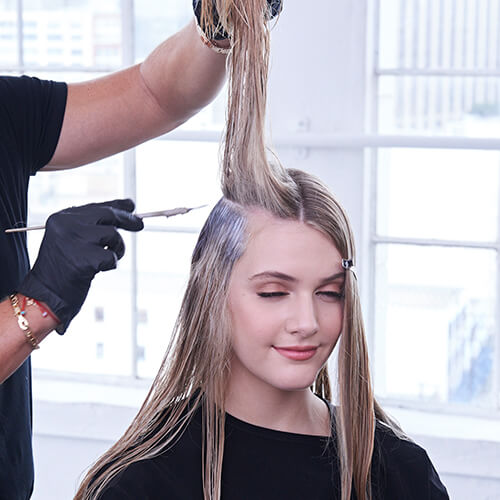 STEP 15:
Continue to apply the Shadow Root Formula all the way around the head working off horizontal partings. Paint the formula from root to 2 inches down.
Process hair for 30 minutes then shampoo and condition with Joico Blonde Life Brightening System. For an added boost of shine, treat the hair to K-PAK® Color Therapy™ Luster Lock Treatment or Spray.