STYLE-IN-AN-INSTANT
Featuring Joico Brand Educator, Mai Hernandez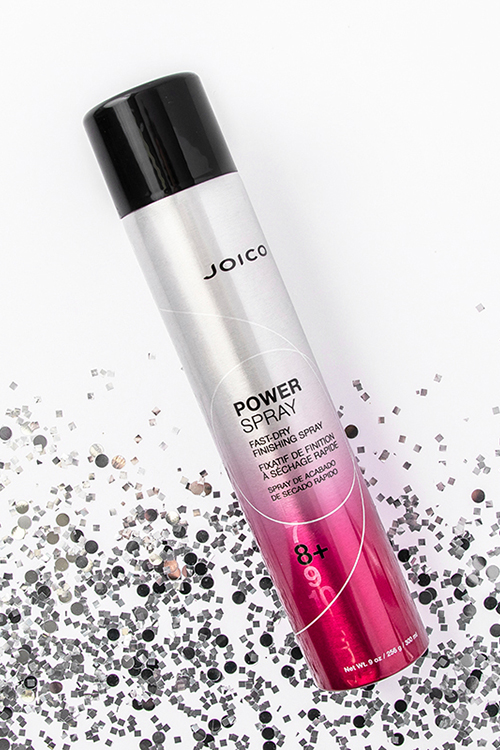 Looking for some fun, get-you-out-the-door-fast hair options that take you beyond the ponytail? Let Joico Brand Educator, Mai Hernandez, teach you how to pull off 4 adorb looks…all super-easy, thanks to Power Spray Fast Dry Finishing Spray, which puts hold and shine right at your fingertips.
Power Spray Fast Dry Finishing Spray takes ultra-firm hold to a whole new level: This powerhouse of a styler increases shine by 170%, protects against humidity and heat styling…and lasts 3 full days. Delivering big-time staying power in the form of a fine, aerosol mist, Power Spray offers a one-and-done application that locks down your look without flaking or frizz.
Developed with crystal-clear, flexible copolymers to provide serious, tack-free hold, and nourishing Moringa Seed Oil for healthy damage-resistant hair, this hard-working bodyguard boosts shine and softness; protecting your strands from the havocs of weather, pollution, UV rays, and even the wear and tear hair suffers when constantly exposed to heat stylers.
Power Spray Fast Dry Finishing Spray
Large blinged-out barrettes
Curling iron or flat iron
First Up: Make Waves…
"Adding soft, lived-in waves works as a great texture foundation for all four looks," says Mai, who creates them with either a flat iron or curling iron. (Pro note: Be sure to prep hair first with Heat Hero Glossing Thermal Protector, a next-generation hair guardian that springs into action to protect each strand from the assault of heat styling.)
Look #1: Slick Meets Wavy
Try this cool combo of neat – but not TOO neat.
Here's how: Part hair down the middle. Slick down sides with your brush and tuck strands behind the ears. Apply Power Spray from crown to ears. Finger fluff mids to ends, adding Rise Up Powder Spray for extra volume.
Look #2: Show Your Flirty Side
Sometimes, changing your part is all it takes to make big-impact.
Here's how: Create a deep side part. Apply Power Spray to the side with less hair, then secure that side with cool clips (adding two doubles the style factor). For extra gleam, work a bit of Colorful Glow Beyond Anti-Fade Serum — an instant spotlight of radiance that intensely magnifies the richness of hair color, amps up big-time shine and softness, while protecting hair from fading caused by daily exposure to pollution and UV rays.
Look #3: The Half Pony
The best of both worlds in one crowning glory.
Here's how: Divide hair forward, from the crown of the head down to the ears. Spray this section with Power Spray, then smooth back with your boar-bristle brush, pulling hair back and upwards at the crown. Secure with a small elastic. Now, discreetly grab a small section from the remaining hair beneath the pony and start wrapping it around the base to conceal the elastic. Use a bobby pin to hold in place. For extra fullness on the hair that's loose, apply Body Shake Texturizing Finishing Spray – it delivers plush, airy, bombshell volume that's never stiff or sticky.
Look #4: Slicked Down & Spiked Up
The elegance of a bun with none of the perfection.
Here's how: Part hair down the middle, using your boar-bristle brush to slick and neaten strands. Tie hair back into a low pony at the nape with a small elastic. Fully loop through the elastic twice, going only halfway on the third loop so hair twists into a bun shape. Apply Power Spray to the loose ends of hair peeking out, molding them to look straight and spiky.