JAMIE LOVES LUMI10
With Joico Global Brand Ambassador, Larisa Love
It was time for a touch-up. Actress Jamie Chung needed something fabulous…and FAST. So off to the Larisa Love Salon she went, where our Joico Global Brand Ambassador worked her magic with new express-service superstar, LUMI10 – and delivered a gorgeous root melt plus face-framing highlights in just 10 minutes! "A little switch-up for my girl, Jamie King," posted Larisa on IG of her refreshed – and very happy – celebrity client. It was a win-win for both client and colorist: Larisa was able to deliver a swift transformation and stay on schedule; super-busy Jamie was thrilled with the gorgeous results…and her ability to quickly dash out the door with a new look.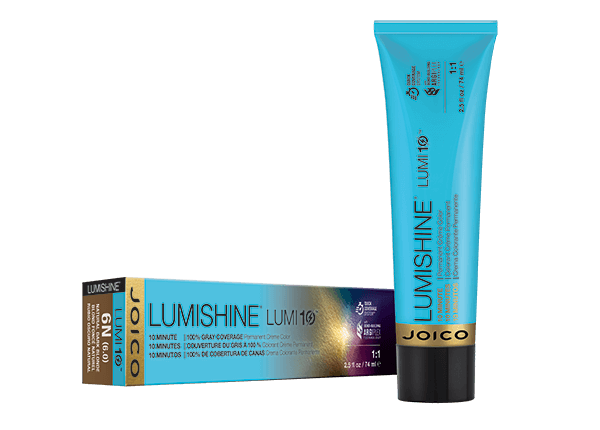 LUMI10: May we introduce you?
If you and your colorist haven't met our 10-minute, express-service innovation – LUMI10 Permanent Crème Color – allow us to introduce you! Our new baby is professional permanent hair color that delivers 100% gray coverage and up to 2x the shine in just 10 minutes. With a collection of luscious, deeply pigmented, biz-building shades, this powerful LumiShine collection offers long-lasting, fade-resistant color, designed for big-time creativity and efficiency, with speedy results.
Why LUMI10 is a game-changer for Larisa and all her clients (not just the celebs!)
"I have to admit – I was skeptical at first," admits our shoot-from-the-hip Brand Ambassador. "But once I tried LUMI10 on a client, I was totally on board. LUMI10 gave me the richest, most luscious results."
What she loves most:

1. It's pre-blended color, and that takes all the guesswork away.
2. If her client has any gray, Larisa can rely on the line to truly cover ALL of it.
3. It's a huge time-saver and super-efficient.
4. Her clients love getting out the door quickly!
5. Doubles the shine of those gorgeous creations
6. You can ask your colorist for add-on services without throwing them off schedule.
View this post on Instagram
The pro formula for Jamie
Prep Treatment: Defy Damage ProSeries1: Bond-Protecting Color Optimizer

Formula 1: Blonde Life Lightening Powder with 10 (6%) Volume LumiShine Developer moving up to 20 (9%) Volume LumiShine Developer

Formula 2: LUMI10 10 Minute Permanent Crème Color 6NA + 4N with LUMI10 Accelerator

Formula 3: LumiShine Demi-Permanent Liquid 9NA 2oz + 9N 1 1⁄2 oz + 8AA 1⁄2 oz with LumiShine 5 (1.5%) Volume Developer

Formula 4: LUMI10 10 Minute Permanent Crème Color 6NA + 7NA with LUMI10 Accelerator

Post Treatment: Defy Damage ProSeries2: Bond-Strengthening Color Treatment