K-PAK Reconstructing Conditioner
To repair damaged hair
On a mission to repair hair that's seen one too many blowouts and color changes? This restorative daily conditioner zeroes in on damage and dryness with laser-like precision, instantly replenishing shine, strength, and manageability where strands need it most.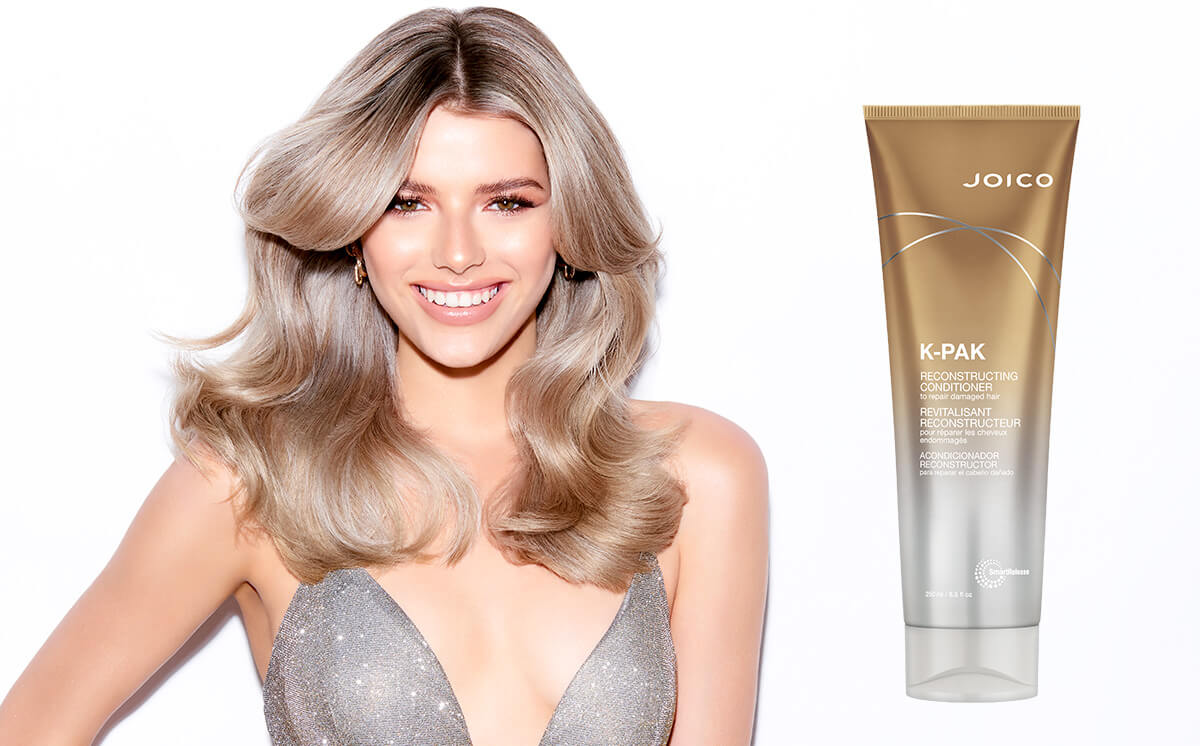 Here's Why You'll Love It
With just one use, this high-powered conditioner helps rebuild and fortify breakage-prone strands, leaving damaged hair stronger, smoother, shinier—all-around healthier-looking than before.
Doubles hair resistance to breakage*
Improves elasticity & manageability
Smooths, detangles, and eliminates static in hair
*Against combing breakage on damaged hair vs. a non-conditioning shampoo
3.7 out of 5 stars (based on 15 reviews)
All I can say is hallelujah! I started using Joico two weeks ago and my hair has bounce to it ! I color and highlight my black hair every 8 weeks . My hair feels so soft and silky . I will never buy anything but Joico products from now on.
60 seconds is all it takes for this daily treat to make damaged hair feel revitalized.
Directions: Apply to clean, damp hair. Leave 1 minute. Rinse.

K-PAK Conditioner works from the inside out, healing damaged strands, then cloaking each one with game-changing protection.
SmartRelease Technology
Our one-of-a-kind liposome delivery system packs a punch by continuously releasing Rosehip Oil, Arginine, and Keratin to help repair, strengthen, and protect hair from the damaging effects of daily styling.
KERATIN
A protective protein found naturally in hair, actively seeks out damage and helps repair hair by replacing lost proteins. The result? Stronger, healthier-looking locks.
Evening Primrose Oil
A rich source of Omega-6 and Gamma-Linolenic Acid, an essential fatty acid that helps nourish hair back to health.
Guajava Fruit Extract
Packed with antioxidants and Lycopene, which are known to help protect hair against UV damage.
I have used this product for years and I buy it in bulk but the conditioner is so thin now it doesn't do the job it used to! Please fix this Joico!!!
this use to be the most incredible conditioner but what happened to it?k pak use to be thick, creamy and would work instantly restoring dried out hair but apparently things have changed!if your going to change your product give it a new name!
I've read alot of the reviews on this product and wanted to comment on this particular one that I've copied below. YOUR STYLIST SHOULD BE ASHAMED to tell you to leave it on overnight, your hair would be over conditioned and would end of more damaged. DON'T LISTEN TO HER/HIM. This is an AMAZING PRODUCT!!
"Nov 17, 2015 by Libby Zurkow on
How Long To Keep K-Pak On Hair
My cosmetician has put K pak on my severely damaged hair ;,(bad hair dye),and said to leave it on all night! Label says to rinse out after just 5 minutes!!! What are the complications of NOT rising it out after 5 minutes?