K-PAK COLOR THERAPY
COLOR-PROTECTING CONDITIONER
For color-treated hair
Choosing a shampoo that won't zap the zing out of your new shade is obvious—but you'd also be wise to follow up with this color-locking conditioner. Our extra-conditioning formula, with African Manketti and Argan oils, helps shield your hue's vibrancy, while hydrating overtime to strengthen hair and reduce breakage.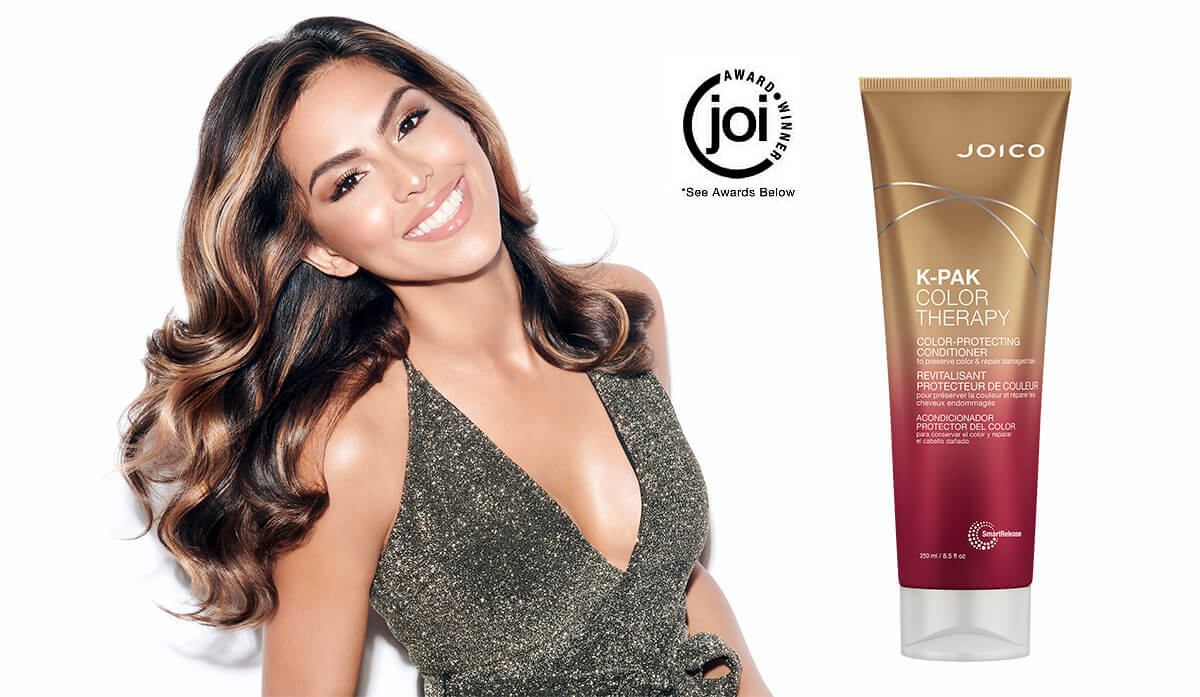 Here's Why You'll Love It
A luxurious daily conditioner that cares about your color as much as your hair.
Helps restore and protect hair for vibrant, long-lasting haircolor*
Doubles hair resistance to breakage**
Helps hydrate hair and improves elasticity & manageability
*Maintains over 82% of haircolor after 18 washes
**Against combing breakage on damaged hair vs. a non-conditioning shampoo; when used with K-PAK Color Therapy Shampoo & Conditioner
3.7 out of 5 stars (based on 14 reviews)
My hair is a bleached fine bob, I used the product after trying a trial size bottle, I've been impressed so now own a 300ml bottle, smells nice, use small amounts, on damp hair leave for a minute and your hair will become vibrant, shines and is well worth the money, color stays fresh longer.

"Rich in vitamin E and safe for color-treated hair, this treatment improves elasticity and adds vibrancy to hair color."
Directions: Apply a small amount to clean, damp hair. Leave 1-2 minutes. Rinse.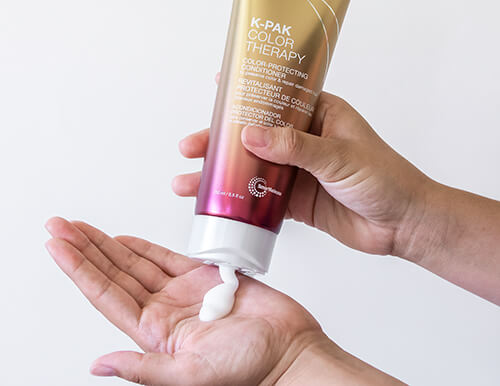 The ideal daily follow-up to K-PAK Color Therapy Shampoo. For best results, alternate with our Luster Lock Treatment a few times a week.

AFRICAN MANKETTI OIL
A rich source of Vitamin E, nature's well known environmental protection against fading.
KERATIN
A protective protein found naturally in hair, actively seeks out damage and helps repairs hair by replacing lost proteins. The result? Stronger, healthier-looking locks.
ARGAL OIL
A powerhouse of Vitamin E, antioxidants, and essential fatty acids that help deeply hydrate and nourish hair.
SMARTRELEASE TECHNOLOGY
Our one-of-a-kind liposome delivery system packs a punch continuously releasing Rose Hip Oil, Arginine, and Keratin – to repair, strengthen and protect hair from the cumulative effects of daily styling.
My hair has always faded or bled thru as I have many different colors in my hair. I started usin joico color therapy this time and my hair stays vibrante. And it doesn't lie when it says use less style time
Wasn't detangling enough for me. I have fine bleached hair but a ton of it and this conditioner just wasn't effective enough for me. My hair did feel really soft afterwards and the smell is great! I tried the Color Endure line and that conditioner was much better for me. I have tricky hair though, it's dry due to bleaching and constant blow drying so I need a good conditioner but my hair is also fine so most "moisturizing" conditioners are too heavy, however most "light/voluminous" conditioners aren't enough! I would put this one on the lighter side.
I use Joico products for 5 years and visiting just Joico saloons. I have tried K-PAK Colour Therapy for the first time and I am impressed with the results. I absolutely adore the smell. Perfect choice!