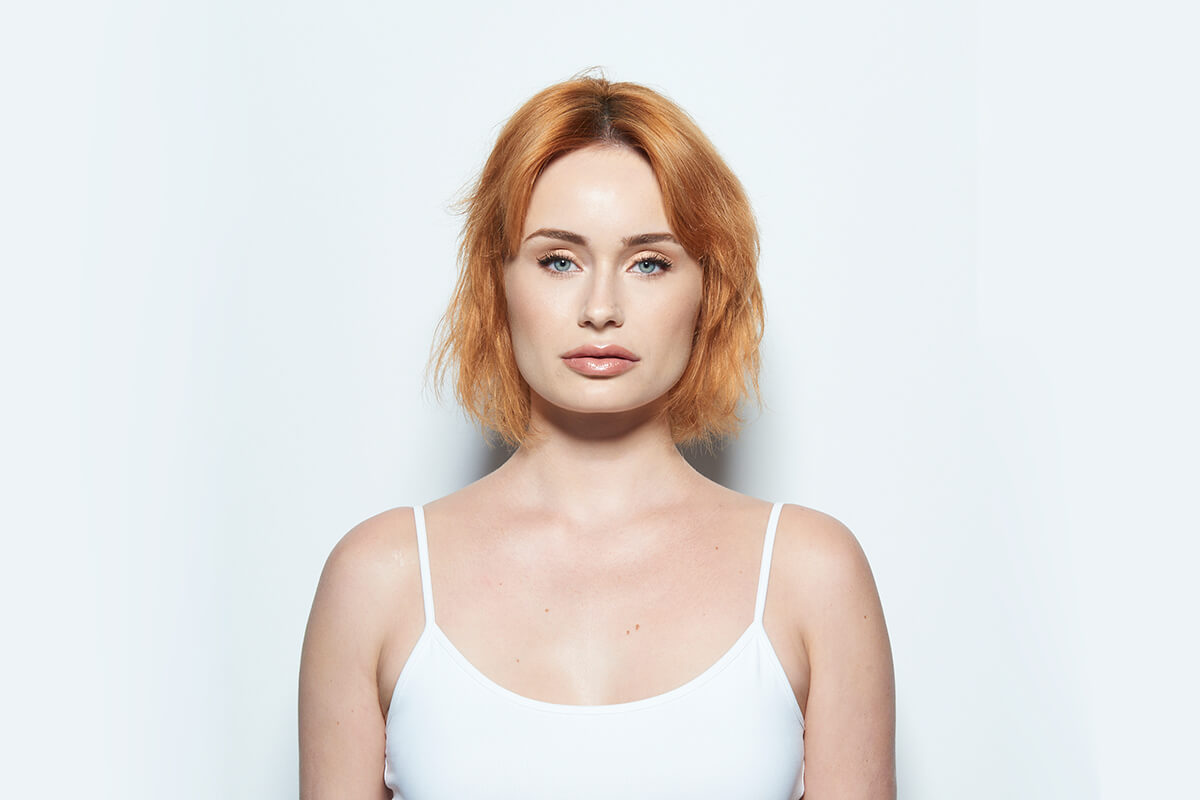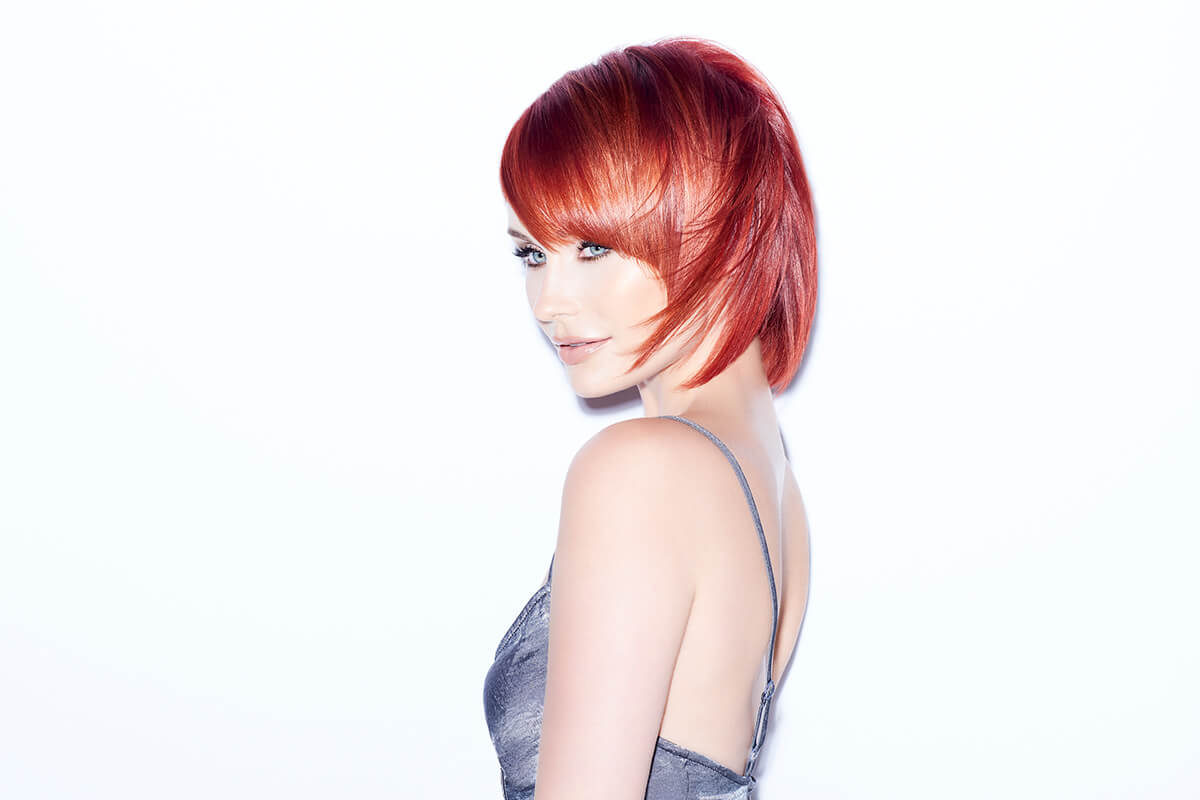 This technique is a color blocking-melting hybrid that provides an easy roadmap for wow-worthy color. Pair it with new LumiShine Powerhouse Reds, and you've got a sure fire recipe for ravishing, radiant red haircolor that lasts and lasts.
COLOR FORMULAS
Formula 1 (Base): LumiShine Permanent Crème Color 5RRC + 20 (6%) Volume LumiShine Developer

Formula 2 (Color Blocking #1): LumiShine Demi-Permanent Liquid Color 6CCR + 5 (1.5%) Volume LumiShine Developer

Formula 3 (Color Blocking #2): LumiShine Demi-Permanent Liquid Color equal parts 6RR and 8RR + 5 (1.5) Volume LumiShine Developer

Post Work: Defy Damage Pro Series 2: Bond-Strengthening Color Treatment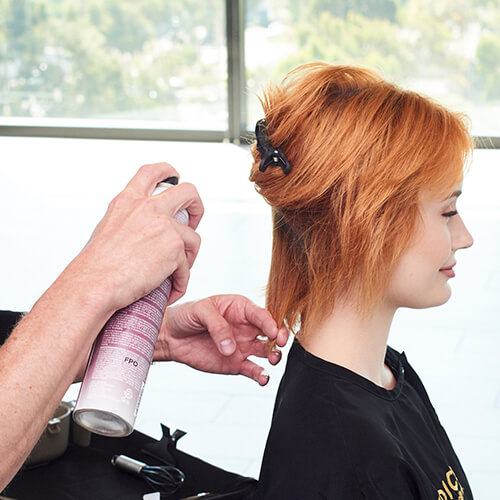 STEP 1:
Before every color and lightening service, prep your clients' hair with Joico Defy Damage ProSeries 1 Bond-Protecting Color Optimizer. It instantly helps shield hair from chemical service damage, improves color deposit, and provides greater, more even lift when lightening. Shake the can well; spray onto two-inch sections throughout the head using short bursts, then comb through.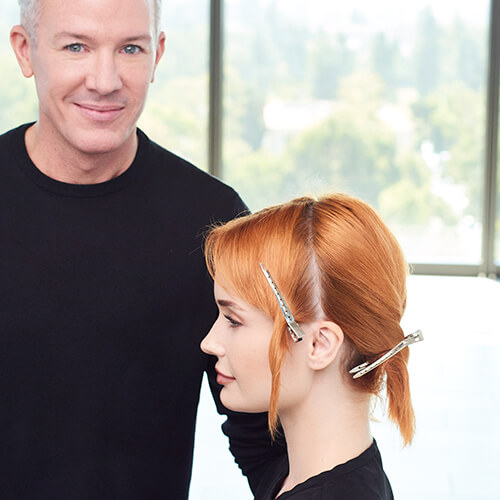 STEP 2:
First, divide the hair into quad sections equally.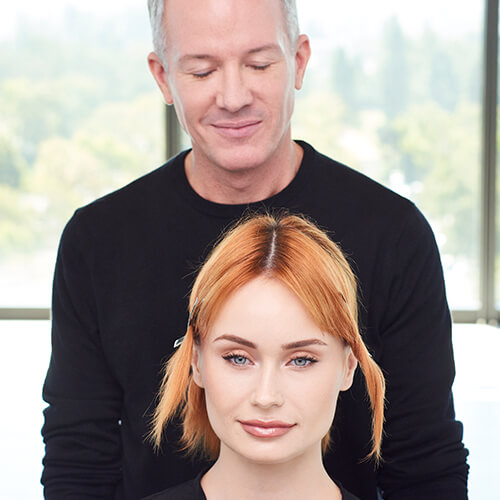 STEP 3:
Front view of sectioning.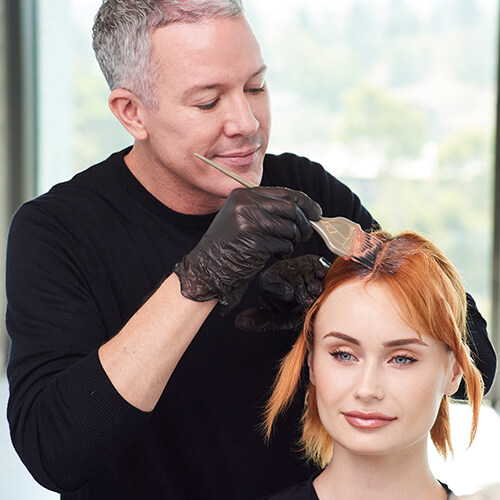 STEP 4:
Apply Formula 1 to outline each section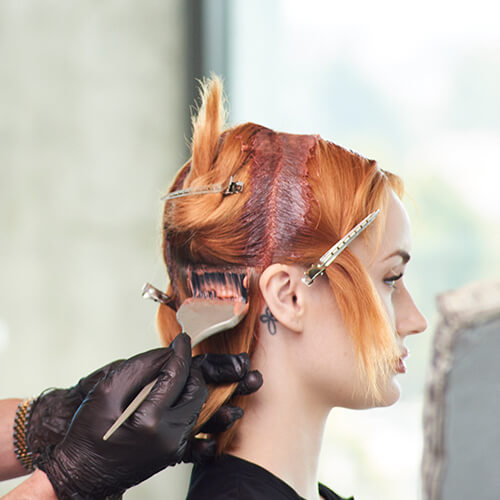 STEP 5:
Apply Formula 1 throughout the head in a shadow root method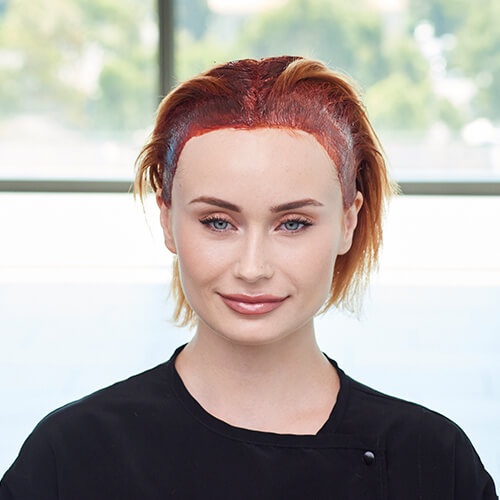 STEP 6:
Continue with your base color application throughout the head working section by section. Once application is completed, process for 35 minutes with Defy Damage Protective Shampoo and Conditioner. Dry the hair and continue to the next sectioning steps.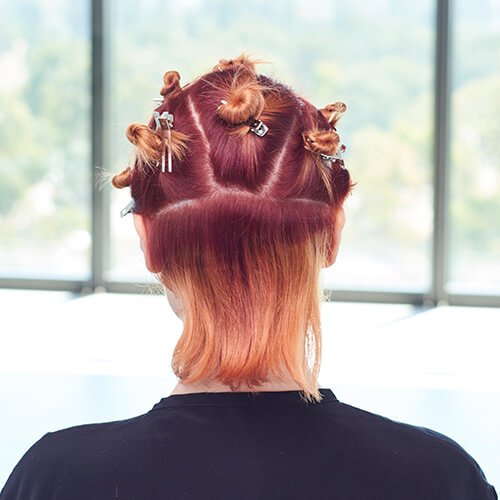 STEP 7:
Next, divide the hair on the top and sides into 8 triangular sections, leaving out the area from the occipital bone to the nape. The width of the triangles should reflect the density and head shape of the client.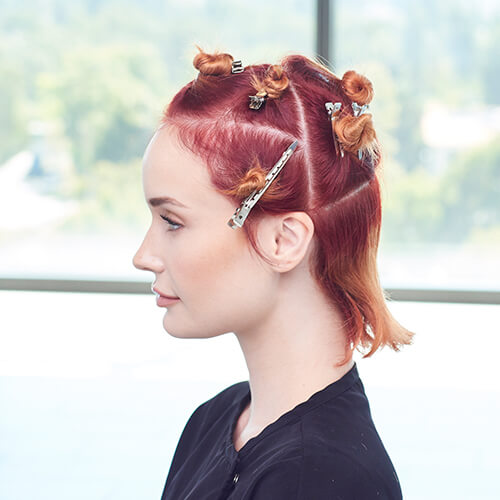 STEP 8:
Side view of sectioning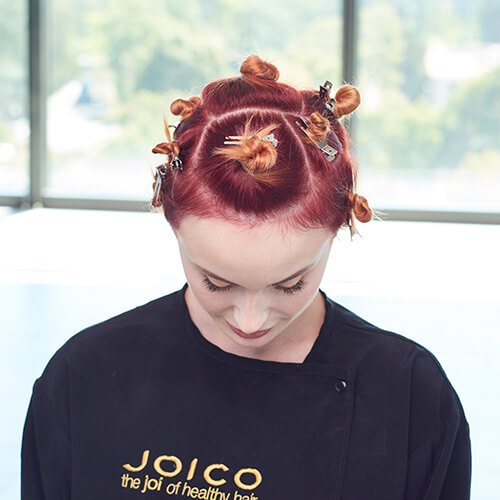 STEP 9:
Top view of sectioning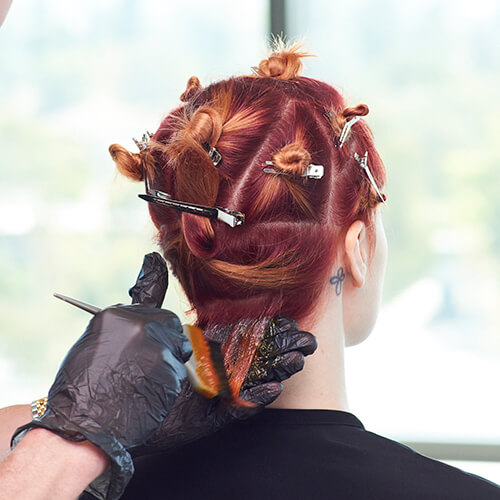 STEP 10:
Starting at the nape, take a horizontal slice parting and apply Formula 2 from scalp to ends.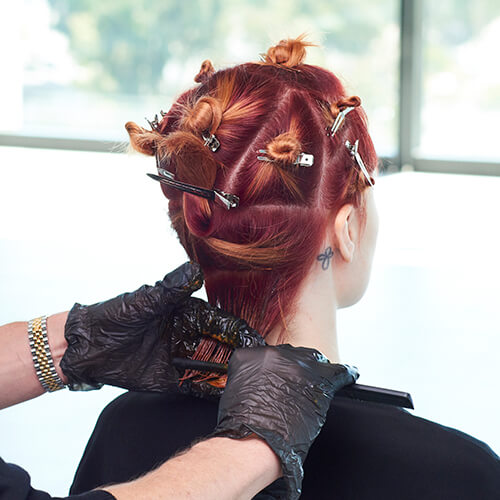 STEP 11:
Continue to work your way up the section applying Formula 2.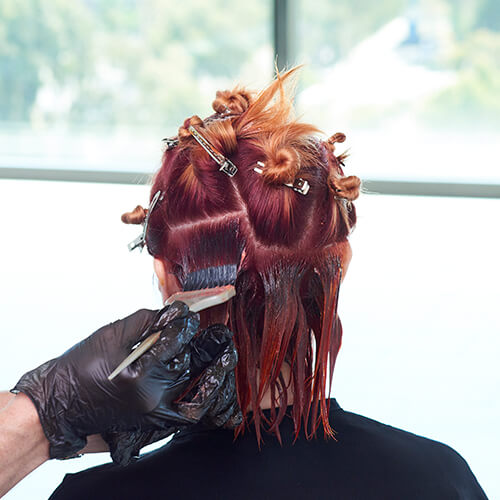 STEP 12:
Move to the back-topside triangle section; apply Formula 3 from scalp to ends, working your way up in horizontal slice partings.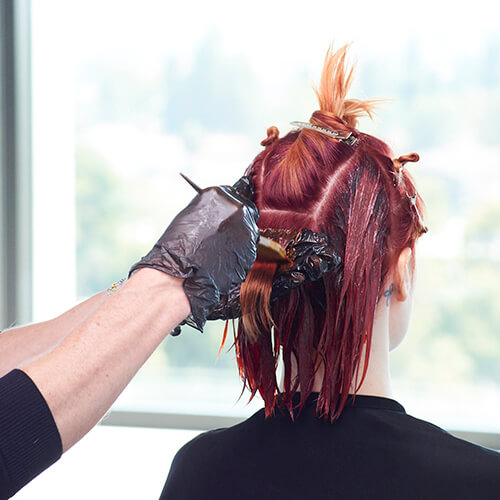 STEP 13:
Repeat the process with Formula 3 on the opposite top side triangle section.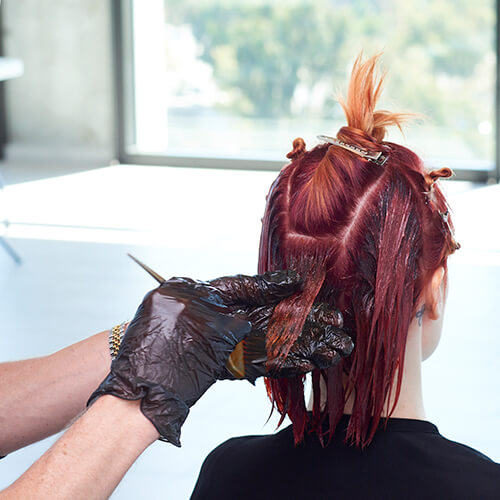 STEP 14:
Move on to the top back center triangle section and repeat the application process with Formula 2.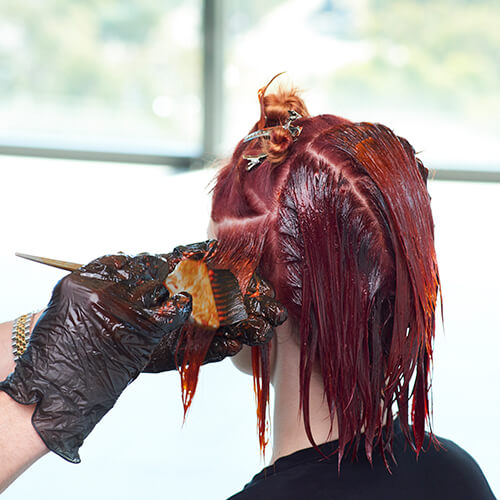 STEP 15:
Apply formula 2 in same method on the front side bottom triangle.
STEP 16:
Move to the side triangle section above that and apply Formula 3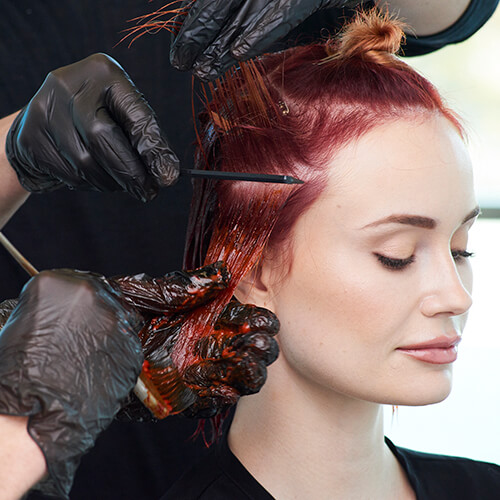 STEP 17:
Repeat the process on the side triangle sections on the opposite side.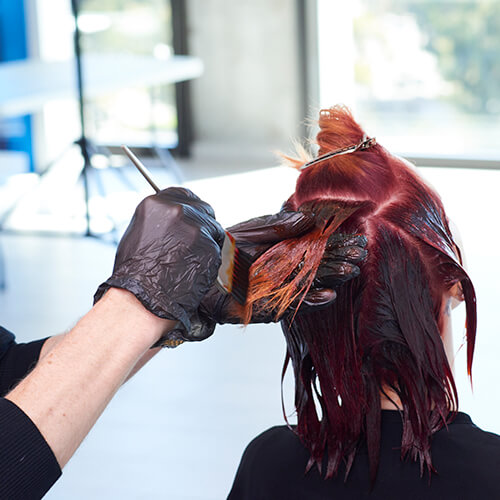 STEP 18:
Apply Formula 2 to the last triangle section at the top. Work in horizontal slice partings from the crown towards the front hairline.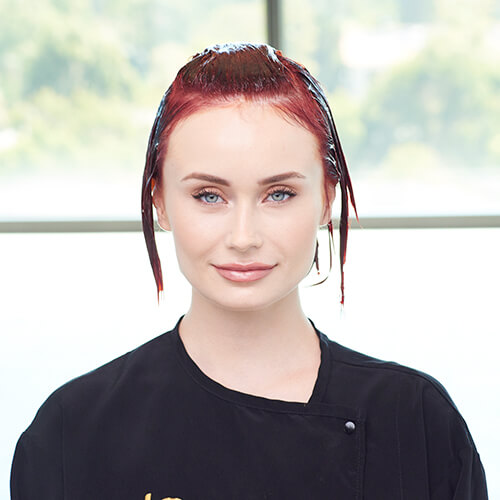 STEP 19:
Completed Application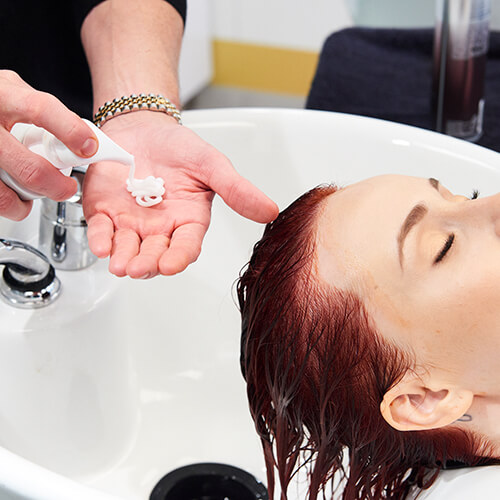 STEP 21:
Then, apply Defy Damage ProSeries 2 Bond-Strengthening Color Preserver and leave it on for 5 minutes before you rinse.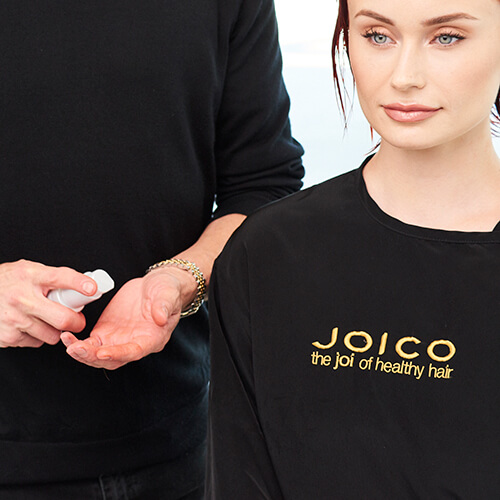 STEP 22:
For added thermal and UV protection, and longer lasting hair color, apply the Joico Defy Damage Protective Shield, then style away!