Wondering Why Purple in Winter?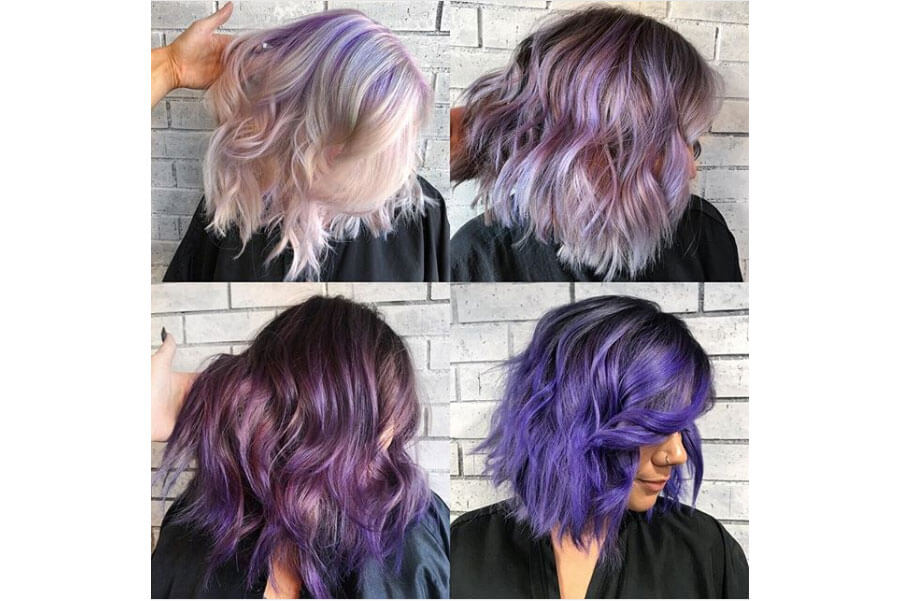 "Violet hues are always in style for every season. They play with spring tones, but still have a wintery vibe," explains color superstar, Larisa Love.
THE LOOK…(TOP LEFT)
Violet Roots melting to Silver-Lilac
Who's it for… Someone who wants to play with Intensity shades, but is still looking for a more "natural" feel within that fashion concept
Why it works…The lighter the Intensity shade, the softer the color will appear
THE LOOK…(TOP RIGHT)
Amethyst Jewel Violet
Who's it for… Someone who'd like to intermix their blonde with an Intensity shade, but wants the color to fade back to blonde easily
Why it works…This tamer combo compliments a drama-free personality – someone who's not looking for the spotlight
THE LOOK… (BOTTOM LEFT)
Deep Purple with Dimensional Deeper Purple melting through
Who's it for… Someone who doesn't want to go too vibrant, and is normally a brunette or a darker blonde
Why it works… The bolder Intensity shade is tempered with hints of light and dark; just enough fun to show off an outgoing personality
THE LOOK…(BOTTOM RIGHT)
Vibrant Purple Plum
Who's it for…Someone who wants to go all-out bold, but doesn't want to lift their color to light
Why it works…Dramatic color is perfect for an exciting personality who loves to have all eyes on them
How to Care for Purple Hair
Wash hair in lukewarm-to-cold water, no more than twice a week, max.
• Make sure to use a professional color-protectant product every time you cleanse – like Color Balance Purple Shampoo and Conditioner.
• Extend the longevity of your shade with Joico Color Butter in Purple.
• Ready to transition out? It's easier than you think, explains Larisa Love. "Because purple cancels out warmth, it fades beautifully and naturally." Chomping at the bit to move forward to your next look even faster? Simply re-tone hair to the newly desired color.