THE TRIPLE-TWIST PONY
With Joico Global Artistic Director, Richard Mannah
Ponytails are easy and evergreen. But Joico Global Artistic Director, Richard Mannah, is putting a new twist on this out-the-door classic with a hack that elevates the pony to something extra-special. (And yes, it's still easy.) "This three-section ponytail was inspired by simplicity and elegance," explains Richard, whose new version creates an interesting, intricate effect at the back of the head. "It's a simple twisted technique that can be easily replicated at home."
Large-barrel curling iron
Clean toothbrush for flyaways
Let's get started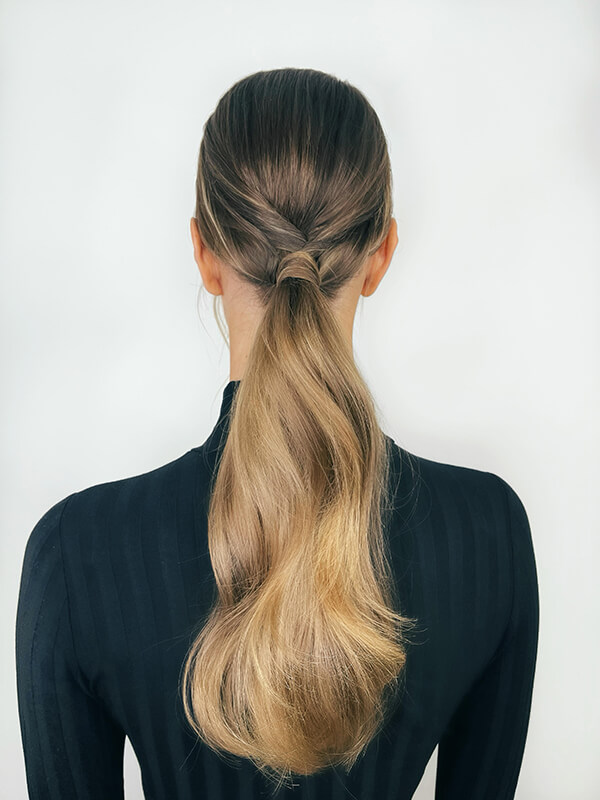 Step 1: Apply Body Shake throughout hair for texture, fullness, and grip.
Step 2: Next, spray Heat Hero into the layers to protect strands from potential thermal curling-iron damage.
Step 3: Create loose curls throughout hair; allow to cool and comb out to loosen.
Step 4: Fashion a center part; then tame flyaway strands by combing them down with a toothbrush.
Step 5: Leave a few face-framing tendrils loose in the front, then separate remaining hair in back into three sections. Secure each with an elastic.
Step 6: On each of the two side ponytails, make a hole above the elastic; then loop hair up and through, pulling on ends to secure.
Step 7: Now, make a hole above the elastic in the center pony, and pull each of the two side ponies through that loop, creating a twist effect.
Step 8: Wind a strand of hair around the base of the (now singular) ponytail and secure with bobby pins.
Step 9: Add extra curls to the ponytail, and tease for fullness.
Step 10: Curl the front tendrils; then spray Body Shake into your hands, smoothing it over the finished look for shine and hold.
Watch Richard create this triple-twist ponytail, here….
View this post on Instagram