The "Hero Piece" – Hair-Color's Coolest New Trend
Featuring Joico Global Brand Ambassador, Larisa Love
If you think the Money Piece is a cool hair-color technique, wait until you see the "Hero" Piece! It's a trend-forward, two-toned shade from Joico Global Brand Ambassador, Larisa Love, that frames the face, brightens skin tone, and delivers some serious POW, without the commitment of a whole head of fashion color. Learn all about it, here: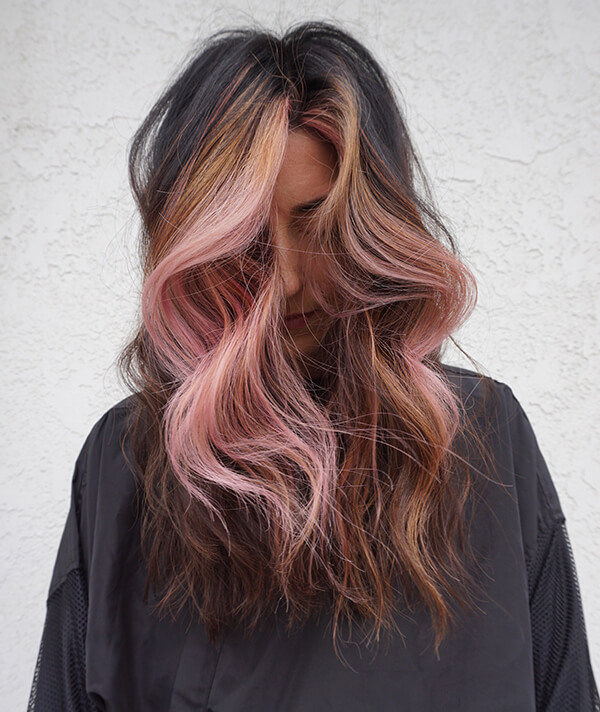 What makes this face-framer different…
The Hero Piece embraces playful, trending colors that deliver a color-block look. Typical Money-Piece looks focus simply on blonding around the face – but this technique takes a gutsier approach. "Sometimes, colors that wouldn't necessarily complement each other look incredible next to each other," says Larisa.
It dips a toe into fashion hair color. "I recommend this look to anyone who wants a change – or wants to make a bold statement — but doesn't want to transform their whole head to a different color."
It's super affordable. Because color is focused on a limited area, the Hero Piece saves both time and money. "It's just a few foils placed strategically — perfect for the stylist who wants to squeeze a client in, and perfect for the client who wants a quick yet impactful technique at a lower price point."
It's big impact. "It can completely contour someone's face, as well as brighten the skin tone, with just a few foils around the face," explains Larisa.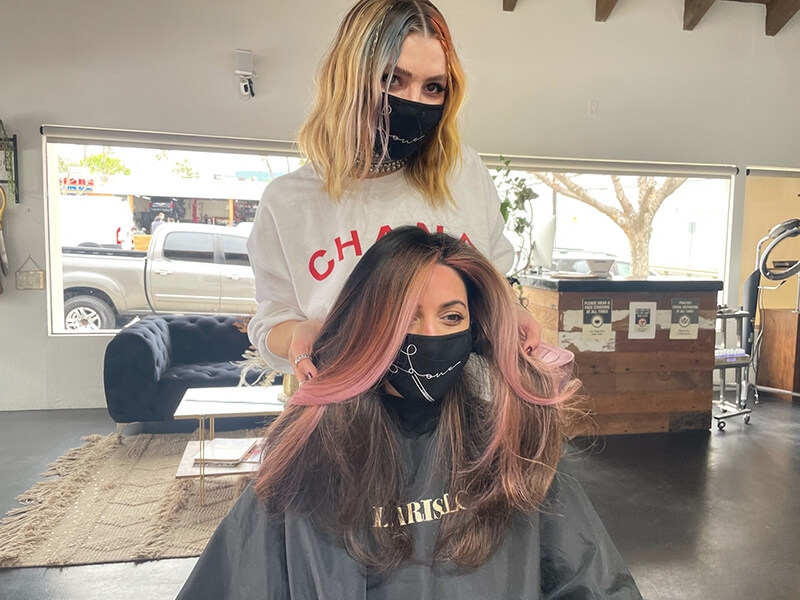 The formula and how-to's
Prep treatment: Defy Damage ProSeries1 Bond-Protecting Color Optimizer Spray

Lifted with Blonde Life Powder Lightener Level 15 on regrowth. Level 10 on previously lightened ends. Lifted to level 9 ½ Pre-toned with Demi Creme 1/2 oz 8Sb + 1oz 10N

Formula 1: Blonde Life Lightening Powder with 20 Volume LumiShine Developer

Formula 2: (Toner) LumiShine Demi-Permanent Crème Color 10N+ 10 SB with 5 Volume LumiShine Developer

Formula 3: Color Intensity Soft Pink + Mauve Amour

Post treatment: Defy Damage ProSeries 2 Bond-Strengthening Color Treatment
Watch Larisa create this stunning color-block look
View this post on Instagram
THE HOME CARE SECRET
Larisa sends her color clients home with Joico's NEW Colorful Collection —
a trio of Anti-Fade Shampoo, Conditioner, and Glow Beyond Serum designed specifically to keep all hair colors true to hue with the power of nourishing Camellia Oil and Pomegranate Fruit Extract.