MEET JILL BUCK,
JOICO CONTENT INFLUENCER
This Oregon-native has been on a shooting-star trajectory ever since her 2011 move to Los Angeles, where she teamed up with long-time friend, Riawna Capri, and joined the Nine Zero One family. From her early days operating the "Braid Bar" on Santa Monica Boulevard to her current status as stylist-to-the-stars (devoted clients include Julianne Hough, Nina Dobrev, Jessica Simpson, and Selena Gomez), Jill's developed a reputation as a seasoned celebrity hairdresser with impeccable taste and vision.
"We receive validation with each happy client, but Joico is now helping take that to a much broader level. I hope to impact thousands of artists and clients with this wonderful opportunity."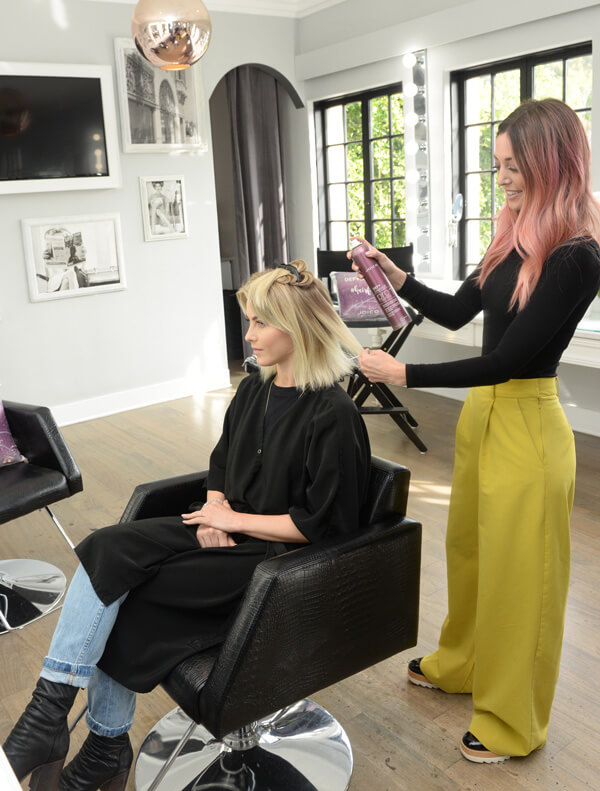 Advice for 2020…
"Be a YES person. Connect with others. Do things for free. Opportunity comes to us every day and new doors open; sometimes we don't even see it because we have our heads down and are focusing on what WE need. Last but not least, give just to give. Our industry has so many ways to give back and to help others. Just because you do something for free doesn't mean you are losing. In fact, from my experiences, you're actually winning."
Most excited about…
"I hope to impact thousands of artists and clients with this wonderful opportunity. Before I knew the science behind Joico, their color, and incredible healthy line of products, I knew the people behind Joico. I chose to work with this brand because of who they are and what they stand for. Joico makes us beautiful on the inside and outside alike. I can't wait to share all of it with you."
Need this stranded-on-a-desert-island product:
"How am I supposed to choose only one??! Well, if I have to, I would have to say Color Intensity Rose…I mean what's a pink-haired girl supposed to do? We all know how sun and salt water can fade our color, so I would have to do what it takes to keep it shiny and maintain my custom, signature-pink color!"
Most proud of…
"There are times I see my work on TV, on a billboard, or in print, and have a moment of extreme gratefulness with my chest held high. Celebrity work was never in my plans; and, when the doors opened, I never looked back. However, I would say my proudest career achievement is having created the ability for myself to travel the world. My goal as a young adult was a career that included a family, travel. and serving others. And I'm doing all of that."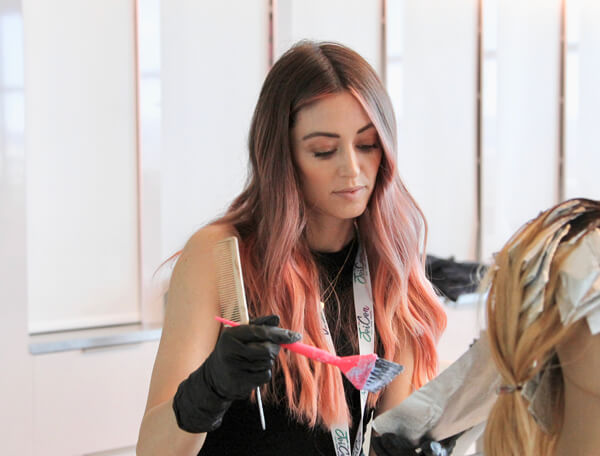 On the personal side…
"I want people to see how hard work and giving to others creates a life worth living — a bucket-list life. I am a mom, a wife, a director, and a CEO. I realize I'm a "jack of all trades," but because of that, I can offer my time and services to many people. This is the exact reason why one title, one degree, and one specialty was something I chose not to do. I love change and challenges. Because of this, I'm trained in everything from styling, extensions, haircuts, color, to fashion shades. However, if I had to choose only one thing to be known for? I'd have to say styling: It's allowed me to grow my business globally. I am invited by celebrity clients to style them all over the world, and I couldn't be more grateful for that."
A day in my favorite city…
I've spent the last eight years living in Los Angeles. Here are my fav spots…
It's a must to get to the beach! You'll find me at Zuma Beach, Pier 15, riding the beginner waves with my boys.
We love the Country Mart of Malibu after a long day, with great food and fun shops.
When I'm in work mode or out with my fellow salon besties, we frequent Jones of Hollywood for the yummiest Italian food around! Yes, I eat carbs, a lot carbs 🙂
I am not much of a shopper — clothes stress me out! But sometimes it's fun to walk Melrose avenue. Along with blocks of Instagramable walls, you'll find every store imaginable. It's actually a form of inspiration in our business; and if you haven't tried it, I highly recommend a little window shopping!