Moisture Recovery
Conditioner
It only takes a minute for our intensely-hydrating Moisture Recovery Conditioner to come to the rescue and inject a whole lot of life back into tired, fried, and frizzy tresses; actually reducing breakage by 55%.
Here's Why You'll Love It
Easily detangles dry hair
Reduces breakage by up to 55%
Deeply nourishes dry-to-extremely dry hair
Adds softness, smoothness, and shine
2.3 out of 5 stars (based on 35 reviews)
Wow what a difference this product makes i cant keep my hands out of my hair. This products is a winner anyone with dry hair go out and try this you will not be disappointed.

"After using them only one time, my hair instantly felt softer and looked shinier and healthier too." —Talia Gutierrez, beauty assistant, Glamour
Directions: Apply to clean, damp hair. Leave in for 1 to 2 minutes. Rinse.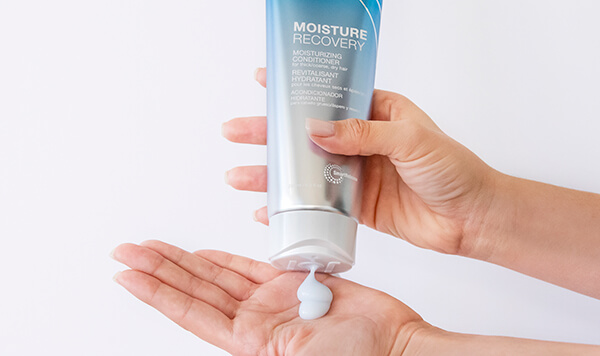 Hydramine Sea Complex
A blend of unique natural moisturizing elements from the ocean; Sea Kelp, Seawater Nutrients, and Brown Algae –help restore hair's hydrolipidic barrier and prevent dehydration.
So let me start this review off by stating that
I previously tried Joico's Kpak line.. and HATED IT. I was newly natural (im African American with pretty fine, 3c hair) and using protein galore! The only problem.. i didn't even realize what i was doing- which led to my Kpak disaster. So, naturally, I stayed away from this product for as long as I could.
After numerous youtube videos/online postings/message boards, (and outright hair frustration)… I stumbled upon the MR line. By this time, i discovered that my fine 3c hair was perfectly okay with cones, sulfates, etc so i wasn't fearful of trying it. I can say that i did a patch test first (by washing only a small portion of my hair and then applying this product) And babyyyy, it went on like buttah! smooth as silk!
I left it on longer than the minute on the directions (hehe) and instantly noticed a difference. I have yet to try the balm but the Moisture Recovery Conditioner is right up my alley.
This is like Holy Grail quality. I love you, Joico! lol You have seriously restored my hair!
This product is like none other. It's totally the best deep conditioning agent I have EVER used. Im a natural with 3b-3c curls and this product instantly cut my detangling process in half. I couldn't believe how soft to the touch and moisturized my hair was. I mean INSTANTLY, I could tell this product was awesome. I love it. And my wash and go turned out like none other. Curls were totally and completely frizz free. I must keep this as a product holy grail! All naturals should have some!