Here's Why You'll Love It
Unlike traditional shampoos that can strip away what little joi remains, this power-packed formula gives and gives—instantly improving elasticity, strength, and shine.*
Gently cleanses damaged hair
*When used with K-PAK Reconstructing Conditioner
2.7 out of 5 stars (based on 44 reviews)
I can not believe how AMAZING my hair feels. My hair has never felt this good since i came out if the womb! Will most definitely be purchasing the salon size 1000ml once this has ran out. Couldn't recommend any more!
Directions: Lather, rinse, and repeat if desired. Follow with K-PAK Reconstructing Conditioner.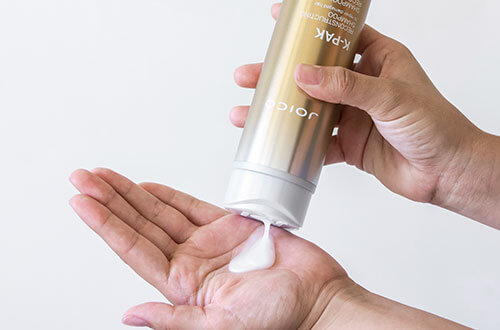 Finally, an effective cleanser that's gentle enough for daily use on even the most damaged hair!

This hair healer goes right to the damaged areas of the cuticle, instantly filling in those lost amino acids, while restoring elasticity, strength, and shine.
Keratin
A protective protein found naturally in hair, actively seeks out damage and helps repair hair by replacing lost proteins. The result? Stronger, healthier-looking locks.
Guajava Fruit Extract
Packed with antioxidants and Lycopene, which are known to help protect hair against UV damage.
Evening Primrose Oil
A rich source of Omega-6 and Gamma-Linolenic Acid, an essential fatty acid that helps nourish hair back to health.
SmartRelease Technology
Our one-of-a-kind liposome delivery system packs a punch by continuously releasing Rosehip Oil, Arginine, and Keratin to help repair, strengthen, and protect hair from the damaging effects of daily styling.
I love the new scent .My hair looks a feels fabulous.🙂
Horrible if you want dry hair with no body and dull then this shampoo is for you. The smell upset my stomach it was so strong. This has to be the worst shampoo I ever used don't waste your time and money on this beast. The old formula was my go to holy grail shampoo it was the BEST.
The new formula is AWFUL the smell is way too strong made my hair dry and brittle. It does not have a ph balance 4.5 – 5.5 or bio advance peptide complex like the old formula. They swapped out the most important ingredients for a nice fancy gold bottle marketing only works if the product preforms I see this as a big loser. I guess when you have to save money you cut back on ingredients and charge the consumer more. Bad move Joico.