HOLLYWOOD HALLOWEEN
Featuring Joico Global Brand Storyteller, Olivia Smalley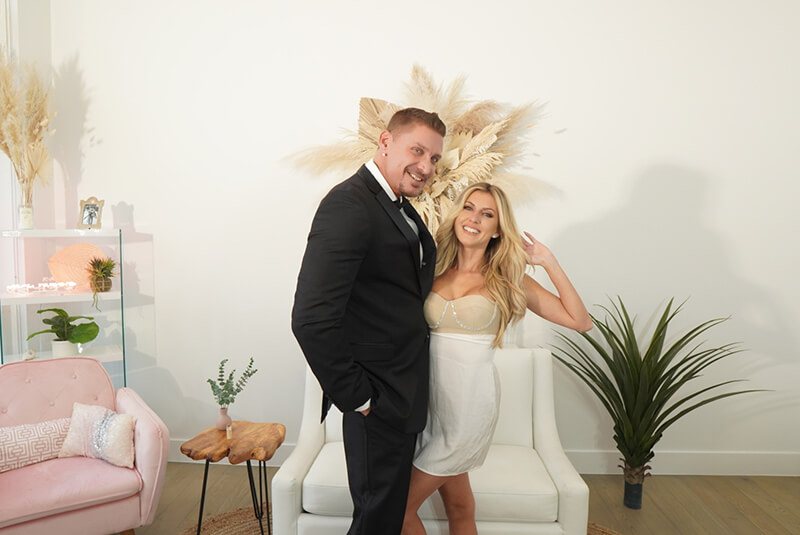 Want to partner up and rock a costume right off the red carpet this year? Take your cue from the hottest celeb couple in Tinseltown (hint: rhymes with Bennifer) and pull off your posh look without the need for an entire hair-and-makeup team. Joico Global Brand Storyteller, Olivia Smalley – whose hubby joins in and plays his role — shows you the DIY right here: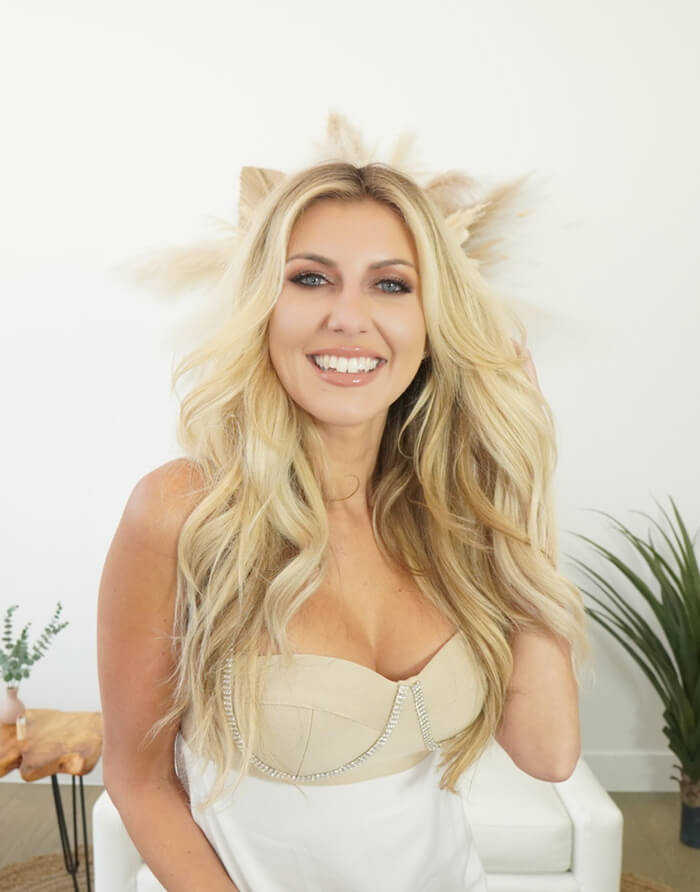 COSTUME HIGHLIGHTS
Golden, glowy, voluminous locks: "This celebrity look is always a win in my book," says Olivia.
Rooted color: "The rooted vibe is low-maintenance and here to stay."
White-and-gold gown: Especially with a deep décolleté to show off that faux golden tan.
A tux: Because what red carpet would be complete without it?
Large-barrel curling iron
Olivia's starlet step-by-steps…
1) Create a center part and clip in a crown hairpiece for extra lift and volume. "It doesn't have to match exactly," says Olivia, who uses Joico Tint Shot in Light Brown to add a temporary rooted look that blends her own hair with the extension.
2) Spray Tint Shot on a large, fluffy powder brush for an even application to roots and crown hair. "This technique is so unique, extremely versatile, and easy to do," explains Olivia. "In addition to creating that dreamy, melted look, the Tint Shot can also be used in between color services to hide "sparkly hairs," as I like to call the grays. You can also fill in your hairline by applying the Tint Shot with a makeup brush for a snatched pony look. The shades vary from light to dark meaning there's something for everyone."
3) Apply Heat Hero to strands for protection against damage and fading caused by thermal tools (aka, your curling iron).
4) Create loose curls throughout the head with a large-barrel iron.
5) Spray hair with Body Shake for plush, airy, bombshell volume without an ounce of stiffness, stickiness, or powdery residue.

NOW TURN YOUR HUNNY INTO A HUNK
1) Apply Tint Shot Light Brown with a brush to cover any gray hair at the sideburns.
2) Spray crown hair if a darker overall look is desired.
3) Apply a dollop of JoiGel Medium and work into the hair, slicking strands back and creating a signature "peak."