Here's Why You're Blowing Your Blowout…
Joico Brand Ambassador, Larisa Love, breaks it down for you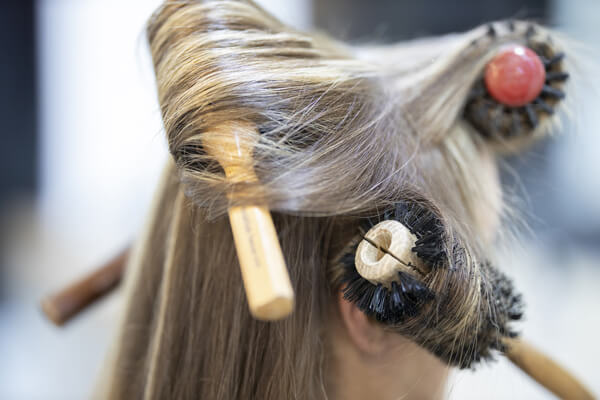 You're using the wrong dang brush.
If you have frizz or curls: Use a boar-bristle brush to smooth out hair.
If your hair is fine-to-medium texture: Use a larger, ceramic round brush to add heat and give extra volume.
No matter what: Get a round brush with a good grippy handle. The larger and longer the brush, the fast your blow-dry, because it grabs more hair and saves you on drying time.
Your hair is sopping wet.
Always rough-dry hair until it's 80% dry.
The exception: Curly hair should only be rough-dried to 50%; go too far and you won't have the moisture that provides brush tension, which means strands will frizz before you can smooth them.
You're afraid of heat.
Forget those warnings about staying away from the hot button because it fries your hair. With the right thermal protection (more on that in a minute), you'll be fine using the highest temperature, which gets hair dry and smooth. Afterwards, finish off with cold air to seal the hair cuticle – it's a trick that makes your blowout last longer.
Heat protectant? What heat protectant?
Always, always, always apply a product to damp hair to provide a barrier between your dryer and your fragile strands. Joico Dream Blowout and Luster Lock Multi-Perfector Daily Shine & Protect Spray guard hair against damage and breakage; they also add days of shine and hold to your blow-out.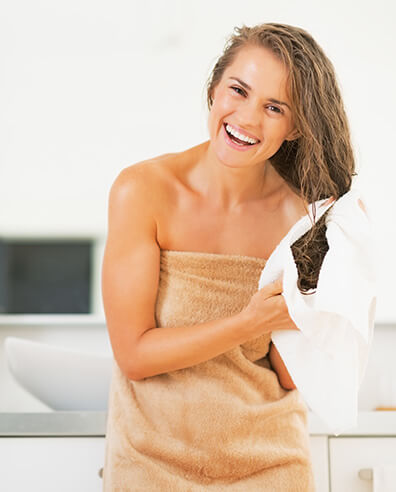 You try to dry all your hair at once.
Though it sounds like a hassle, sectioning hair before drying it is not only faster, but leads to more profesh-looking results.
(Note: The thicker your hair, the more sections you need to make.) Start with circular sections at the top of the crown to the front, then work your way around the perimeter; followed by diagonal back sections. Blow-dry hair in this order. When you get to the last top crown sections, point the nozzle the opposite direction your hair falls in order to add volume.
You're pulling your hair down.
Pulling downward with the brush on your top layers creates undesirable flatness. Instead, always start with a flat bristle brush and dry against the grain of the hair to inject volume. (The only exception to this is when you're blow-drying underneath layers; pulling those down adds length to your style.)
You aren't giving hair a chance to "set."
So, let's say you want height at the crown and you've used your roller brush to create big curls that you'll eventually brush into swooping volume. Key word: eventually. The longer you allow your hair to rest, the more volume you will achieve, and the longer the hairstyle will last. To really safeguard that volume, try clipping or pinning those large arc-y pieces until they've set; or hold the brush in place until that section of hair has fully cooled down.
Want to see the magic in action?
Watch Joico Brand Ambassador, Larisa Love, blow-dry her own hair!
View this post on Instagram
Step 1: Prep damp hair with Joico K-PAK Color Therapy Luster Lock Color Therapy Multi-Perfector Daily Shine & Protect Spray for heat-styling protection and added shine

Step 2: Follow up with Joico Dream Blowout Thermal Protection Créme to save time, shield hair from thermal damage, protect hair against humidity, and fight frizz

Step 3: Add 1-2 pumps of HydraSplash Replenishing Leave-In to replenish moisture to your hair

Step 4: Comb through for even distribution

Step 5: Rough dry hair to about 80% dry

Step 7: After you have 80% of hair dry, section hair from the front, moving towards your crown in a circular motion. Clip hair out of the way, leaving out any hair that frames the face

Step 8: Blow-dry the bottom perimeter of hair with a round brush. The blow-dryer should be above the hair and the hairbrush should be under the hair, sweeping in a downward motion

Step 9: After the bottom perimeter of hair is dried, take diagonal back sections from the back of hair and clip remaining hair out of the way

Step 10: Continue drying hair in the same downward movement as before

Step 11: For the last top crown section, use a round brush to blow-dry hair against the grain, in horizontal sections. You will want to blow-dry toward the face to get the volume at the crown

Step 12: Repeat until all hair is dry