CELEB REVEAL: THE RED REFRESH
Featuring Joico Celebrity Artist, Jill Buck, of Salon 901
Joico Celebrity Artist, Jill Buck of Salon Nine Zero One has a big Secret Menu reveal today, and it's a formula you're def going to want to steal: The yummy red refresh gave Younger star, Molly Bernard, a natural ginger look without any harsh lines.
View this post on Instagram
THE COLOR STORY
"Molly came in with washed-out blonde and needed to be more red for her press junket with Younger," explains Jill. "Using clear and processing times as my secret weapons, I was able to achieve a natural look and effect without any harsh lines." Along with eye color and skin tone as inspiration, Jill created a radiant red refresh that appears seamless and healthy for her talented client. "This girl is equally one of the sweetest and funniest humans…I'm so lucky to get to work with her. Molly gives this color life!"
JILL'S START-AND-FINISH TRICK
The key to bringing out vibrancy and shine?
Starting and ending every service with Defy Damage ProSeries:
– Pro Series 1 is a dry aerosol spray that is applied in short bursts to dry hair prior to any chemical service. It's designed to protect bonds in the hair from degradation that occurs during color, lightening, perming, and straightening services. Big bonus? There's no need to reformulate your color, adjust your developer, or change your process timing–just shake the can vigorously, apply to clean dry hair then apply Jill's fabulous Root Rap formula.
– When processing is complete, rinse and apply Defy Damage Shampoo, followed by Pro Series 2 for five minutes. This game-changing product will restore and regenerate bonds while locking in color: the perfect way to bring out the radiance in red.
THE SECRET MENU
– Prep hair with Defy Damage ProSeries1

– Highlights: Blonde Life 20 volume

– Tap: LumiShine Liquid 8NC & 5 volume for 15 minutes

– Tone all over: 8NC and Clear for 10 minutes

– Post Treatment: Joico Defy Damage ProSeries2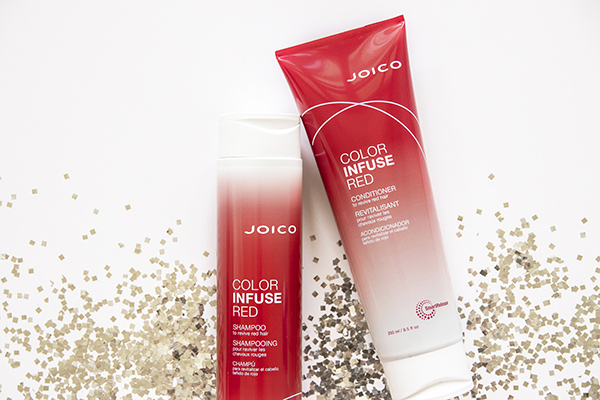 To keep Molly's hair radiant and healthy, Jill recommends Color Infuse Red Shampoo and Conditioner. The color-depositing shampoo fights the fade of vibrant ginger shades; adding vibrancy and shine through 12 washes. It also reduces breakage, controls static, and leaves fiery red hair stronger, less fade-prone, and beautifully shiny.
Add the nourishing conditioner, and you'll also deliver an intense infusion of pigment, glide-worthy slip, detangling, and amped-up shine. Both products contain green-tea extract, UV absorbers, antioxidants, and SmartRelease Technology, our one-of-a-kind liposome delivery system that continuously releases Rosehip Oil, Arginine, and Keratin to help repair/strengthen/protect hair from daily styling.