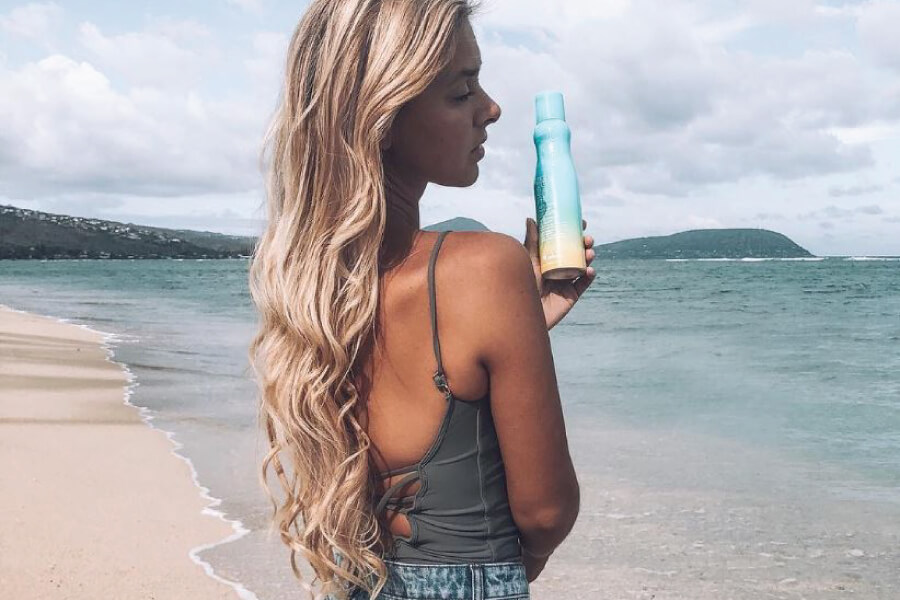 So, Instagram star and beauty enthusiast, Nadia Lendel, posted a pic of her amazingly blonde, beachy waves set against the backdrop of a tropical paradise recently. (Picture a blonde Botticelli rising out of the ocean…it was that good.) And in her hand? Joico's revolutionary Beach Shake — the product that gave this popular style maven "perfect volume and texture!"
With the help of celebrity hairdresser, Larisa Love, we got the scoop on how to pull off those carefree, decadent waves, even when there's no tropical paradise in sight.
GET A WAVE ROLLING
Beach Shake takes waves — either natural or heat-styled — and turns them into something extraordinary. So start with plenty of texture (if hair is naturally straight, simply work in some twists and turns with a curling iron or barrel rod), then apply product and watch the satiny separation come to life.
DISTANCE SHOTS ONLY, PLEASE
Your instinct might be to spray the dickens out of your hair, burying the nozzle in your roots for ample application. But Beach Shake does its best work from afar; so always spray from at least an arm's length away to get the full transformative effect.
GIVE YOURSELF THE BRUSH-OFF
The waves are in place, Beach Shake has done its magic; now it's time to break up the curls with your fingers…never a brush. After all, why undo that "perfectly imperfect" separation?
A DRY IDEA
Want to bypass a full on cleansing on 2nd or 3rd-day hair and inject brilliant volume at the same time? Beach Shake pinch hits for dry shampoo, soaking up oils while giving you extraordinary, touchable hydration and texture…no awful salty/crunchy strands in sight.