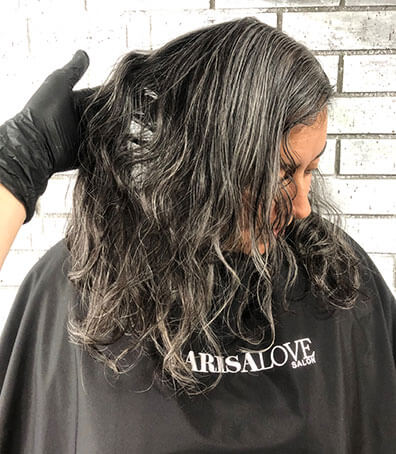 THE BACKSTORY:
"I loved my client's grey grow-out — a complete salt-and-pepper look. It created what seemed to be the perfect placement of highlights, with gray pieces framing her face. I didn't want to fix something that clearly wasn't broken."
THE CONSULTATION TELL-ALL:
"She told me she wanted her hair to have an edgier look, but still desired the low-maintenance aspect of her gray."
LARISA'S DIRECTION:
"I loved those face-framing grays and knew I had to throw a Color Intensity over all that perfect grey placement to achieve a beautiful brightness. So I applied Color Intensity Silver Ice plus Amethyst onto her hair, which gave her a metallic violet shade that complements her tan skin tone. The natural dark pieces created dimension with her new amethyst strands."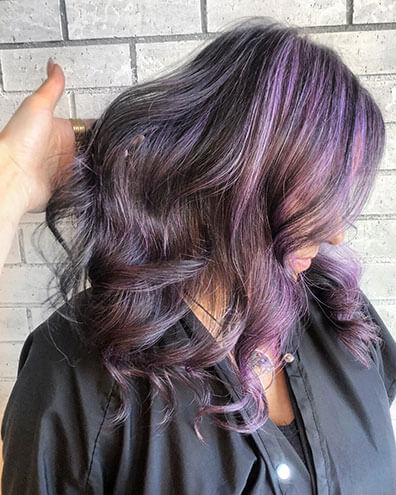 CHALLENGES:
"There were no challenges whatsoever because Color Intensity takes in color so well, as long as hair is a level 8 or higher."
LET'S TALK MAINTENANCE:
"It's a very easy look going forward. All that's needed is Joico's Purple Color Butter to refresh the shade, along with K-PAK Color Therapy Shampoo and Conditioner, which helps to keep the color last long. It will subtly fade back to her gorgeous salt-and-pepper in 10-15 washes."
FEELING THE LOVE:
"Within 10 minutes, my client showed that edgy personality and a cool sense of confidence. And that's exactly why I love my job so much! I feel the same way about Joico products…they never fail me and always give me the perfect results.

FORMULAS
Color Intensity: 2/3 Silver Ice + 1/3 Amethyst