Here's Why You'll Love It
Our color-safe clarifier delves deep to remove product residue, excess oil, and impurities that can dull your hair's luster and weigh it down—without stripping away shine and slip, or diminishing your shade's vibrancy.
Detox hair from hard water, chlorine & minerals
Protects hair against pollutants*
*Lab tested using pollution particles
4.6 out of 5 stars (based on 11 reviews)
I have always used Joico products, but I stopped using this product a while ago (joico products are not cheap), and my hair hasn't been the same. I went back to it and I noticed the difference after the first wash. I won't let it go again. I would give it ten stars if I could.
Directions: Apply to wet hair and leave in 2-5 minutes. Rinse.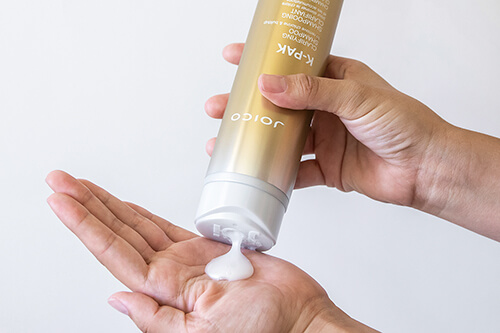 Start the week off with a clean slate! With a formula that knows just what to take out and what to leave behind, this clarifying cleanser is an ideal refresher for all hair types, even color-treated hair.

We balance the powerful cleansing properties in this clarifying formula with innovative ingredients that shield and protect hair from the inside out.
Keratin
A protective protein found naturally in hair, actively seeks out damage and helps repair hair by replacing lost proteins. The result? Stronger, healthier-looking locks.
Guajava Fruit Extract
Packed with antioxidants and Lycopene, which are known to help protect hair against UV damage.
Evening Primrose Oil
A rich source of Omega-6 and Gamma-Linolenic Acid, an essential fatty acid that helps nourish hair back to health.
SmartRelease Technology
Our one-of-a-kind liposome delivery system packs a punch by continuously releasing Rosehip Oil, Arginine, and Keratin to help repair, strengthen, and protect hair from the damaging effects of daily styling.
I would like to purchase the shampoo and conditioner.. Your website isn't user friendly. Which is upsetting to me
SAVED MY LIFE. I picked this up a few days ago after trying EVERYTHING on my damaged hair. For context; I have platinum blonde hair, but in spite of my best efforts (using a hair mask literally every other day, olaplex, plenty of hair oils, very little heat styling, silk pillowcase, avoiding brushing,etc etc), the hard water in my new apartment caused it to dry out a ton and cause me a lot of breakage. Normally I would just blame this on the bleach, but I am so gentle with my hair, I always use good products (mostly Shwarzkopf and Redken), and I had never, never had it be this unmanageable before. My scalp also got super itchy from the water (I haven't been able to use a shower filter because the shower head in my place is super old and I need to get a plumber to replace it.) Basically lately I've just been desperate for anything that will allow me to maintain the blonde and also keep all my hair on my head. I picked this up a few days ago and have used it twice, both times leaving it in for 5 minutes and following up with the Revitaluxe treatment and OHHH my goodness I'm thrilled. My hair is already INFINITELY more soft and manageable, not breaking off as much when I brush it, and my scalp is way less itchy as well. It's also helped to remove some demi permanent colour that wouldn't let go (I recently dyed it brown because I didn't think I could maintain the blonde, then I hated it and washed the colour out lol). Anyways, this has given me the confidence I've been desperately seeking to go back to platinum (The only colour that makes me feel like myself) and know that all my hair won't fall off in the process. I'm so happy and can't recommend it enough if hard water/ chlorine has been ruining your hair. Love love love.
I have used Dove my hair since I was 15 years old. My hair is starting to feel really dry lately and so I decided to buy three big bottles of the shampoo conditioner and hair treatment just try it out because a family member told me to try it. I can honestly say that after the first wash I was very impressed!! I'm very picky about my hair and I will continue to use joico!! Absolutely amazing!!!