JoiFull Volumizing Shampoo
We're setting the scene for plush, long-lasting fullness with this richly lathering cleanser that gently whisks away oil and dirt known to weigh down fine hair. Leaves strands clean with a sheen—uniquely nourished and ready for extraordinary body with a natural feel.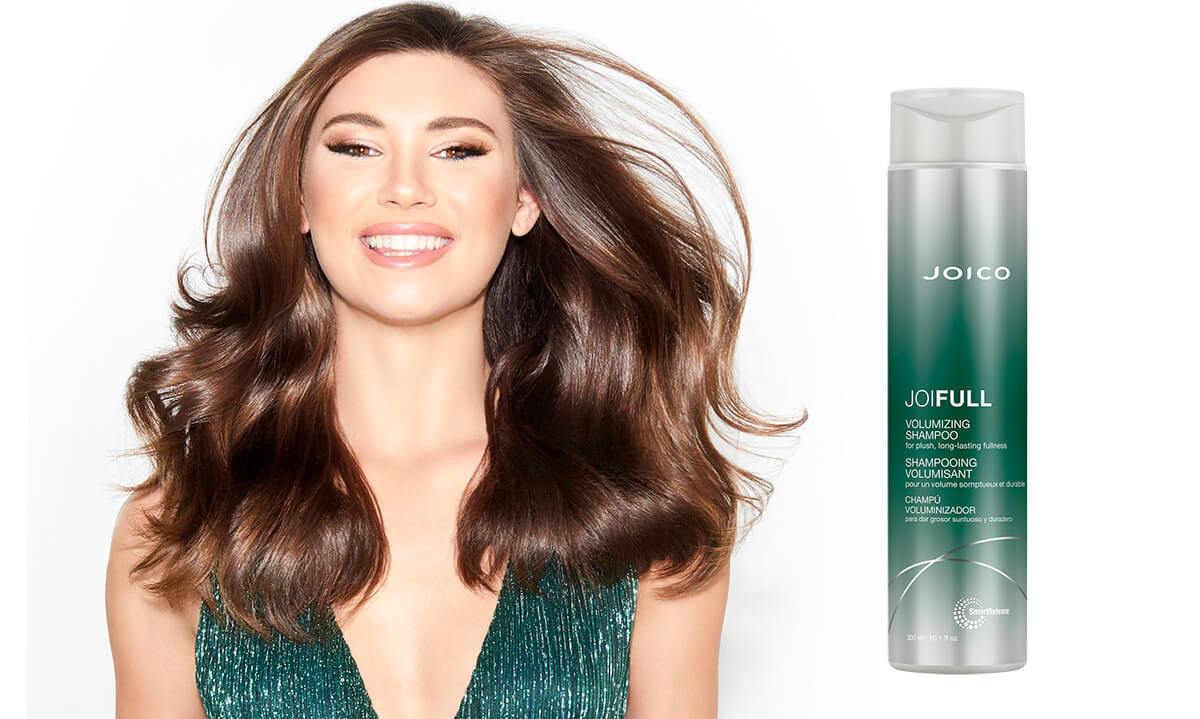 Here's Why You'll Love It
It's full-on thick, bouncy hair with the ease of three completely cohesive steps: Cleanse to build the foundation for fullness; Condition for healthy volume and protection; then power up big-time with one game-changing styler.
Fuller, thicker, bouncier hair
Provides long-lasting humidity protection*
Rich lather gently yet thoroughly cleanses hair
Adds instant, lightweight body
*When using JoiFull Volumizing Shampoo, Conditioner, and Styler as a system
4.4 out of 5 stars (based on 5 reviews)
The shampoo is thick/gel texture. Light foam but cleanses well. Rinses quickly without greasy feeling. My hair was relatively soft during the wash prior to using the conditioner. Smells fresh and I did notice more body in my hair as it air dried.
Directions: Apply to wet hair. Lather. Rinse well.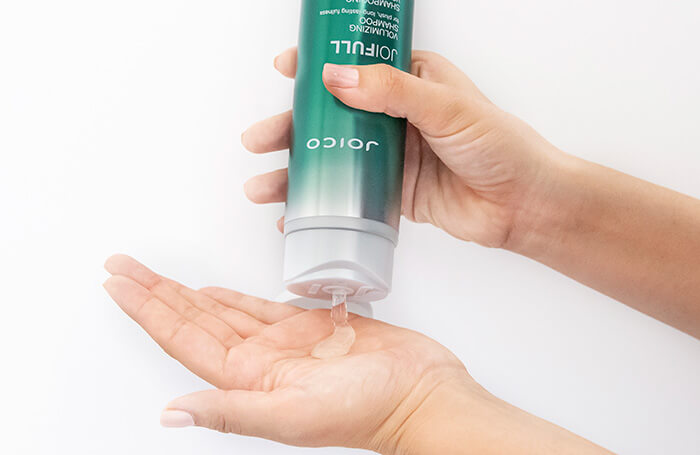 The ingredients in JoiFull elevate hair, delivering an explosion of fullness along with healthy-looking, strong, shiny hair and long-lasting results.
Rice Protein
Rich in amino acids, helps to strengthen and thicken hair while providing a fuller feel and visible lift to fi ne, limp hair.
Bamboo Extract
Fibrous and rich in silica, helps to build volume while promoting thicker, stronger, shinier strands.
SmartRelease Technology
Packs our triple-powered, healthy-hair ingredients inside an invisible liposome. This unique delivery system offers continuous release to the hair, protecting it against the recurring damage caused by daily styling and wear.
This was good shampoo/ conditioner when i used the samples I was given before purchasing but unfortunately halfway through the bottle I find it has made my hair very dull and lank after 2 days. I have used it without the conditioner as well but to no avail. I was told that Joico were not making the body luxe anymore but have just found a supplier so I will go back to that as it does a better job for me.
I got the shampoo/conditioner as a sample and just used it last night. My colored and wavy/frizzy hair is about 4″ below my shoulders, and for as thin as this product is, I was concerned that there wasn't enough in the sample to even test this out – I really had to work it through my hair to cover all of it (except the top of my head). But after towel drying it, the comb passed through all of my hair without a single snag or tangle. Silky smooth results. Un-believable. I let it air dry and didn't follow up with any product so that I could see true results, and my hair is wavy and fluffy and full. Still some frizz because of color damage, but nothing that can't be fixed with a heat protectant and a blow out. It smells faintly floral and sweet, but nothing I could put my finger on. The big bottle is going into my shopping basket for my next Ulta order. For anyone who dislikes the bottle, just use a pump from a previous shampoo or conditioner. I never throw those out, and you can always snip the end with scissors if it's too long.
I have been on an epic search for shampoo and conditioner for my thin, frizzy colored hair. This combo smells great and plumps up my hair. Usually the conditioner for thin hair is very fair compared to the shampoo, not this one! The conditioner is very thick and luxurious. I do agree with another reviewer that the packaging is not stellar. I dropped the shampoo and now the bottle does not close well. I can live with it. The Joico 9 hairspray is awesome too!
I have fine relaxed hair-non color. I used this along with the conditioner last night. The shampoo is thick/gel texture. Light foam but cleanses well. Rinses quickly without greasy feeling. My hair was relatively soft during the wash prior to using the conditioner. Smells fresh. I did notice more body in my hair as it air dried