WINNER: MOISTURE RECOVERY
SHAMPOO & CONDITIONER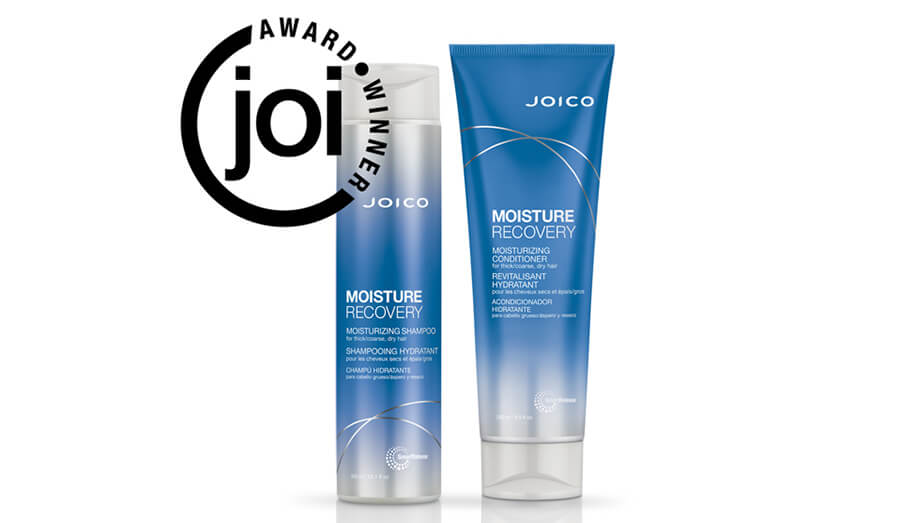 "After using them only one time, my hair instantly felt softer, and looked shinier and healthier, too," detailed Glamour.com editor, Talia Gutierrez in her praise of Joico Moisture Recovery. She had good reason to fall in love with this radical thirst quenching duo designed specifically for thick/coarse, dry hair. We'll give you 10 of them right here:
Reason #1
They saturate extra thirsty hair with intensive moisture for a full 24 hours.
Reason#2
They tap into intensive marine ingredients and Jojoba Oil for softness and manageability.
Reason #3
They create mega-watt shine.
Reason #4
They contain Hydramine Sea Complex – a unique blend of natural, moisturizing elements from the ocean, including Sea Kelp, Seawater Nutrients, and Brown Algae.
Reason #5
The ingredients help restore hair's hydrolipidic barrier and prevent dehydration. (Think of a protective cocoon for each strand.)
Reason #6
The Shampoo gently cleanses hair without stripping its natural moisture.
Reason #7
They restore smoothness and elasticity, so hair swings and bends.
Reason #8
They breathe life and movement into coarse, frizzy, brittle strands.
Reason #9
They reduce breakage by up to 55%, while gently detangling wet hair.
Reason #10
SmartRelease Technology releases RoseHip Oil, Arginine, and Keratin to repair, strengthen, and protect hair from future damage.
Need another reason? Joico Brand Ambassador, Larisa Love, swears by the duo to transform the hair of her clients who suffer from seriously parched, dehydrated strands.