FESTIVAL HAIR: WHAT TO KNOW BEFORE YOU GO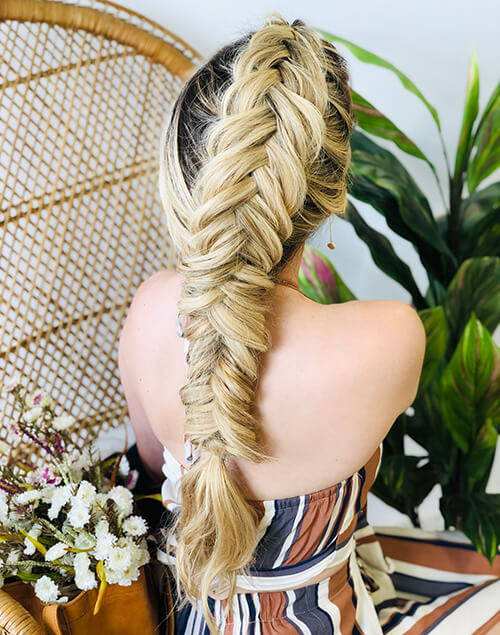 I want to rock really gorgeous, modern hair when I hit Coachella. Where do I start?
Olivia says…
"Go for an extremely tousled texture while still maintaining the shine and gloss of your hair. My secret – I actually used it on both models here, who are also my clients – is Joico's new Defy Damage System. It totally protects hair, preserves moisture, and adds tremendous shine."
Okay, so I need my hairstyle to hang in there for multiple days. Tricks?
Olivia says…
"Avoid updos! Once an updo starts to fall, there's no resurrecting the original style. Instead, go for a style that is transitional…maybe start with tight braids that will look more Boho when they naturally loosen up."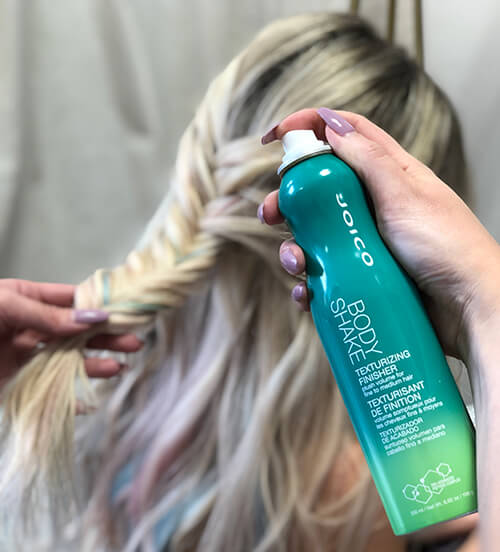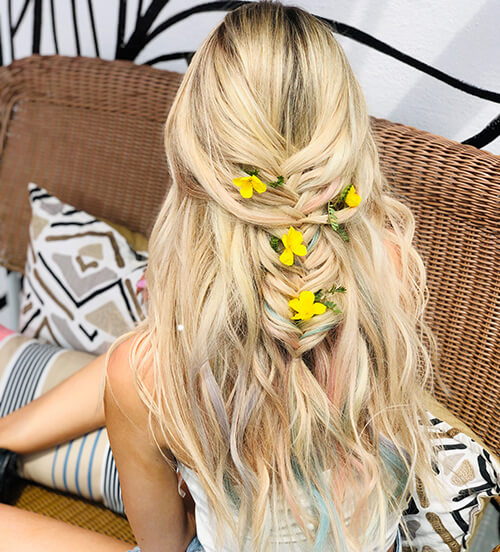 What is the IT trend for Festival season this year?
Olivia says…
"Braids, braids, and more braids! Whether they're loose and bohemian, or tight, long, and sleek, everyone has hopped on the braid train. For the looks here, I created texture with the braids using my favorite texturizing finisher, Joico Body Shake!"
Are flower crowns still in? Or is that a been-there-done-that look?
Olivia says…
"You're going to see a fresh, new take on flower crowns emerging this season: We're deconstructing them and using those fresh-cut flowers as accents in loose, braided styles. It's a gorgeous trend."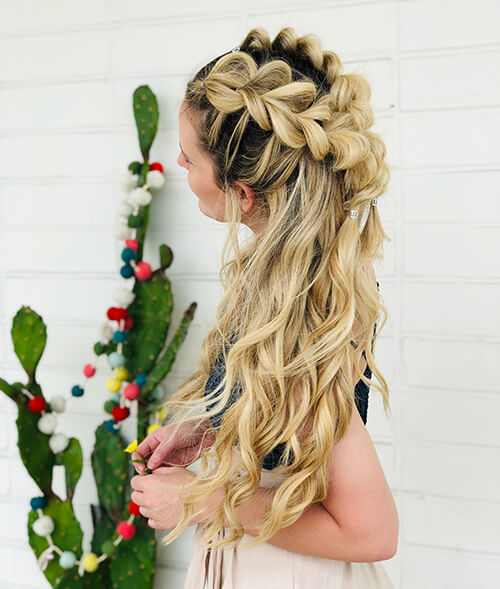 Packing my bag. What's in there?
Olivia says…
"Hair scarves, accessories, and cuffs will elevate your braided styles and are a huge trend this season. I also highly recommend bringing a good UV and thermal protector, like Joico's Defy Damage Protective Shield. Trust me — you will thank me for that one."
Parting words of advice?
Olivia says…
"Have fun with your hair! Festival season is the opportunity to do something you wouldn't normally do with your look. It's your moment to take a risk and do something that you can't get away with at your typical 9 – 5 job. Whether that's creating brightly-colored hair with Joico Color Butter(s) or fashioning glitter roots, don't be afraid to try something new!"