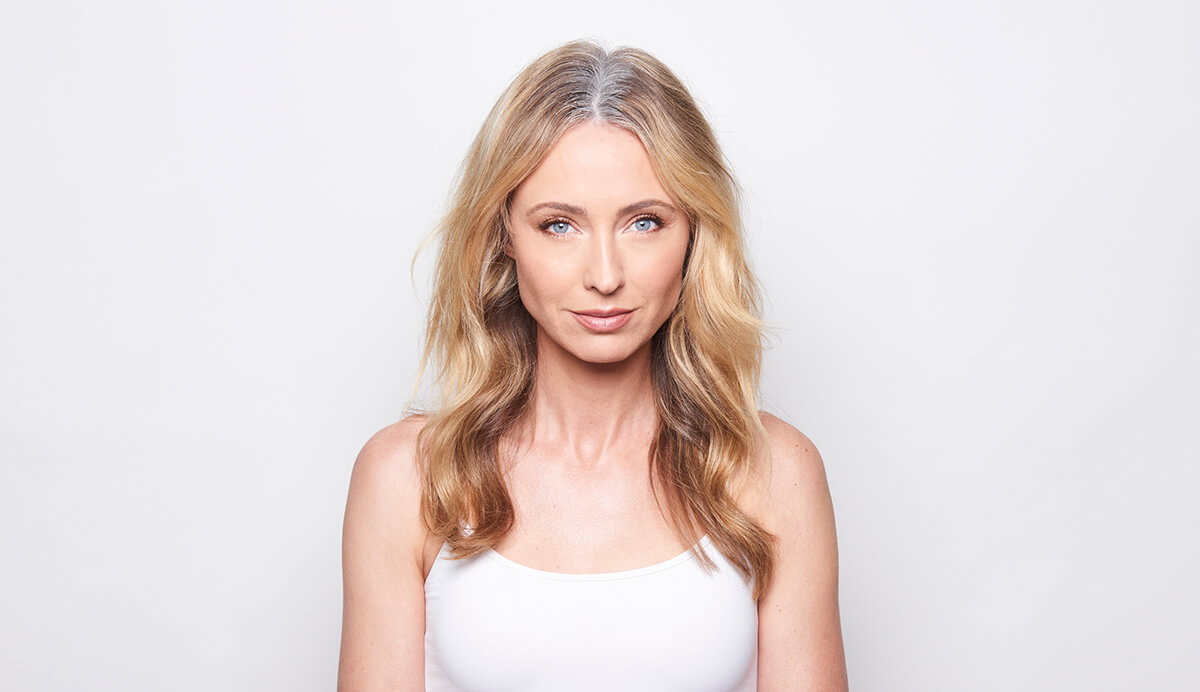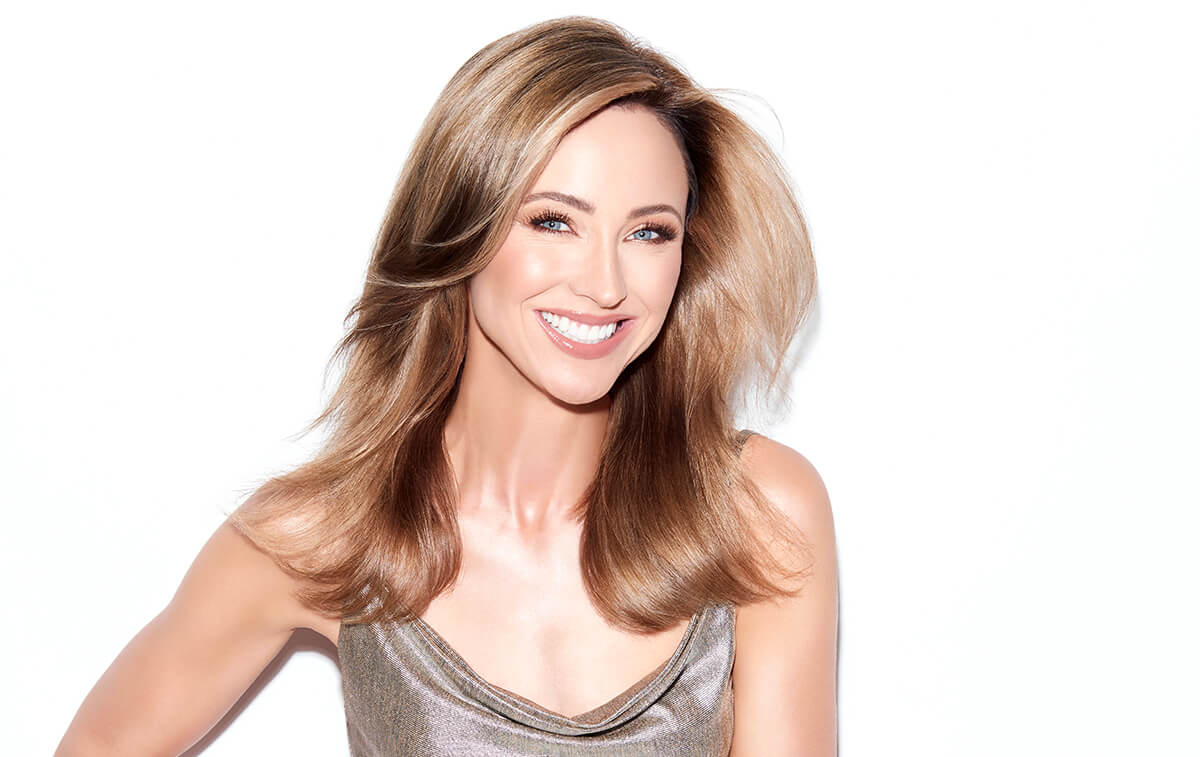 Unlock hair's youth potential with NEW Natural Natural Gold shades from LumiShine® YouthLock -Joico's first collagen-infused permanent crème color. 100% gray goes 100% gorgeous with seven Natural Natural Gold shades that infuse hair with believable youthful tones with a hint of gold –the kind of warmth that shines inside and out.
Harnessing the fountain of youth-like properties of Collagen—known to keep skin youthfully plump and improve skin elasticity and hydration—this innovative formula helps revitalize strands and lock in the look and feel of younger-looking hair. With just one color service: Hair springs back with renewed bounce,* body,* and signature LumiShine shine.** Resilience returns. Smoothness and softness*** are restored. Resistant gray gets our most gleaming and gorgeous coverage
* With K-PAK® Color Therapy™ Shampoo and Conditioner
** With K-PAK Color Therapy Shampoo and Conditioner on damaged hair
*** vs. untreated damaged hair
COLOR FORMULAS
Natural Level 6
Gray % 60%
Prep – Defy Damage Pro Series 1: Bond-Protecting Color Optimizer
Formula 1 – LumiShine Youth Lock 6NNG + 20 Volume LumiShine Developer
Formula 2 – Blonde Life Powder Lightener + 30 Volume LumiShine Developer
Formula 3 – Blonde Life Powder Lightener + 5 Volume LumiShine Developer
Formula 4 – LumiShine Demi-Permanent DD Crème 9NG + 5 Volume LumiShine Developer
Formula 5 – LumiShine Demi-Permanent DD Crème 10NWB + 5 Volume LumiShine Developer
Post – Defy Damage ProSeries 2: Bond-Strengthening Color Treatment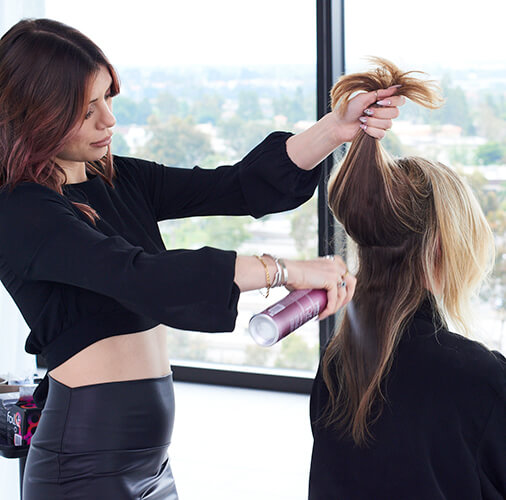 STEP 1:
Protect the hair with Defy Damage Pro Series 1. Shake the can vigorously, then apply it to the hair in two-inch sections starting in the back. Spray in short bursts, then comb through for even distribution.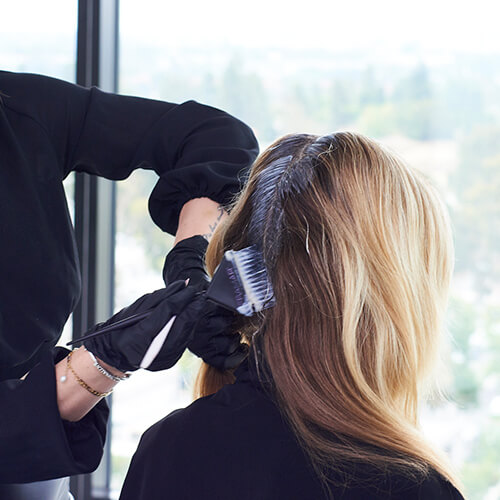 STEP 2:
Divide hair into four sections, then apply Formula 1 to the regrowth area in 1/8-inch sections to ensure proper and complete saturation.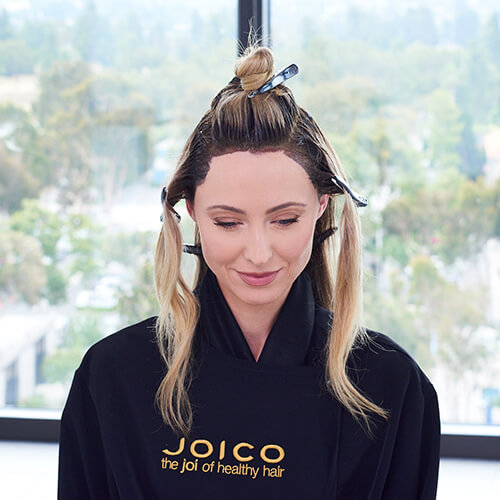 STEP 3:
Section a large mohawk section on top from corner of the brows.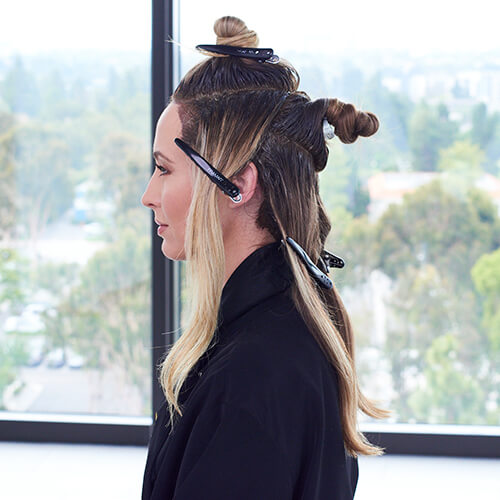 STEP 4:
Section from the crown to ears.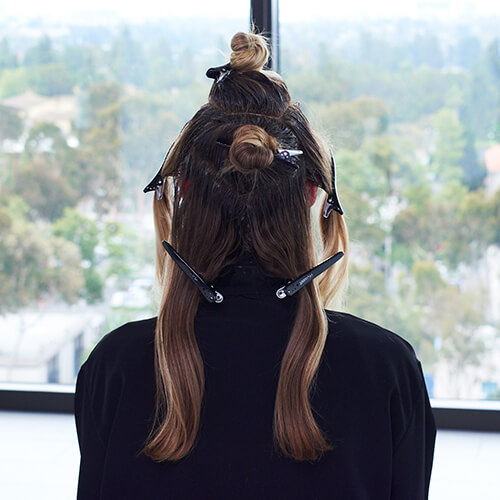 STEP 5:
Section a large cat eye at the crown to create 3 sections in the back.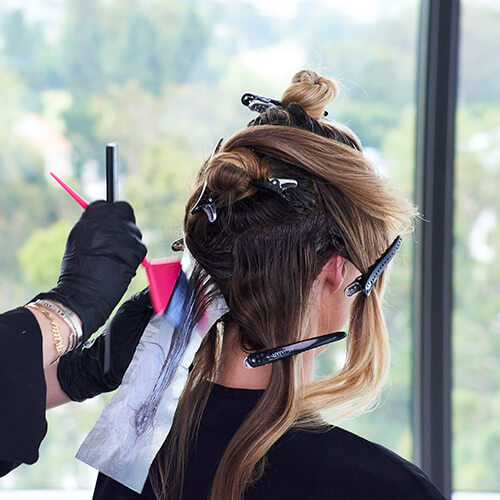 STEP 6:
Starting with an angle that mimics the hairline at the nape, take a weave parting and apply formula 2 in a foilyage that feathers at the base.
Tip: Keep the lightener away from the base color as to not overlap the two.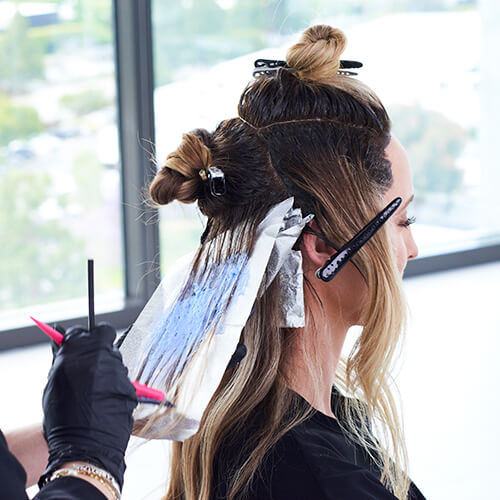 STEP 7:
Continue foilyaging the back, working up the sections in angles taking weave partings with Formula 2. When you reach the prelightened blonde pieces, switch to Formula 3.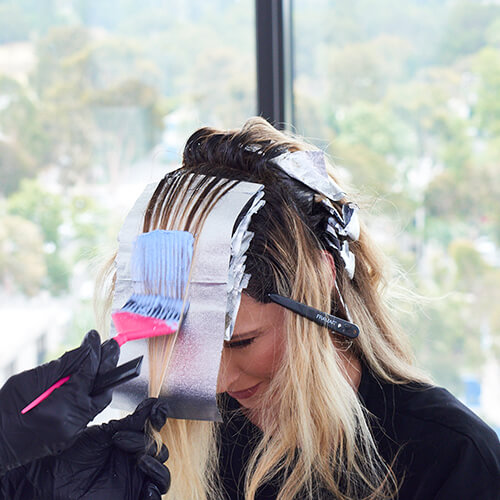 STEP 8:
Starting at the front of the mohawk section, take horizontal weave partings and apply Formula 3 in a foilyage method. Continue working toward the back of the section until you run out of hair.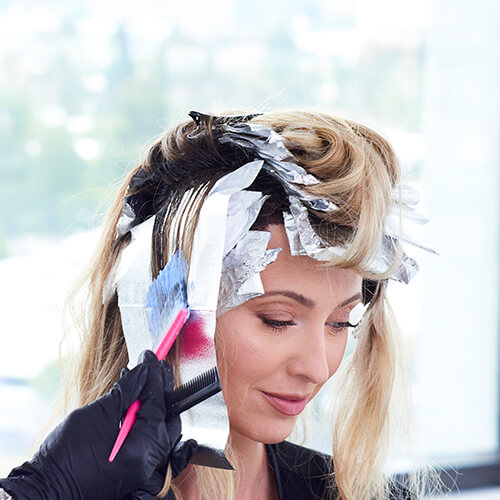 STEP 9:
Working into the sides, taking diagonal-back weave partings with Formula 3 applied in a foilyage method.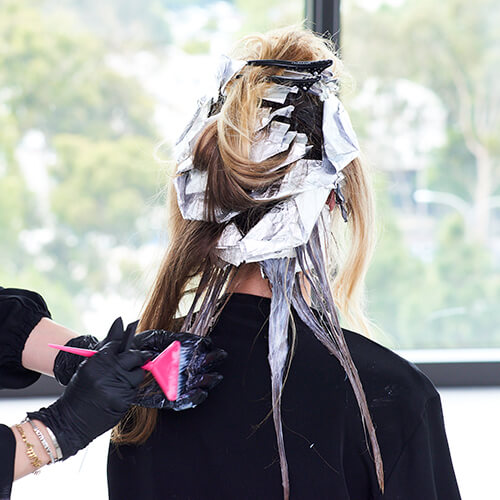 STEP 10:
Move to the back and alternate applying Formulas 5 and 6 to the hari left out of the foils. Apply Formula 5 to one section, drop a foil, then apply Formula 6. Continue working throughout the head alternating the two formulas.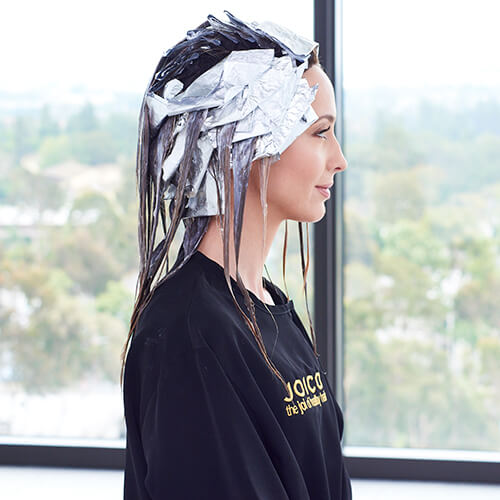 STEP 11:
Process for 20 minutes. Shampoo with Defy Damage Protective Shampoo. Apply Defy Damage ProSeries 2 and process for 5 mins. Rinse and style as desired.