A FAB "FRIENDSGIVING"
Looking to create an extra-joi-ful Thanksgiving this year? Take your cue from Joico Global Brand Ambassador, Larisa Love, and turn your turkey day into an opportunity to share your table with extended friends and family. (Trust us when we say that her entertaining tips are as sparkling as the gorgeous Hollywood hair looks she dreams up in her LA salon.) "Every year, my fiancé, Sebastian, and I love to host a Thanksgiving dinner party, to which we invite our closest friends and family for a joi-ful feast." Today, Larisa's opening up her photo album, and sharing a peek at her stunning tablescapes – perfect inspo to elevate your own holiday ritual.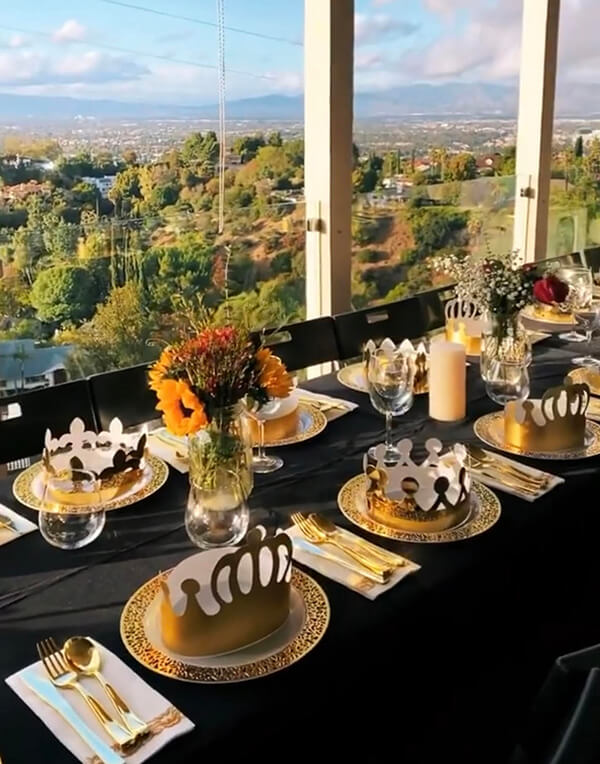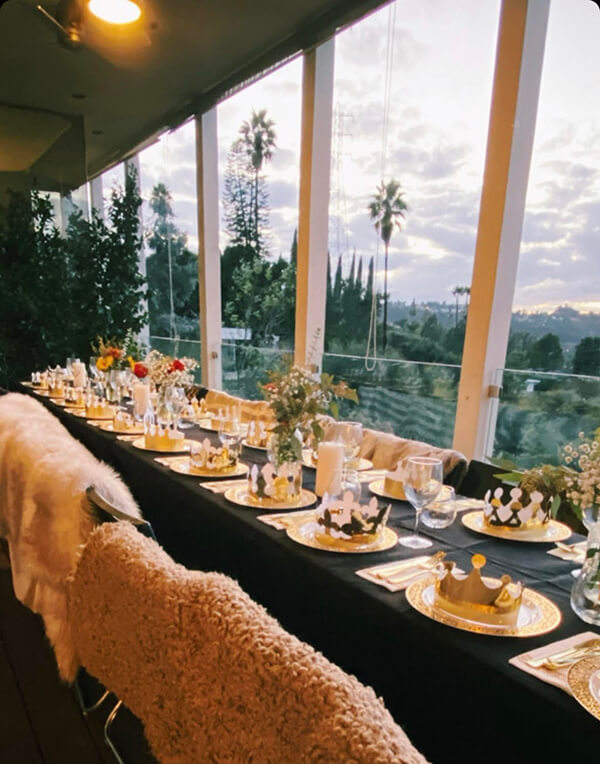 GLAM UP YOUR TABLE WITH THESE EASY TIPS
"My forté is setting the table and creating a theme. Last year, it was Eating like Kings and Queens," explains Larisa, of the gorgeous, gilded setting she fashioned for some very thankful friends. How to copy-cat her look?
Use gold accents: From shining chargers to paper crowns, napkins with flourish and even gold-tone flatware, adding a metallic edge to your table sets the tone from the moment your guests walk in the door.
Use battery-operated flicker candles: They're safer, but they're also a money-saver, since you can reuse them year after year.
Create casual bouquets: Simple grocery-store flowers become extra-charming when gathered in affordable mason jars and placed down the center of a long table.
Comfy-up your chairs: Even a plain, metal folding chair becomes seating for a princess when you lay a cozy, glam throw over the back.
Trade white cloths for elegant black: In addition to lending an elegant edge, you'll never have to worry about red-wine spills or oil spots from your gravy boat.
View this post on Instagram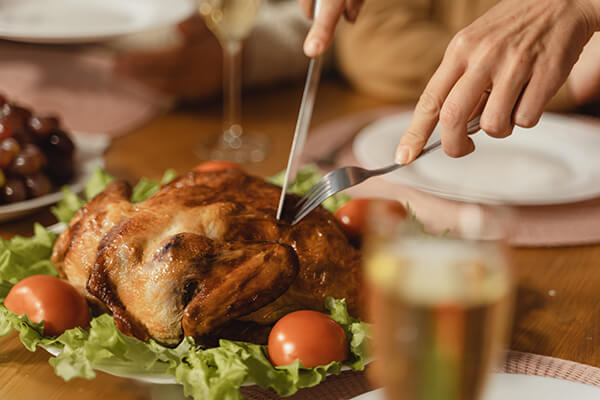 CREATE A FEAST FOR YOUR EYES AS WELL AS THE MOUTH
"I personally am not a cook, but Sebastian loves it and is incredibly talented at making gourmet meals," says Larisa, who claims the pair always serve elevated classics, like the requisite turkey and mashed potatoes, along with good bottles of red wine. Check out these tried-and-true Southern favorites if you need new inspo this year. (Buttermilk Spoon Bread, anyone?
BRING MEANING TO YOUR MEAL
Nothing bonds a table of guests faster than sharing a personal story or tidbit. At Larisa and Sebastian's house, that means focusing on gratitude. "We each go one by one and say what we are thankful for, and truly celebrate life and each other."
LET YOUR MEAL REALLY SING
And it starts with a mood-setting playlist! Here, a few tunes to get you started:
I've Got Plenty to be Thankful For – Bing Crosby
Thanksgiving Song – Mary Chapin
Carpenter Sweet Potato Pie – Ray Charles
Be Thankful – Natalie Cole
Give Thanks and Praises – Bob Marle
Tennessee Whiskey – Chris Stapleton
Autumn Leaves – Eva Cassidy
Harvest Moon – Neil Young
Sweet Seasons – Carole King
Happy Friendsgiving from your friends at Joico!