STAYING POWER
True, many airplanes have seat chargers these days…but it's not uncommon to find yourself without access to a plug; and a dying phone/laptop/iPad/kindle to boot. (Think: layover in a foreign airport without an adaptor.) Your best bet is a portable unit that boasts additional outlets for multiple charging; enough power to amp up a phone several times over; and one that's lightweight enough for easy hauling. Here's an ultra-high-capacity model that fits the bill and doesn't break the bank: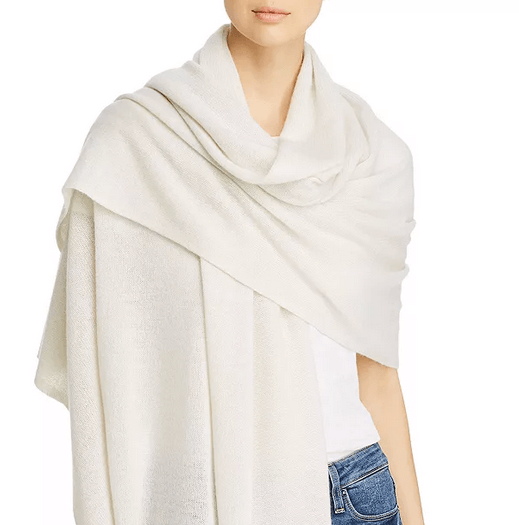 GET COZY
When faced with a freezing-cold cabin (and you didn't bring a coat because, well, it's SUMMER)…here's the perfect packable answer: an over-sized, lightweight cashmere scarf that's large enough to double as a blanket, chic enough to wear out in cooler evenings. While a tad on the pricey side, cashmere will last you a lifetime, and the soothing softness will have thanking your lucky stars you made the investment:
BAG IT
When you have to keep your 3-ounce TSA bottles visible – and a plastic baggie sooo doesn't live up to your style standards — this elegant-yet-affordable little toiletry bag will do the trick. One side is totally see-through so the Gods of Travel can scan your liquids (including Joico's brand-new Defy Damage collection in handy travel sizes); the other side includes a handy, mesh, zippered pocket that's perfect for facial wipes, hair elastics, etc. Bonus: The handle on the end makes it easily grabbable when you have to pull it out of your carry-on in a flash.
AVOID (HOTEL) BED HEAD
The last thing you want to do when traveling is spend endless time in the bathroom fussing with your hair. The genius of this washable silk scrunchie is that it preserves a head of curls, and protects straight styles from the dreaded morning flat look. Think: silk-covered elastic band, flanked by pull ties on either side. Simply slide your hair through, then pull at the tabs until you reach your desired tension; the band pressure dissipates and the silk fabric is naturally great for smoothing.