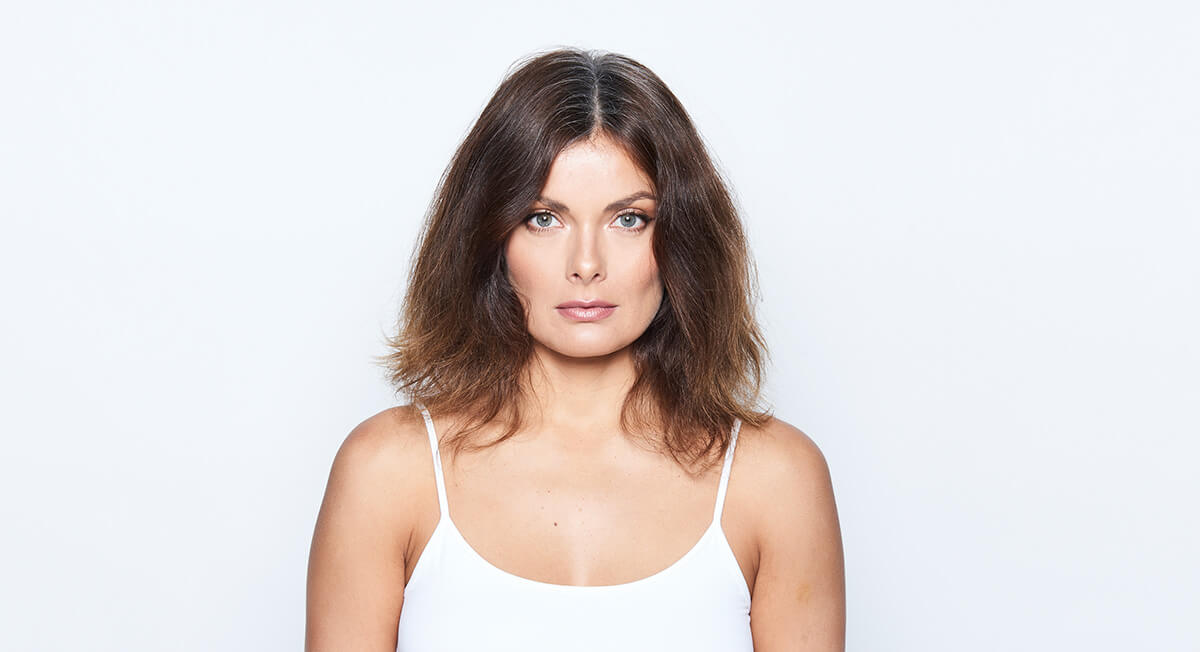 Take natural up a notch with the ultimate beige-y palette. This perfectly balanced collection boasts 7 brand-new Age Defy shades that brilliantly balance luscious creamy tones of biscuit, wheat, champagne, and pearl with complete, one-step gray coverage. The kind of beige that offers glimpses of cool undertones with a thoroughly subtle, believable vibe. Age Defy Natural Beige shades deliver illuminating shade results for more youthful, more youthful looking hair.
"My Mushroom Shade technique is a great time-saver for busy salon
days. It covers the gray and delivers gorgeous, gleaming all-over dimension in a single service." – Rick Henry
Vero K-PAK Age Defy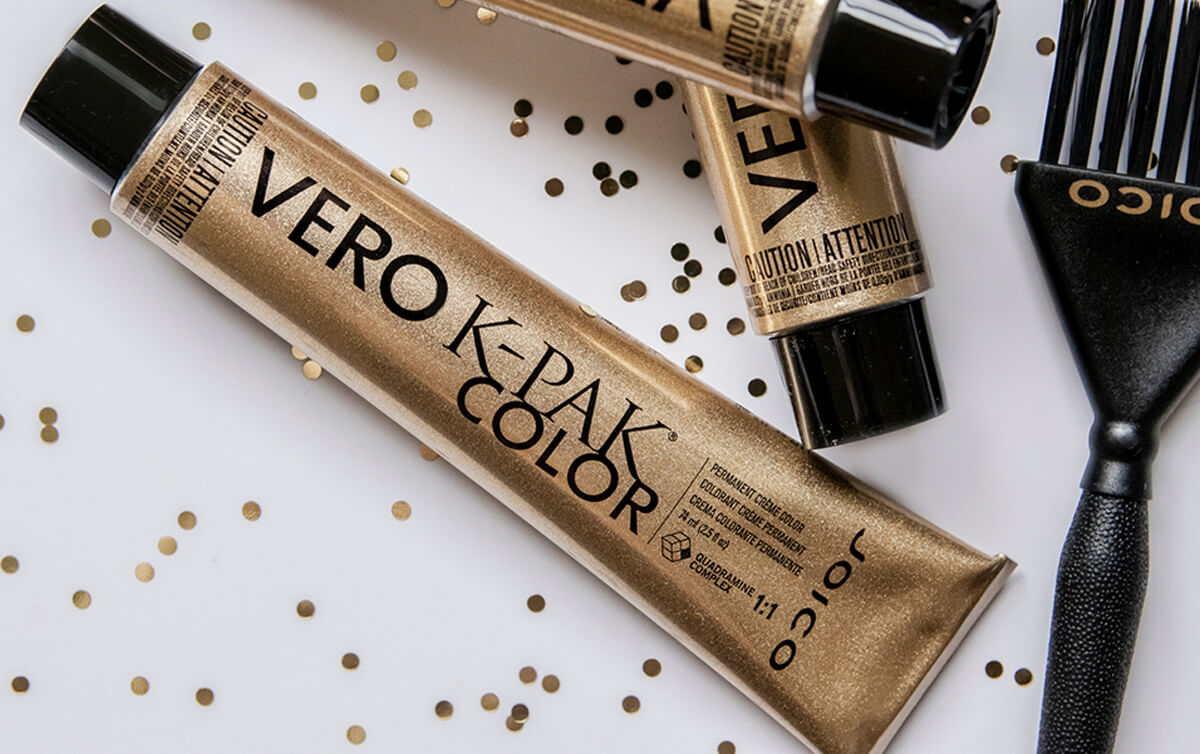 COLOR FORMULAS
Natural Starting Level – 6 with 20% Gray
Prep – Defy Damage ProSeries 1: Bond-Protecting Color Optimizer
Formula 1 – Vero Light Powder Lightener with 10 Volume Veroxide Developer
Formula 2 – Vero K-PAK Age Defy 7NB+ with 20 Volume Veroxide Developer
Formula 3 – (Root Tap) LumiShine Demi-Permanent Liquid ¾ oz 6N + ¼ oz 8N with 1 oz 5 Volume LumiShine Developer
Formula 4 – (Glaze) LumiShine Demi-Permanent Liquid 8N with 5 Volume LumiShine Developer
Post – Defy Damage ProSeries 2: Bond-Strengthening Color Treatment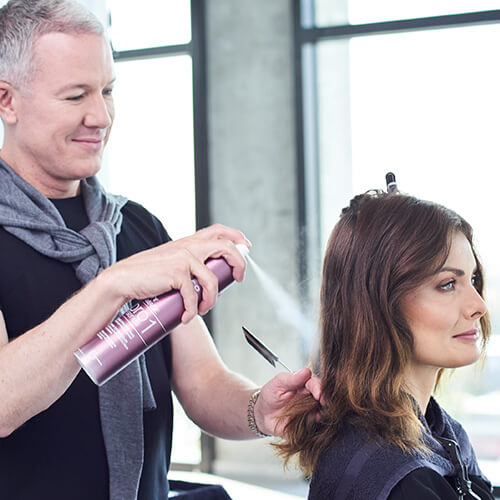 STEP 1:
Protect the hair before any chemical service using Joico Defy Damage ProSeries 1. Shake the can vigorously and spray in short bursts, to 1-2-inch sections, going down the hair shaft. Comb through for even distribution. Spray away from the clients face for client comfort.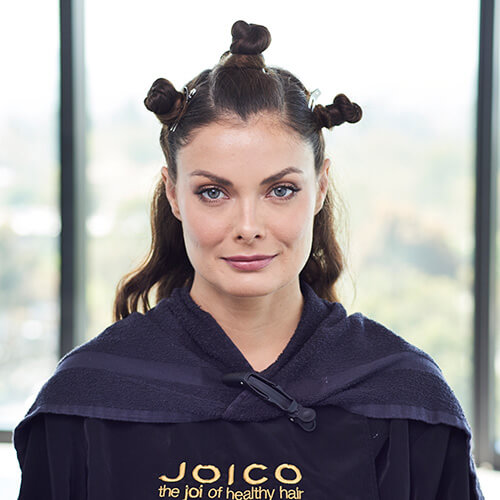 STEP 2:
Section the hair into 4 sections. Create a mohawk section to the crown from middle of eye to middle of eye. Section from crown to behind the ear. Create a cat eye section at the crown.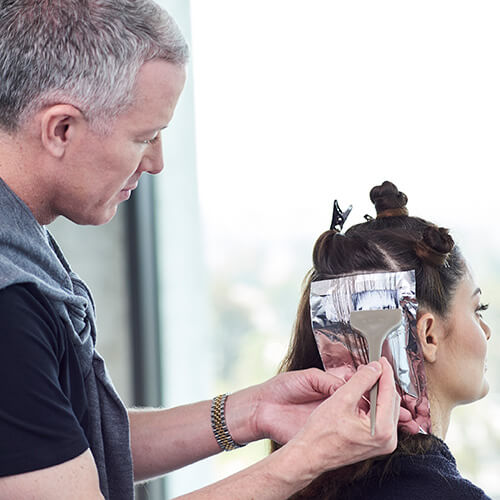 STEP 3:
Starting in the crown section working from the bottom up, take fine weaves and apply formula 1 to create babylights. These should be very fine pieces to create a glow and no harsh lines.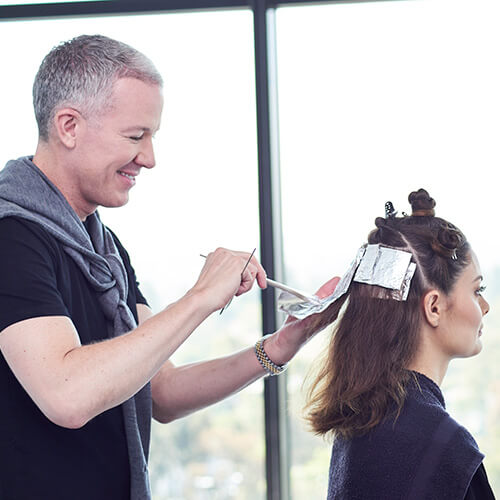 STEP 4:
Continue to take horizontal weaves and apply formula 1 to create babylights throughout the rest of the crown in horizontal weave partings. The amount you do will be determined based on the client's hair type and texture along with client consultation.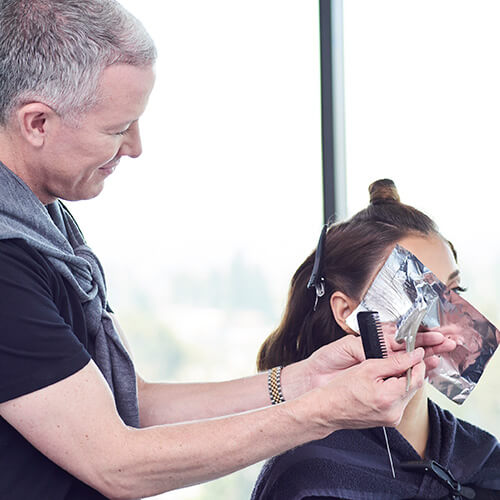 STEP 5:
Move to the front side sections. Take a diagonal weave parting that mimics the hairline. Apply formula 1.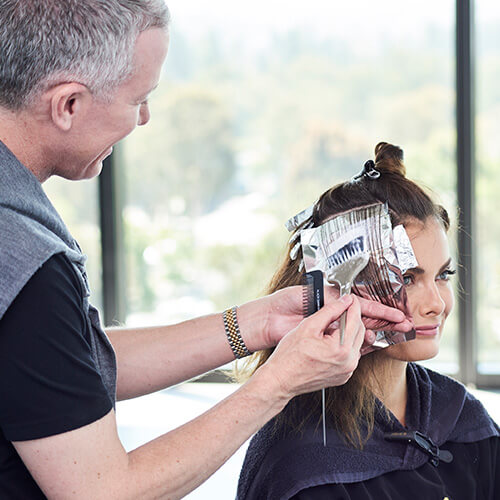 STEP 6:
Continue taking diagonal weave partings working up to the crown. Your sections will get wider with the head and then narrow as you work towards the crown. Repeat on the other side.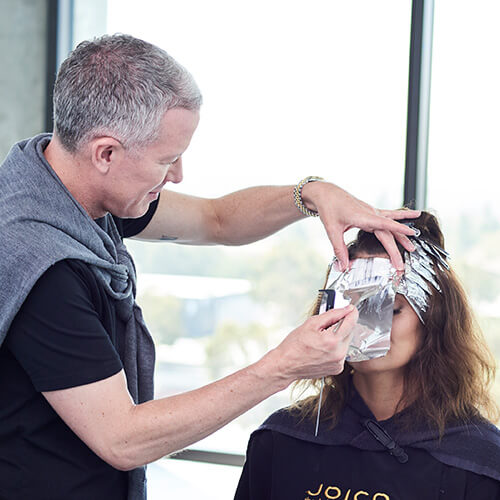 STEP 7:
Starting at the front of the mohawk section, continue to take fine weave partings and create baby lights throughout the mohawk section. Work from the front to the back.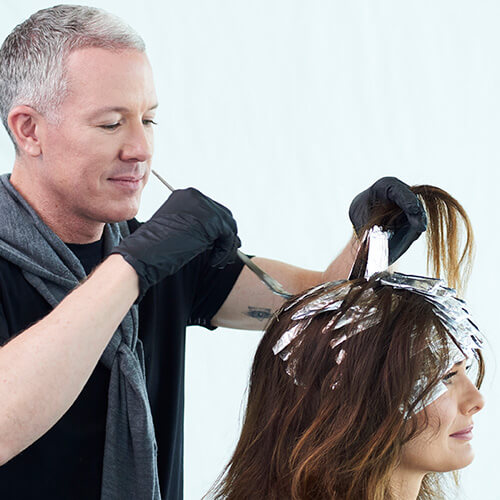 STEP 8:
Apply formula 2 to the regrowth area to 100% cover gray hair.
Process for 45 minutes
Rinse with Defy Damage Protective Shampoo
Towel dry the hair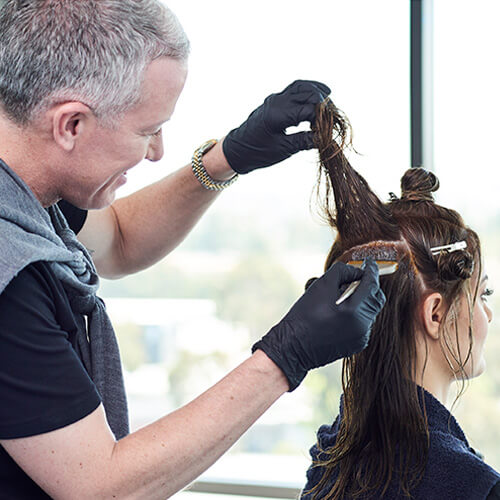 STEP 9:
Apply glaze formula and process for 5-10 minutes.
Rinse the hair with Defy Damage Protective Shampoo. Apply Defy Damage Pro Series 2 and process for 5 minutes. Rinse and proceed to styling.