K-PAK
Liquid Reconstructor
DEEP-PENETRATING TREATMENT
This stuff is pure, liquid GOLD! With a potent cocktail of amino acids and smart Keratin technology that starts repairing and strengthening stressed strands on contact, this liquid reconstructoris everything you love about our award-winning* K-PAK Reconstructor turned into a lightweight formula that's just right for those with fine, fragile hair.
*Stylist's Choice Award winner in 2001-2015, 2017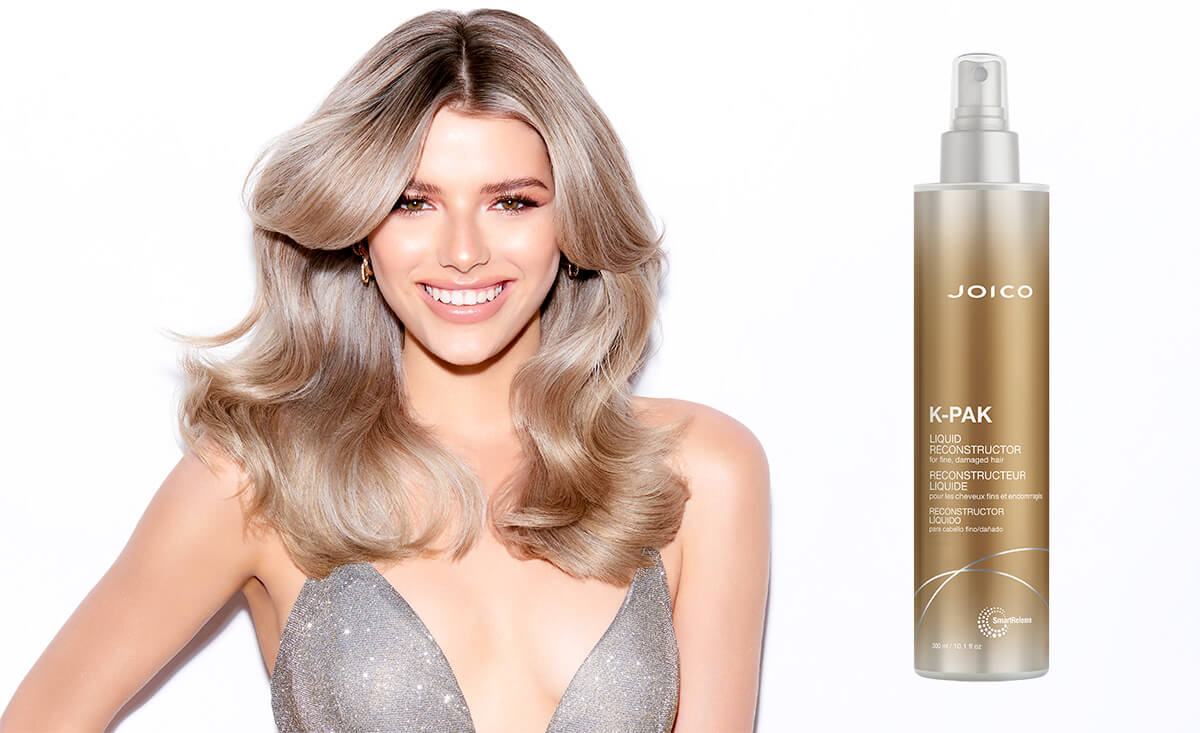 Here's Why You'll Love It
Many intensive treatments come on strong…and heavy; Liquid Reconstructor manages to work wonders with a super-light, spray-on formula that won't weigh fine, fragile strands down.
Convenient leave-in, spray-on version of our award-winning K-PAK Reconstructor*
*Stylist's Choice Award winner in 2001-2015, 2017
**Against combing breakage on damaged hair vs. a non-conditioning shampoo
5 out of 5 stars (based on 5 reviews)
I have fine, curly, damaged, color treated, highlighted hair. This stuff is amazing. AMAZING! It has my hair feeling soft, silky and healthy without being heavy and weighing my thin, delicate hair down.
Like the original, this quick and easy leave-in swoops in for the save—instantly rescuing your hair's healthy glow and greatness in just minutes.
Directions: Apply to clean, damp hair. Spray on hair, concentrating on ends or other highly damaged areas. Comb through and style as usual

We add the highest concentration of hair-healing ingredients to power up Liquid Reconstructor for optimal efficiency.
Keratin
A protective protein found naturally in hair, actively seeks out damage and helps repair hair by replacing lost proteins. The result? Stronger, healthier-looking locks.
Guajava Fruit Extract
Packed with antioxidants and Lycopene, which are known to help protect hair against UV damage.
Evening Primrose Oil
A rich source of Omega-6 and Gamma-Linolenic Acid, an essential fatty acid that helps nourish hair back to health.
SmartRelease Technology
Our one-of-a-kind liposome delivery system packs a punch by continuously releasing Rosehip Oil, Arginine, and Keratin to help repair, strengthen, and protect hair from the damaging effects of daily styling.
Amazing product been using it for a year and my hair is super healthy! Please do not discontinue! I buy three bottles at a time
I absolutely love this product. My hair is not damaged or color treated, but most products on the market make my hair dull and heavy. With this product my hair looks good, is shiny and so manageable. Love this one!