Defy Damage
Protect all hair types from the ravaging effects of daily heat styling, UV exposure, and environmental pollution that lead to dry, dull, lackluster locks with Joico's NEW Defy Damage haircare system. This damage- defying breakthrough helps protect and strengthen hair bonds for a healthy-hair transformation you can instantly see and feel.
Here's Why You'll Love It…
From salon to home and beyond, Defy Damage helps provide powerful protection against all sources of hair damage.

Defy Damage Pro-Series
Bond protecting & color perfecting treatment
In two easy steps, the Defy Damage ProSeries helps protect and strengthen hair bonds—before, during, and after every chemical service— helping to ensure the healthiest-looking hair imaginable… and stunning results you have to see to believe
– 80% less breakage*
– 5X stronger hair*
– Increased & more even lift**
– Evens porosity for better color deposit
– Maintains over 90% of color vibrancy***
* Against combing breakage on damaged hair during heat styling; when using Defy Damage Shampoo and ProSeries 2 vs. a non-conditioning shampoo
** When lightening
*** After 10 shampoos; when using Defy Damage Shampoo and ProSeries 2

Defy Damage At-Home Care
Bond strengthening & color longevity
With formulas that help protect strands every step of the way—cleansing, conditioning, weekly repair, daily care—Defy Damage's at-home care system covers you (literally) from start to finish:
– 80% less breakage*
– 5X stronger hair*
– Maintains over 90% of color vibrancy**
– See results after very rst use
– Leaves hair soft, with a healthy shine
*Against combing breakage on damaged hair during heat styling; when using Defy Damage Shampoo and Masque vs. a non-conditioning shampoo
**After 10 shampoos; when using Defy Damage Shampoo and Masque

Defy Damage Pro-Series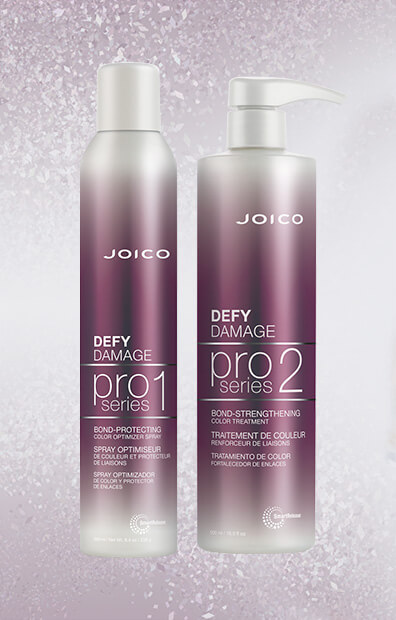 Defy Damage ProSeries 1
Bond-Protecting Color Optimizer Spray
Step 1: An ultra-dry bond protector that instantly helps shield hair from chemical service damage, improves color deposit, and provides greater, more even lift when lightening. Professional use only.
– Just spray and go—no messy, complicated mixing or measuring!
– Higher concentration of SmartRelease Technology

Defy Damage ProSeries 2
Bond-Strengthening Color Treatment
Step 2: An intensive treatment to help strengthen bonds and hydrate—for damage-resistant, healthy-looking hair in just one use. Professional use only.
– Regenerates bonds & strengthens hair
– Protects hair from mechanical, thermal, and environmental damage
– Higher concentration of SmartRelease Technology

Defy Damage At-Home Care
Defy Damage Protective Shampoo
For bond strengthening & color longevity
A rich, luxurious lather loaded with damage-preventing ingredients gently and swiftly sloughs away dirt, impurities, and buildup without roughing up the hair cuticle or stripping vibrant color. The result: shiny, smooth, clean strands that are wonderfully resilient and healthy-looking.
– Free of SLS/SLES (sodium lauryl/ sodium laureth) sulfates

Defy Damage Protective Conditioner
For bond strengthening & color longevity
Replenishes moisture and builds resilience without weighing hair down, leaving strands soft, shiny, and healthy- looking after each use.
– Helps prevent daily damage & boost vital moisture

Defy Damage Protective Masque
For bond strengthening & color longevity
This powerful at-home treatment goes deep to infuse hair with a brilliant, bond- strengthening defense system. The result? Less breakage; more protection from heat styling; and hair has instant softness and shine… the kind you can see and feel on contact.
– Helps to rebuild broken hair bonds
– Deeply replenishes hair without weighing it down

Defy Damage Protective Shield
To guard against thermal and UV damage
A true damage defense hero against the harsh effects of daily styling and exposure to UV and environmental pollution! This protective shield helps prevent damage and guards against color fade for beautiful, vibrant, healthy-looking hair. Used prior to styling, hair is fortified inside and out.
– Makes hair 4X more resistant to breakage during heat styling*
– Protects against color fade
-Leaves hair soft, shiny, and healthy-looking